If you read our recent article about the latest additions to the Gucci Hortus Deliciarum High Jewellery Collection in February 2023, you may remember our take on the brand's vivacious jewels and how they're predestined for the red carpet. Colour clashing, dynamic shapes and lion motifs are no match for the confidence of the Gucci team, which translates the often stiff-upper-lip approach to High Jewellery into something less fearful of being universally desired. The new Gucci Allegoria High Jewellery collection, launched in June 2023, is no different and certainly no-less brave. There's a 200-carat tourmaline to contend with, after all!
The collection is said to be a "representation of life and time narrated through the ever-changing seasons," which is a far more poetic way of saying pieces are inspired by spring, summer, autumn and winter. As per the House's style, gemstones are ostentatiously neon and slightly acidic in tone, coupled with white, yellow and rose metals. The journey starts in springtime, which finds its feet through light-hearted jewels with fresh hues that are "reminiscent of the multifarious blooms found in Gucci's emblematic Flora motif". A highlight is a cushion-cut 226-carat green tourmaline that sits at the centre of an openwork necklace, punctuated with star motifs, diamond baguettes, and fancy colour tourmalines and diamonds. Elsewhere a necklace with a 161-carat cushion-cut pink tourmaline is encircled by multiple levels of diamonds and coloured enamel, all set on a chain bursting with 72 fancy tourmalines of 88 carats, which create a spectacular chromatic degradé. Gucci's interpretation of spring (moving into summer) also includes emeralds, spinels, and Paraiba tourmalines.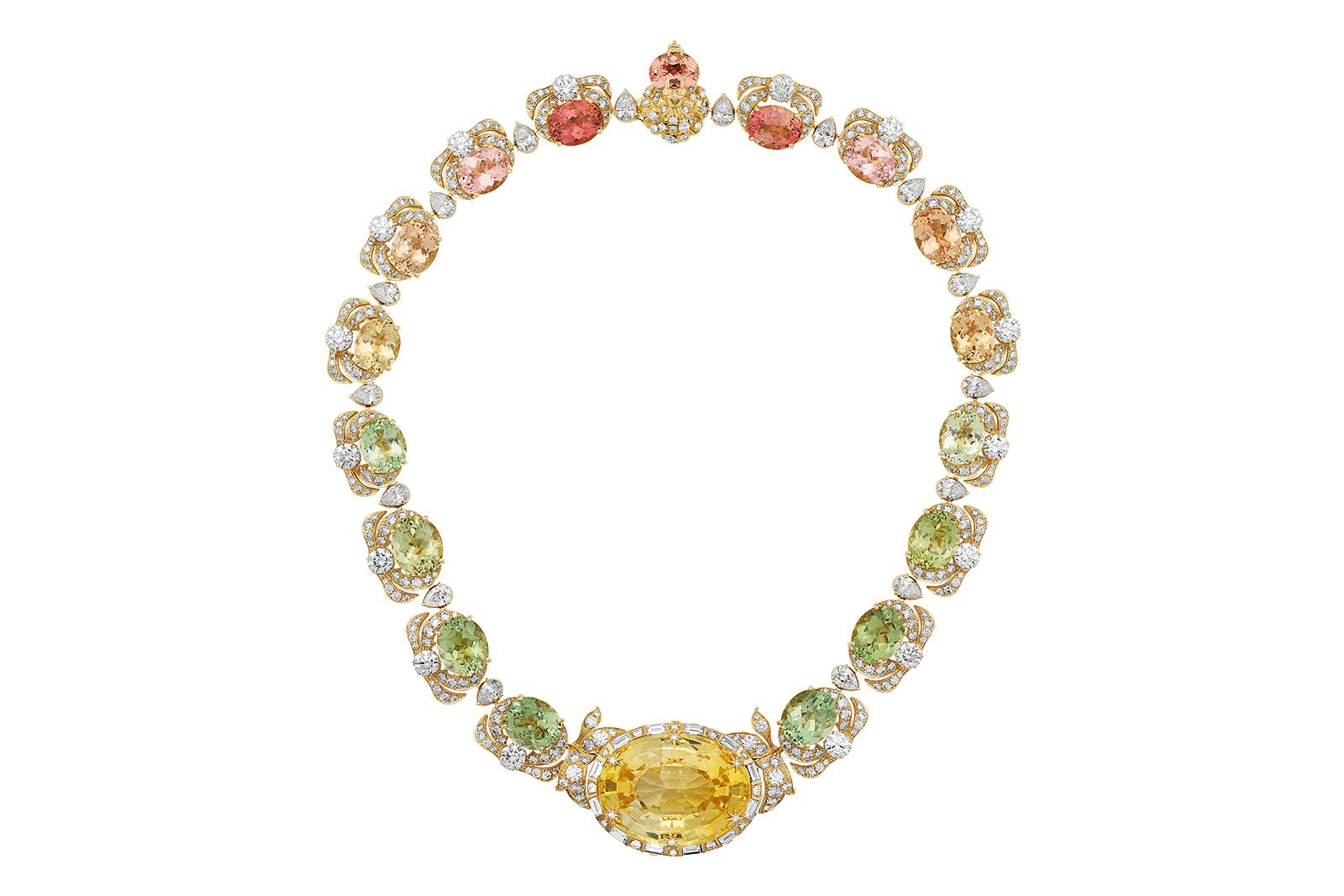 Allegoria shifts into autumn with warmer tones of yellow sapphire, pink tourmaline and a sensational selection of Mandarin garnets. Striking examples include a 78-carat yellow sapphire necklace surrounded by a colourful array of tourmalines and diamonds and a vintage-inspired yellow gold bracelet set with five mandarin garnets cut into three different shapes. Finally, winter is all about enamel, diamonds, and opals for Gucci, which plays with an exceptional 92-carat opal in one themed necklace.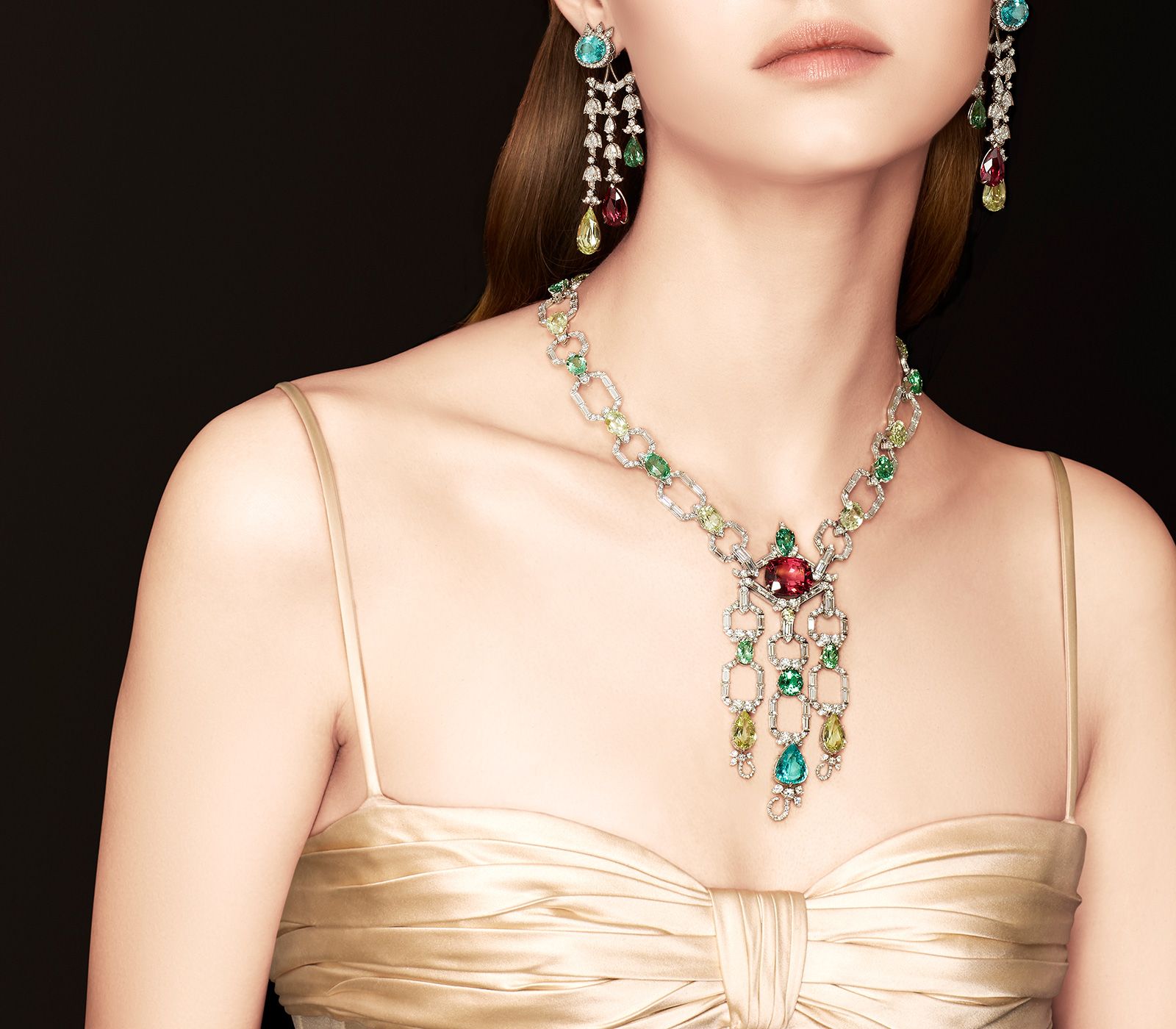 Interestingly, Gucci has opted for 'old mine' European-cut antique diamonds for this wintry selection (created circa 1890 – 1930), along with fancy cuts across all four 'allegories' including fan, briolette, paisley, baguette and kite shapes. Highlights include a pair of jacket earrings with two jaunty fan-shaped emeralds, totalling 18 carats, complete with a cascade of diamonds and tourmalines. There's also a hexagonal 10-carat emerald with two drop-shaped Paraiba tourmalines of 16 carats, offset by a halo of round, paisley and baguette diamonds. And speaking of those 'old mine' diamonds, look out for a parure consisting of a floral motif necklace with a 10-carat antique diamond set on a chain festooned with engraved opal beads and a matching pair of earrings with two old European cuts of more than 12 carats each, encircled with opals.
While you're perusing the pieces, spare a thought for the choice of colours for the Allegoria High Jewellery collection – purple and green. These feature as the backdrop for the traditional sketches provided by High Jewellery brands, typically to showcase an idea and how it blooms into reality. Why these colours? I am sure they were simply chosen for their aesthetic value, but it feels like Gucci is attempting to set itself apart at every opportunity. Why choose the more traditional black or off-white when vibrant lilac and joyful green are available? It's yet another example of how, although not to everyone's tastes, Gucci is carving its own pathway in High Jewellery that's immediately recognisable and unafraid to stand out.