First, we must get to know Vanessa to find out where her love for both art and jewellery originated from. In 2006, she graduated from the Faculty of Jewellery Design at Central Saint Martins in London, after which she furthered her education at the Gemmological Institute of America in New York. Following that, she gained 12 years' experience in the jewellery industry as a designer and creative director for various companies, including De Beers, as well as undertaking a modelling career in Milan, New York, London and Hong Kong. This helped her realise her love of art and creativity, but she wasn't going to stop there, and her creative ambitions became the catalyst for the launch of her own jewellery brand, Vanessa Martinelli.
The designer's collections are deeply versatile and in them, one finds sources of inspiration that include flora in the Hibiscus collection and fauna in the collection Favola. We also encounter abstract motifs in Gioia and delightful candies in Caramella. All of these collections are completely different in design, and yet despite this, Vanessa has her own clearly identifiable signature style. Being an artist who is infatuated with colour, she creates a sense of vibrancy in her jewellery by making use of all kinds of stones: amethysts, green tourmalines, rubellites, peridots and rose quartz. The list doesn't end there either. Unlike many other jewellers, Vanessa views diamonds as something to accompany her precious ensemble of colourful stones, rather than the star attraction.
Since the founding of her brand in 2011, the designer has focused exclusively on the creation of jewellery. But a couple of months ago, her work evolved when Vanessa fulfilled her dream of presenting her brightly colourful, imaginative world to her clients. How, you ask? Well, this year she launched her first capsule collection of silk home and beachwear, entitled "Dressed in Сandy", decorated with her iconic Caramella jewels. This collection, in which the jewels are designed as wearable sweets, is the most beloved among her fans, so much so that it has become synonymous with both the brand and the designer.
"I have long dreamed of creating the 'Vanessa Martinelli Lifestyle' collection, comprising a subtly feminine world that is both poetic and playful, including jewellery and luxury clothing. There is only one rule here: complete freedom!" Vanessa told me.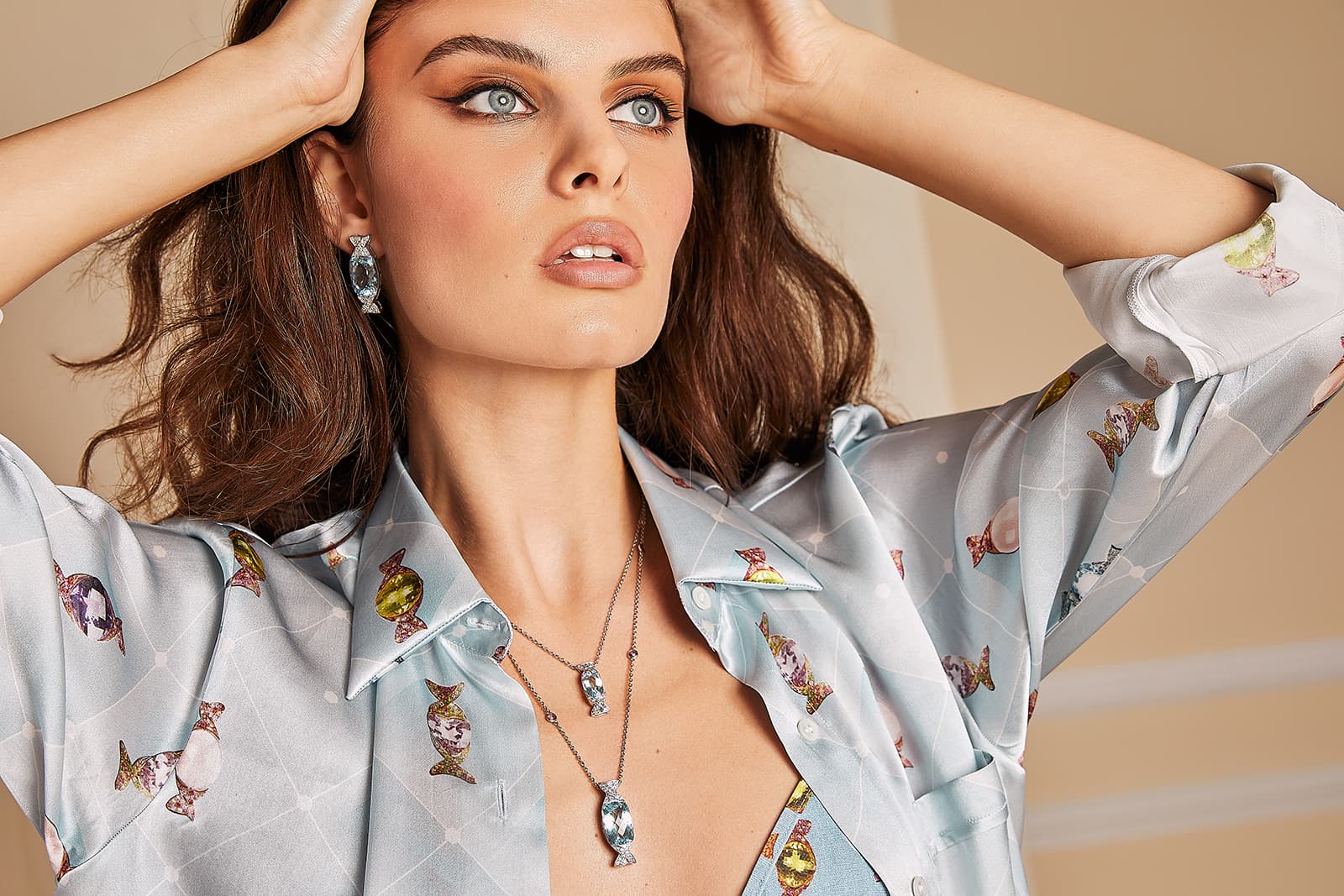 The new line of silk clothing, entitled "Silk Collection", embodies the brand's central ideals: quality and sophistication, joy and freshness, femininity and sweetness, and a luxurious lifestyle combined with uncompromising comfort. Vanessa has approached the unveiling of her jewellery and clothing collection with typical creativity in the filming of a truly fabulous video. The plot of the short film unfolds in a magical forest, reminiscent of the surroundings of her house on Lake Lugano. Tall trees sway against the background of a dreamy azure blue sky, while emerald greenery sprawls upon the banks of a stream of crystalline spring water. Nature exists in total harmony with itself. In it, Vanessa wonders: "What if we all had a fairy godmother who could look into our hearts and give us a special amulet that could protect and heal us while reminding us how we can live in peace with ourselves and the world around us?"
The film reimagines Alice in Wonderland as a story of female friendship and empowerment. A woman who feels a sense of inner lostness that resides somewhere deep in her soul wanders through this enchanted forest. There, she meets a smiling elf, who hands her a secret box in a small, but moving, gesture of kindness. The friendly elf knows exactly how to help her and leads her to a secret pink door that is a portal to a world of unfathomable creativity, femininity and joyful childhood memories. Here, a fairy godmother meets them just beyond the door. There is nothing to be afraid of: she is strong and kind, yet rather playful. This fairy godmother reveals that the box contains a delicate and truly exquisite piece of jewellery, which reminds the woman that she already has everything she could ever need. It is only now that she feels a sense of strength and inner peace. By the way, Vanessa decided to try something different and creative of course. She used some new technology to make her video interactive! It allows to shop while watching the fairy tale story by taking you from the screen to the shopping basket without the need of opening a new browser window.
Vanessa's next step is to introduce the brand's clients and friends to her illustrations. She has always had a passion for painting, especially watercolours, and consequently, most of her artwork is undertaken using this technique. Vanessa recently started sharing her art with the public on her Instagram page, @aquapraline, and her website, www.aquapraline.com. Her light, funny and very cute work – whether it is for jewellery, an illustration or a piece of clothing – expresses the joy of life and Vanessa's unique positivity and humour. Vanessa draws inspiration from travel, her passion for Asian culture and pop art, nature in all its forms, colour, candy and childhood memories.

In the world of Vanessa Martinelli, all women support and guide each other, as well as create magic together. How could one not want to become a part of this world?