Van Cleef & Arpels' design studio, gemstone division and workshop on Place Vendôme have been working hand-in-hand to create Le Rocher aux Merveilles for about two years. This masterpiece was designed as a mineral sculpture in which each independent element lives in harmony with the ensemble: a fabulous landscape inhabited by fantastic flora and fauna. A 6.2kg steep mountain of lapis lazuli rises above a rugged base of blue quartz, accompanied by a forest of 32 tourmaline crystals totalling 2,171 carats. "We have selected these stones from hundreds of others. They are of such a high quality that they could easily be included in a high jewellery collection. We insisted that the rough stones be of the same quality as the cut stones," comments an expert gemmologist from Van Cleef & Arpels.
Perching on crystals of tourmaline, a chimera spreads its wings in a majestic movement of white and yellow gold, accompanied by emeralds, rubies, coloured sapphires, garnets, cultured pearls and diamonds. Its head can be removed to adorn the white gold Chimere bracelet studded with garnets, sapphires and diamonds. Upon the rock, beneath the watchful gaze of the chimera, lies a treasure: the two-tone Nature ring made from white, yellow and rose gold with a 24.88 carat emerald-cut tourmaline and, echoing its pink-green hues, emeralds, pink sapphires and diamonds.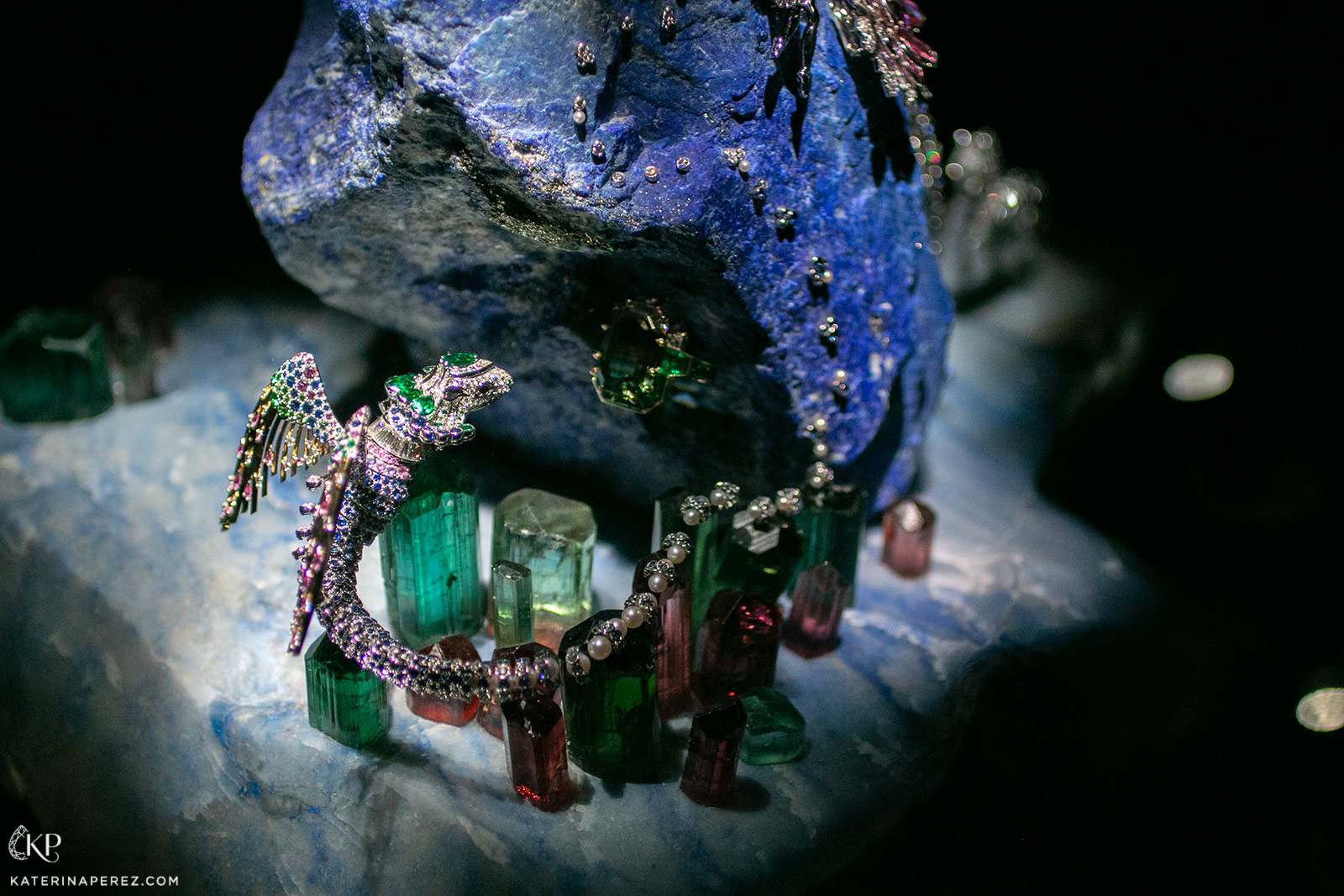 On the other side of the mountain, a unicorn and two fairies – other inhabitants of this wonderful world – are resting among flowers by a waterfall of diamonds and sapphires. With wings set with mauve sapphires and diamonds, the fairy Ostara, celebrates the arrival of spring and the renewal of nature as she holds aloft a bright orange spessartine garnet weighing 5.30 carats. Thanks to a special fastening, the graceful Ostara can be worn both as a brooch and as a pendant. The second fairy sits atop a refreshing waterfall formed of an openwork white gold mesh set with refreshing "drops" of sapphires and diamonds. This exquisite jewel can be easily transformed into a brooch and a pair of earrings.
Three Oleander flowers bloom in a harmony of pink and purple colours. Vivid diamond petals contrast with their coloured sapphire counterparts, highlighting the brilliance of the centre stones: a 2.94 carat Madagascan purple sapphire, a 2.45 carat Mozambican ruby and a Sri Lankan blue sapphire weighing 2.60 carats. These flowers, which can be worn as brooches, evoke the vitality of nature that has inspired Van Cleef & Arpels since 1906.
This wonderful picture is completed by a white gold unicorn with a body that shines with round diamonds and a mane with pear drop diamonds. Made in the form of a miniature sculpture, it can be transformed into a brooch using a hidden mechanism: part of its side is removable, revealing a clasp that enables it to be worn.
"Rocher aux Merveilles epitomises the Pierres précieuses exhibition, combining mineralogical elements and jewellery craftsmanship. These two dimensions, each one of them mesmerising in their own way, are woven into the universe of the Maison, creating a story filled with charm," says Nicolas Bos, President and CEO of Van Cleef & Arpels.
This magical landscape reminds me of the fairy tales that fuel Van Cleef & Arpels' creativity time and again. While the brand's jewellers have previously taken pleasure in telling famous stories, for example, Shakespeare's Romeo and Juliet or Grimms' Fairy Tales, with Le Rocher aux Merveilles they have written one of their own.