In the last few years jewellery designers and fashionistas have been having a bit of a love affair with ear jewellery. Since 2013 there has been a growing trend for wearing unconventional earrings, starting with ear cuffs which enjoyed a meteoric rise to popularity in the Spring – Summer of 2013 where they featured in shows by Rodarte and Jason Wu. Then came the solo earring, as seen on the models of Oscar de la Renta, Versace, Kenzo and various others as they showed off their Autumn – Winter 2014 collections. And now the next wave of unconventional jewellery is here: non-paired earrings have become the key fashion accessory for Spring – Summer 2015.

Before we turn our attention to the jewellery itself, let us take a moment to talk about the catwalk. Oscar de La Renta, Louis Vuitton and Nina Ricci are just some of the fashion houses who succeeded in decorating their models in earrings which, at first glance, could have come from completely different collections. That said, they do, of course, have some features in common, be it the colour scheme, the materials from which they are made of or the shape of the design.
Following this fashion, designers and labels have come up with their own take on mismatched earrings. Take Dior's latest collection, Diorama, for example: their version is a gemstone stud worn on one ear and a long earring on the other. La Sibille have gone down the same line but instead with a micro-mosaic ear decoration. Van Cleef & Arpels recently released their kite collection, "Cerfs Volants", whose earrings are far from identical. Alia Mouzannar from AW Mouzannar came up with a clever idea of modular earrings (see below). They look identical but their length can be easily modified from long drops to much shorter earrings by putting the earring post through the three decorative elements.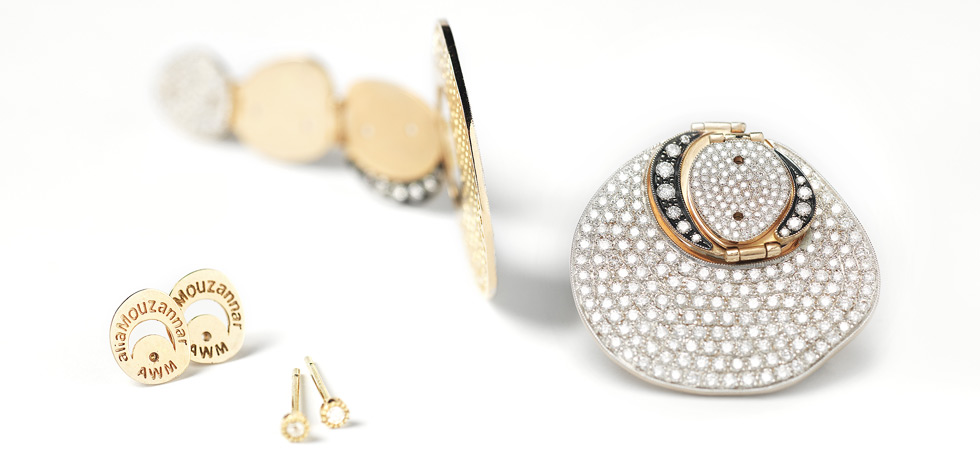 You might have noticed that some brands have started selling earrings individually, like Louis Vuitton, for example, where you will find a range of gold earrings with diamonds featuring in their "Monogram Idylle" collection. Similarly, Morphee Joaillerie's "Cherry Blossom" ear cuffs can be worn with any of the non-matching studs from the same collection, while Tessa Packard sell the long earrings from their Courtesan collection unpaired – they can be worn in a whatever combination you like as well as on their own.
I get the feeling this trend is ideal for anyone who has lost an earring. No need to write off the second one, just try and match it up with something from the rest of your collection. For the simplest option to go for when pairing up with others are studs with a diamond, pearl or other gemstone set in a simple frame.
I personally feel that this trend for designing different earrings to be worn together is the natural culmination in the evolution of the Toi et Moi style: earrings that are the same in shape but vary in colour. Check out somw more designs below and decide for yourself…