Sapphire mines
Kashmir is a region in the north west of the Hindustan peninsular. It was formerly known as the Padar region in the Himalayas, in the depths of which could once be found a priceless source of the world's finest sapphires. I use the past tense because the area was totally exhausted in the seven years following its discovery in 1880. It is now known as an Old Mine because new ones were discovered in the years that followed. Unfortunately, the quality of the stones was not nearly as high. As a result, the sapphires amassed in Kashmir – the so-called Old Mine stones – have today been owned by many different people. This is not the case with the new ones found in India, explaining why Kashmir sapphires are the true object of desire for collectors.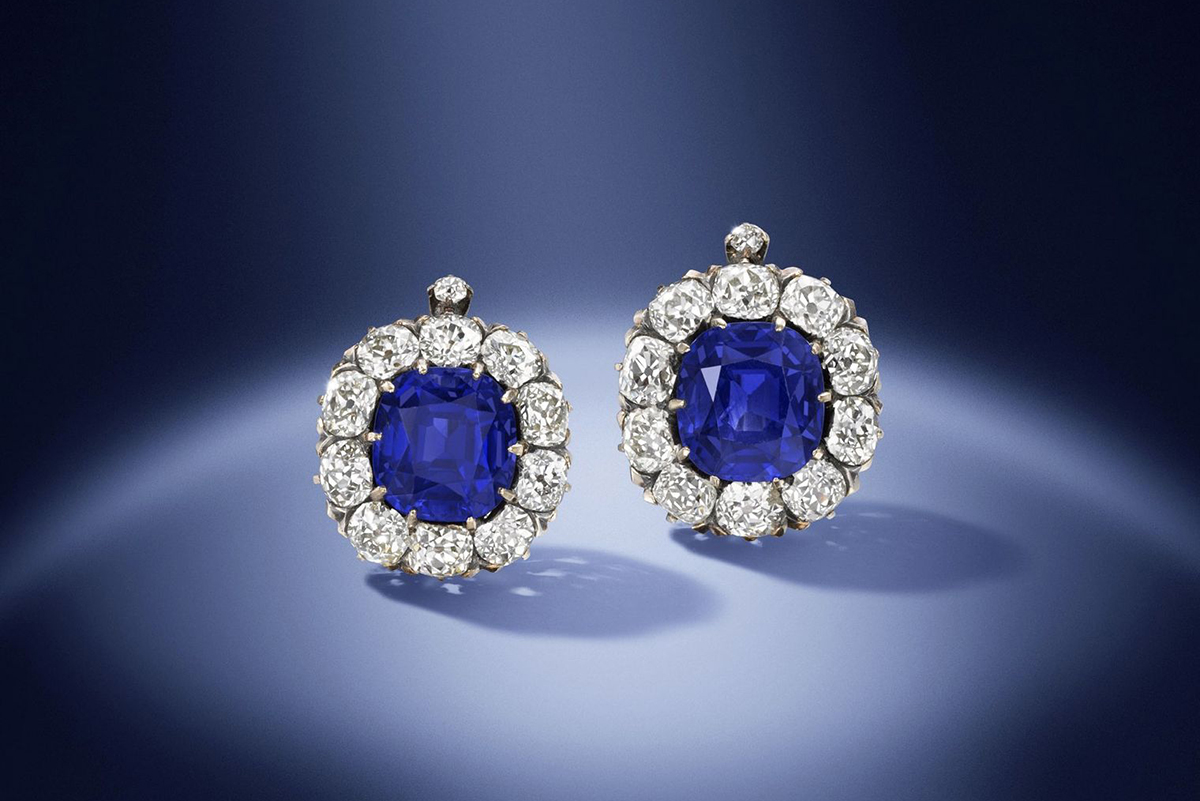 The colour
Just what is it about the Kashmir sapphires which so charms and entices you from the moment you see it? It is, of course, that unforgettable colour: a good quality sapphire has a uniform, velvety dark blue hue, almost luminous. Such an unusual combination of colour and light was perfectly described by Dr Eduard Gübelin, a passionate gemmologist, as 'soft and velvety, scintillating yet bland at the same time; it is a clear, deep blue, enhanced by a gentle admixture of kingly purple.' The colour of a Kashmir sapphire is often also described as 'sleepy' because of the characteristic 'milky haze' within the stone, which is brought about by cavities of liquid or tiny crystals, hard to see even under a microscope.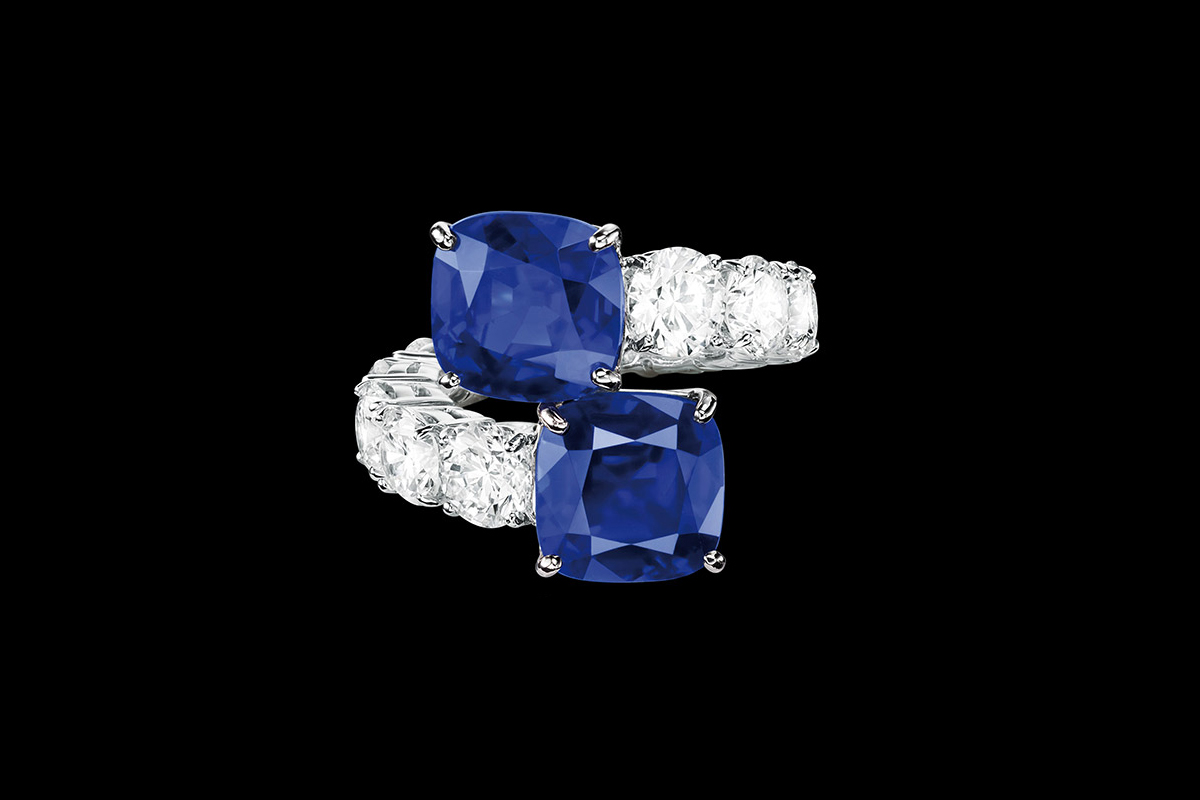 Their value
I would like to point out that sapphires belong to the corundum family, which also includes rubies. The dark blue stones are formed from a chemical bond of aluminium and oxygen, both of which can be found naturally in great quantities. There is another element on top of this which gives the Kashmir sapphire its magnificent colour, worth its weight in gold: titanium. As a result, the colour of all other sapphires is valued in comparison with the perfect colour of a Kashmir. Some of the best Ceylon and Burmese sapphires are similar to the Kashmir in value, but, it goes without saying, they can never quite compare. It has to be said that not all Kashmir sapphires are good quality. People on the lookout to buy should bear in mind that a gemmologist's certificate confirming that a stone was found in Kashmir does not necessarily guarantee that it is of a high quality.
Where to buy them?
These days Kashmir sapphires have an almost mythical reputation because they practically no longer exist naturally. The rare specimens can only be found in private collections, at the very best jewellery auctions and if you're very lucky, behind the counter. Let us have a look at the top auction results in the past year.
Christie's - In 2014 there were pieces on sale with Kashmir sapphires at all but two of the Magnificent Jewels and Important Jewels auctions, all going for more than the asking price. The most important lot was the Toi & Moi ring with two natural cornflower blue sapphires (1), 16.16 and 15.62 carats respectively, which sold for $2,714,283. A 19th Century brooch (2) with a 14.66 carat cushion-cut sapphire bordered by diamonds went in London for $2,197,044, three times the asking price. Also of note was a ring (3) sold for $2,009,904 in the November auction in Hong Kong. It boasted an 11.64 carat sapphire nestled in its centre. Like all of the stones mentioned before, it had not been subjected to heat treatment.
Sotheby's - The most valuable piece of jewellery containing a Kashmir sapphire to be sold at Sotheby's was a ring by Graff (1) with a 27.54 carat step-cut sapphire. Almost $6 million was paid for it at the November auction in Geneva. A ring with a 28.18 carat emerald-cut sapphire (2) appearing on the cover of the April auction catalogue in New York was purchased for $5 million. That very same month, in Hong Kong, a stone not much less than that – 20.04 carats (3), was found for half the price of the 28 carat. The 17.16 carat Imperial Kashmir (4), which I mentioned at the start of this article, captured the hearts of many collectors with its beauty and was sold for $4 million.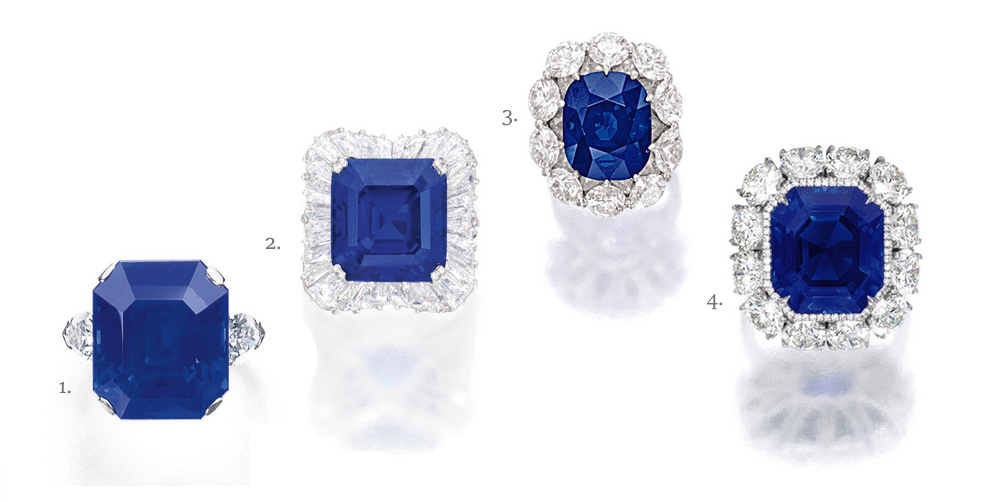 What do jewellers have to offer?
A ring with a Kashmir sapphire can be acquired at such legendary jewellery houses as Cartier, Chaumet and Harry Winston. At the Swiss jeweller's BOGH-ART, you can find a bracelet made from a string of thirteen rare sapphires. The US house, Bayco, famous for jewellery with rare precious stones, have a ring available with an incredibly valuable cornflower stone weighing 24 carats. Crossing over to London and at G London you can find a ring with a 13.40 cushion-cut Kashmir sapphire. The Italian house, Sabbadini, meanwhile, boasts a Toi & Moi finger ornament with two sapphires, each more than 7 carats. The unusual beauty and unique nature of the Kashmir sapphire will forever attract aficionados of precious stones and master jewellers. This rare phenomenon of nature, when combined with designers' irrepressible fantasies and high craftsmanship, will always be an object of pride for many museums and private collectors.
…and a few more Kashmir sapphire jewels…