For the sixth year in a row, in the midst of London's auction season, Masterpiece London will open its doors to collectors and art lovers from all over the world. The exquisitely decorated salons will accommodate museum-quality exhibits, which visitors can view and buy.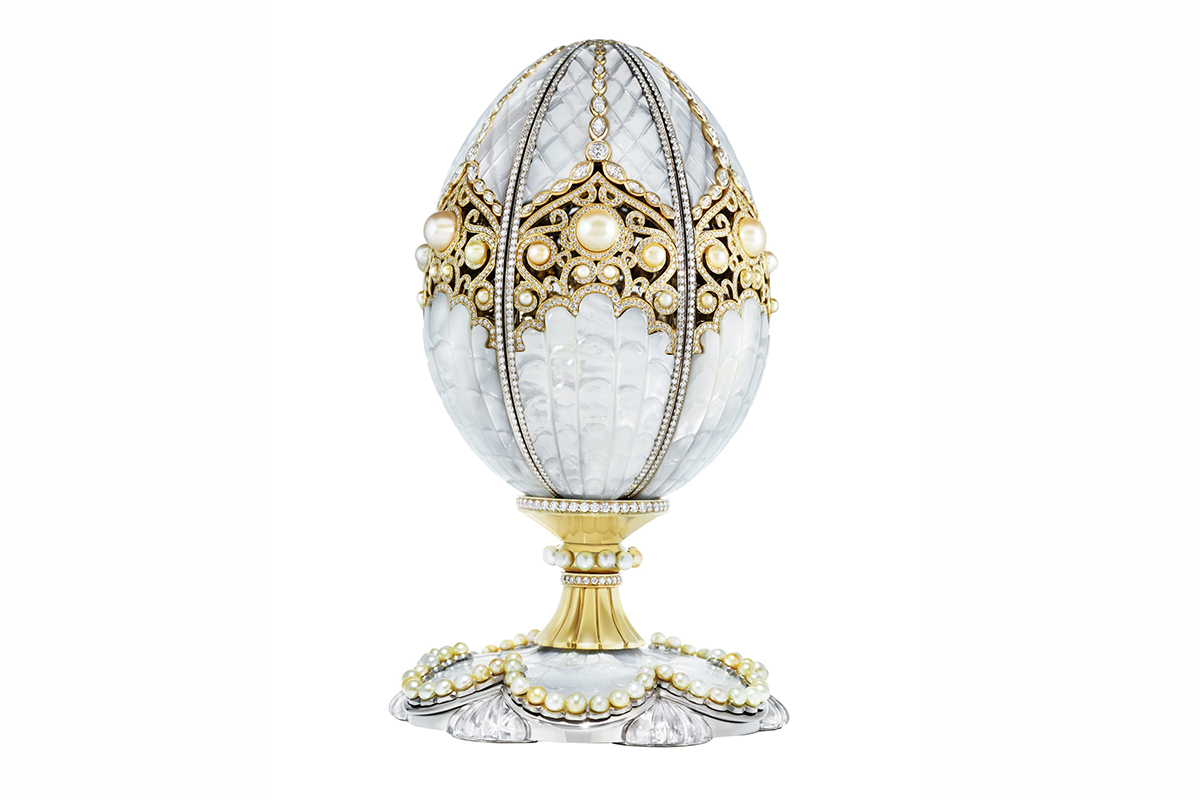 My attention will undoubtedly be drawn to jewels. I believe it is a rare opportunity to see so many important pieces in terms of history, design and value in one place. I am looking forward to seeing the regulars as well as the jewellery legends like Van Cleef & Arpels and Fabergé, who will exhibit at this fair for the first time.
You might remember the wonderful pearl Easter egg by Fabergé that was revealed a few months ago and caused quite a stir in the media. Be prepared for the second boom – the Jewellery House will present their latest masterpiece – another bejewelled egg called Four Seasons.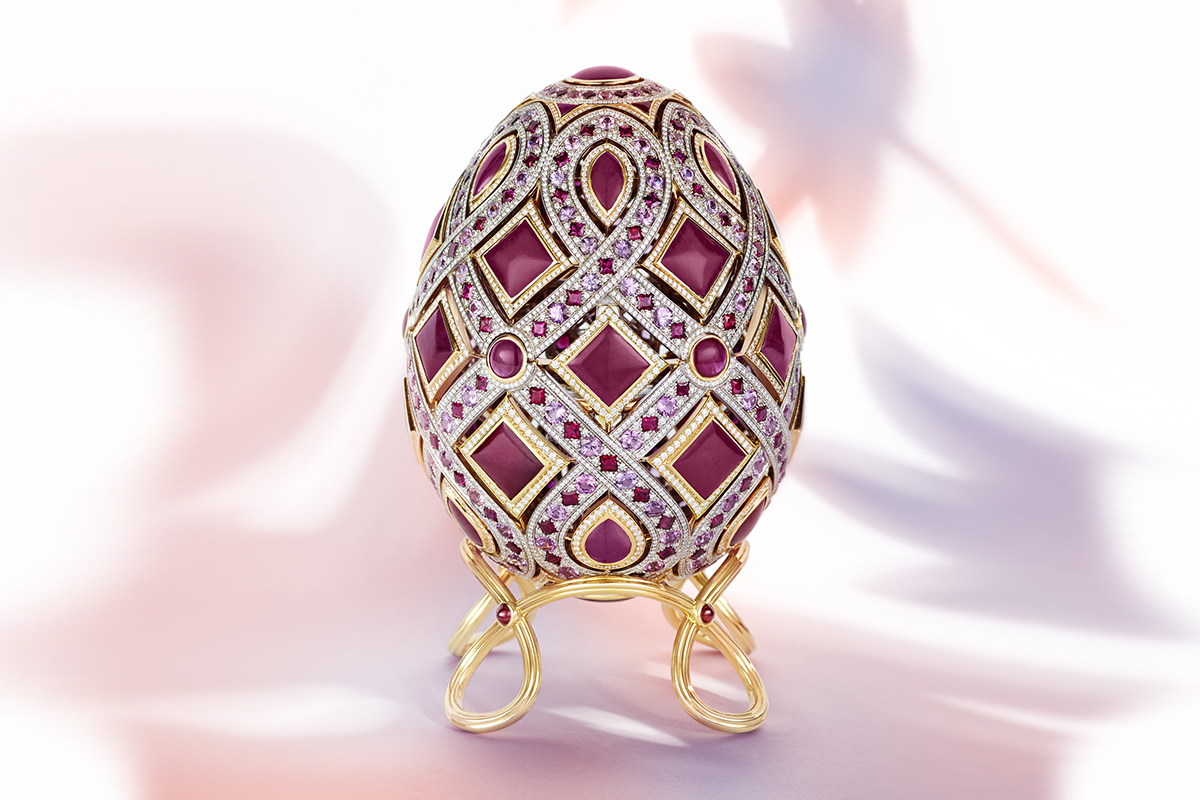 High jewellery brand Boghossian (formerly BOGH-ART) will present a selection of brand new pieces that will wow jewellery connoisseurs and collectors alike. They have enriched their collection with a brand new line of one-of-a-kind jewels inspired by Oriental ballet.
Since 1940, this sublime dance form has been a source of inspiration for the French jewellery house Van Cleef & Arpels. If you visit their salon at Masterpiece, be sure to admire the prima ballerina brooch with diamonds and rubies that was created this year.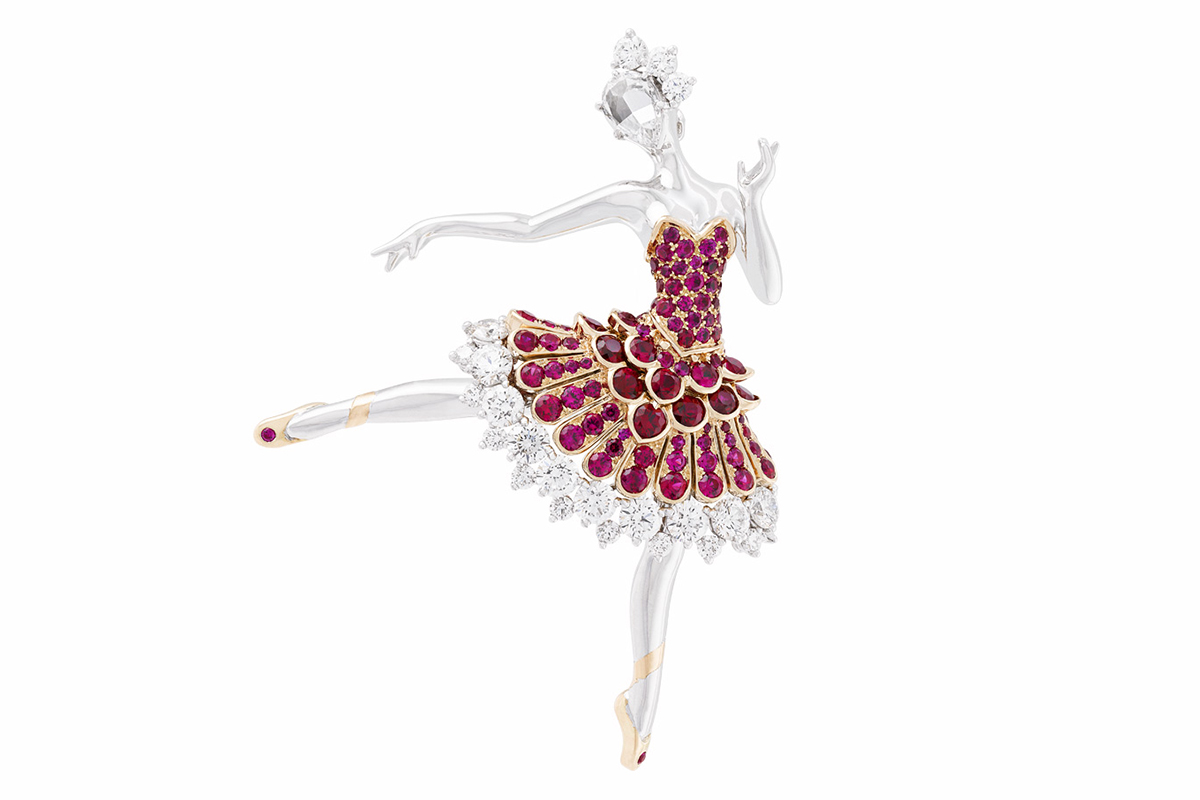 Meanwhile, Fred Leighton will present one of the few legendary jewels created by Van Cleef & Arpels during the earlier period. The antique jewellery expert from New York will bring a pair of earrings and a brooch crafted in 1960 using diamonds and sapphires. The gemstones are exquisitely set in gold according to the signature gem-setting technique – the mystery setting.
Two other well-known exhibitors from New York who are returning to Masterpiece London this year are Siegelson and Verdura. They will bring a selection of spectacular jewels, including some impressive wrist adornments. To check out the diamond bracelet set in platinum by Cartier in 1934, make a beeline for Siegelson. It is a very powerful jewel that was in vogue when created and consists of straight geometric lines characteristic of the Art Deco style.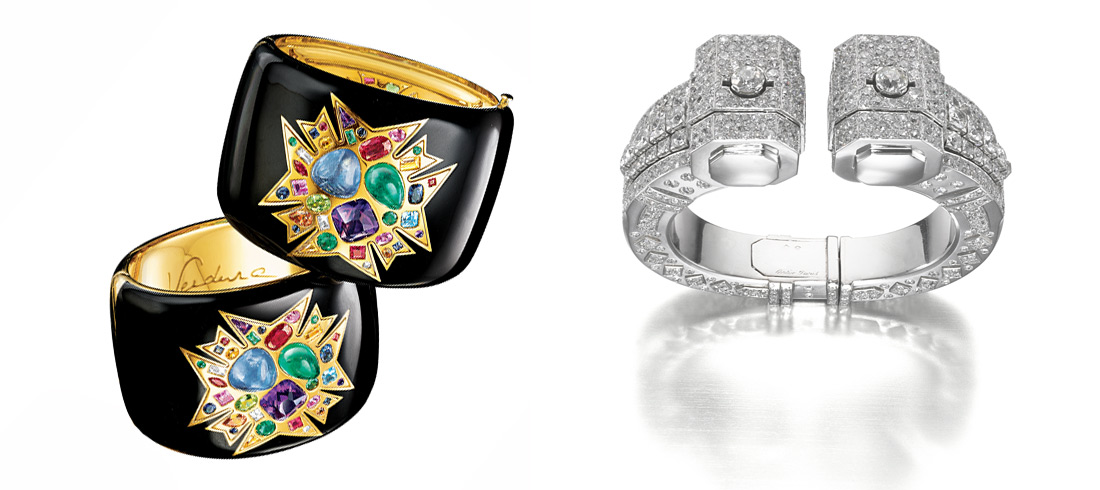 Verdura will unveil a pair of Theodora cuffs crafted in 18k gold, enamel and precious stones – emeralds, sapphires and amethysts set in vivid contradiction to a sparkling mosaic of rubies, diamonds, peridots and tourmalines. The bracelets are dedicated to the 75th anniversary of Verdura and are limited edition.
Before I tell you about the modern masters, I'd like to draw your attention to yet another vintage piece. This one is a set with citrines created by US jewellers Trabert & Hoeffer in collaboration with the French House of Mauboussin during the late 40s. In the period 1930-1940, jewellers of the two continents created extraordinary high jewellery adornments. I think this bracelet, brooch and necklace suite, to be presented by Hancocks, is a perfect example of a masterpiece.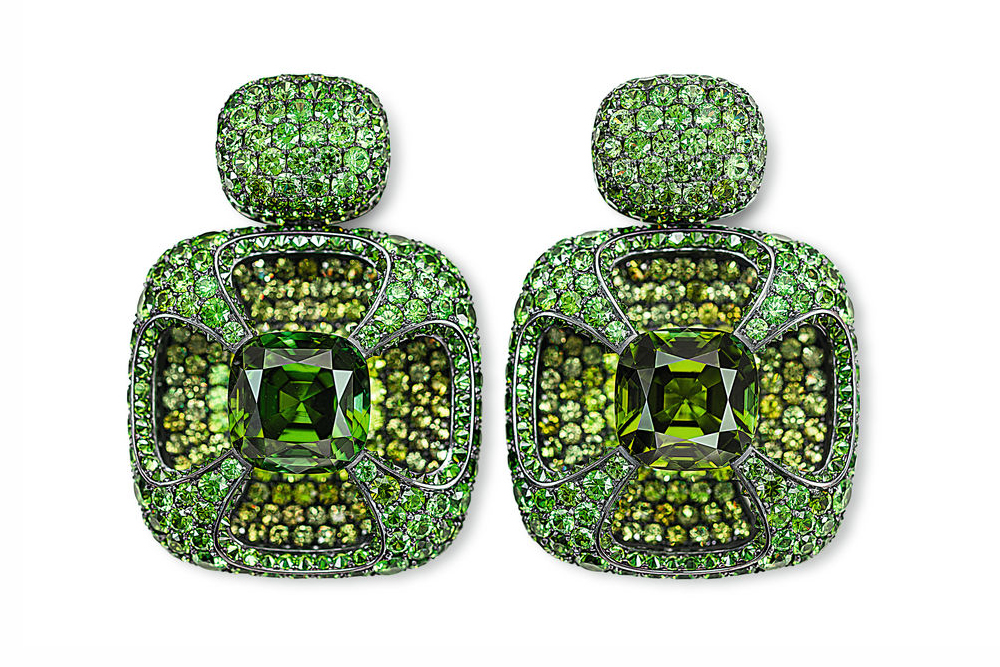 When selecting exhibitors for the fair, the organisers do not focus on antique dealers alone. So, visitors will be able to view the works of outstanding contemporary artists and jewellers who have developed their own distinctive style.
Staying true to himself, Christian Hemmerle will present jewellery that combines simple and elegant design with rare gems and often, unconventional jewellery materials. Hemmerle's demantoid garnet earrings (featured below) are a feat of German engineering. Despite their size, these earrings are comfortable to wear.
Suzanne Syz salon windows will showcase precious fireworks of coloured gemstones encased in them. Often mixing different colours in one jewel, Susan will display Sex on the Beach ring in pink gold and enamel with multi-coloured diamonds in hues of yellow, pink, orange and green.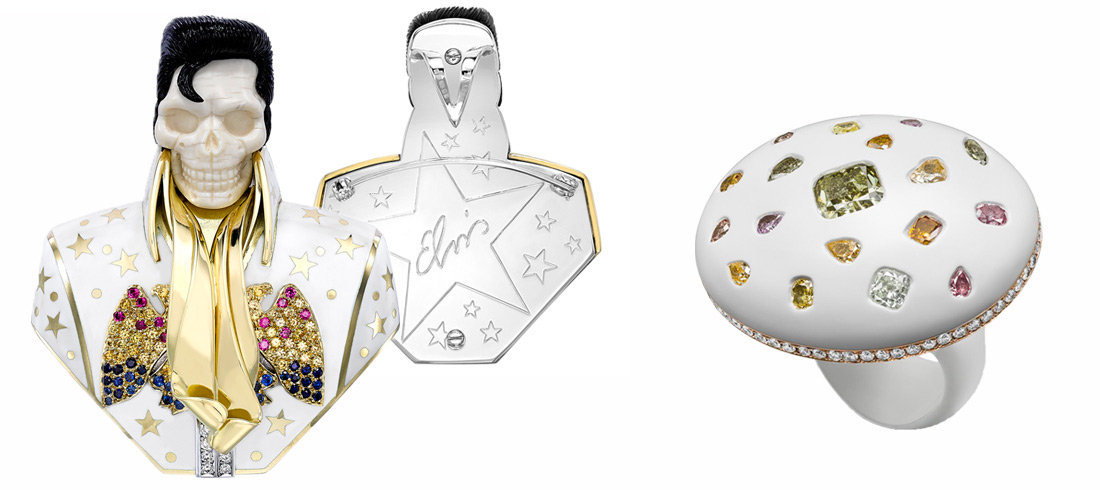 Very different designs have been crafted at the workshops of British jeweller Theo Fennell –romantic floral rings and pendants with skulls will be on display at their salon. One of Fennell's latest creations is 'The King Brooch' with enamel, carved mammoth tusk, gold and diamonds. As you might have already guessed, the jeweller pays tribute to the legendary singer Elvis Presley.
Another British jewellery brand not be forgotten is Grima. It is almost impossible to confuse pieces created by Andrew Grima with anyone else's ever since he developed an original technique of working with gold. The company is now headed by Andrew's wife, Jojo, and his daughter, Francesca. Together they continue to create jewellery with textured gold.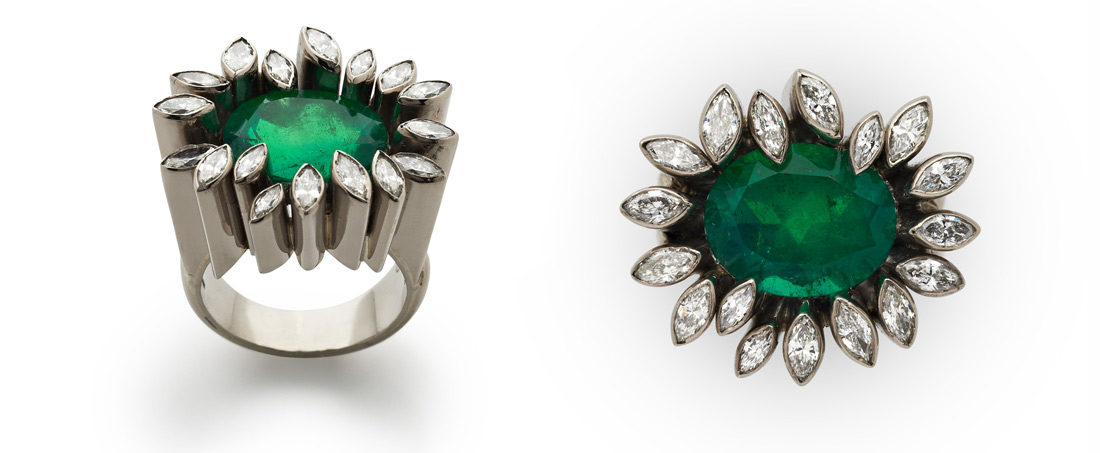 Dates: 25 JUNE – 1 JULY 2015 (PREVIEW 24 JUNE)
Opening times:
25−26 JUNE 11.00−21.00
27−28 JUNE 11.00−19.00
29 JUNE 11.00−21.00
30 JUNE 11.00–18.00 (Followed by The Art Gala at Masterpiece in aid of the NSPCC)
1 JULY 11.00−21.00
Location: South Grounds, The Royal Hospital Chelsea, Chelsea Embankment, Near Sloane Square, London SW3 4LW