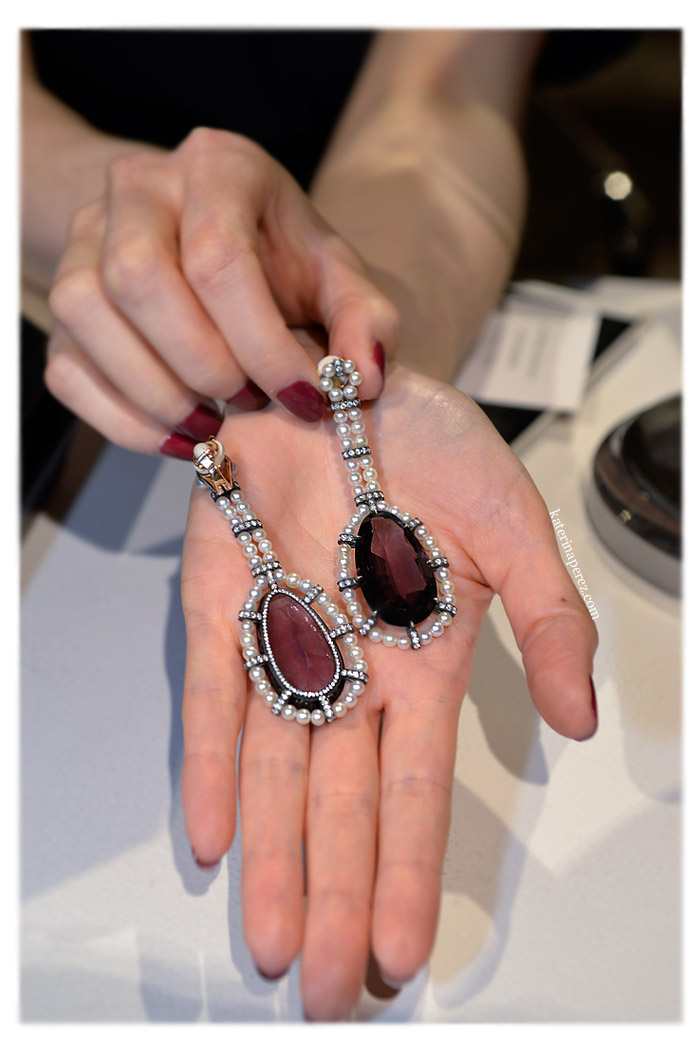 Lauren Adriana for Siegelson earrings with 2 pear-shaped spinels ( 37.62 cts and 35.80 cts), 338 round diamonds totalling 2.59 carats and 72 natural pearls totalling 27.95 cts set in 18K rose gold and blackened silver. Both spinels are certified.
Siegelson presented a wonderful collection of landmark vintage jewellery at the arts and antiques fair Masterpiece London. Most of the pieces on display were crafted by skilled masters of such unprecedented maisons as Van Cleef & Arpels, Cartier and Boucheron.
Whilst scrutinising the exquisite diamond necklaces – a sautoir with emerald beads, rings with huge old-mine diamonds, clocks crafted with carved gemstones – I noticed two charming pieces that boasted spectacular gemstones. One of these was a pair of earrings with an impressive pair of pinkish purple spinels surrounded by a halo of pearls; the other, a ring whose shape resembled the Portuguese designs typical of the 18th century.
Both of these are the latest additions to Siegelson's collection, made in collaboration with Lauren Adriana – a British designer and St.Martin's graduate. She is renowned by a select few for her audacious instinct for jewellery: along with large gemstones she, like JAR or Hemmerle, uses copper and aluminium in her designs. Not everyone, however, appreciates these details, and Siegelson Lauren now seems to have settled for more traditional metals like white gold and blackened silver. In such a way, both pieces represented a unity of the aesthetics, introducing the craftsmanship of past and present.
The perfectly cut gemstones – mounted in burnished silver dotted with diamonds – were markedly striking. These were pinkish purplish spinels of compelling beauty and rarity. I can only imagine how long it must have taken to a pair of stones so seamlessly matching. The spinels weighing 35,80 and 37,62 carats resembled ripe plums. The depth of their colouring was simply enchanting, especially in contrast with the white pearls and black silver surrounding them.
The ring had its own show-stopper – the intense blue type IIb diamond was sat on a bed of multicoloured pave diamonds (unlike type I diamonds, type II pieces have almost no nitrogen in their composition – colourless, pink or brown – whilst Type IIb contains boron and is characterized by blue colour). While showing me the ring, Lee Siegelson emphasized that the 1.51 cts blue diamond had the same hue of blue as the famous Hope diamond.
Photo credit: the ring and earrings are courtesy of Siegelson. The rest are by Saira MacLeod.