Most of all I love COUTURE for the way it helps you to get a clear idea of how jewellery design "sounds" in the various languages of the world. After all, every country has its own understanding of beauty and aesthetic. Thanks to this, the exhibitors' pieces differ radically from each other, creating a unique cocktail of creative trends that makes you want to return again and again.
Sadly, COUTURE's doors have already closed, and the halls of the Wynn, Las Vegas hotel have emptied. However, the images of the jewellery I saw has not been wiped from my memory, and here I have collated the most vivid and memorable of these. All of them belong to a different style – high jewellery, fashion fine jewellery, minimalist, extravagant, bright and monochrome, both with and without gems – together they reflect the whole palette of the art of jewellery design.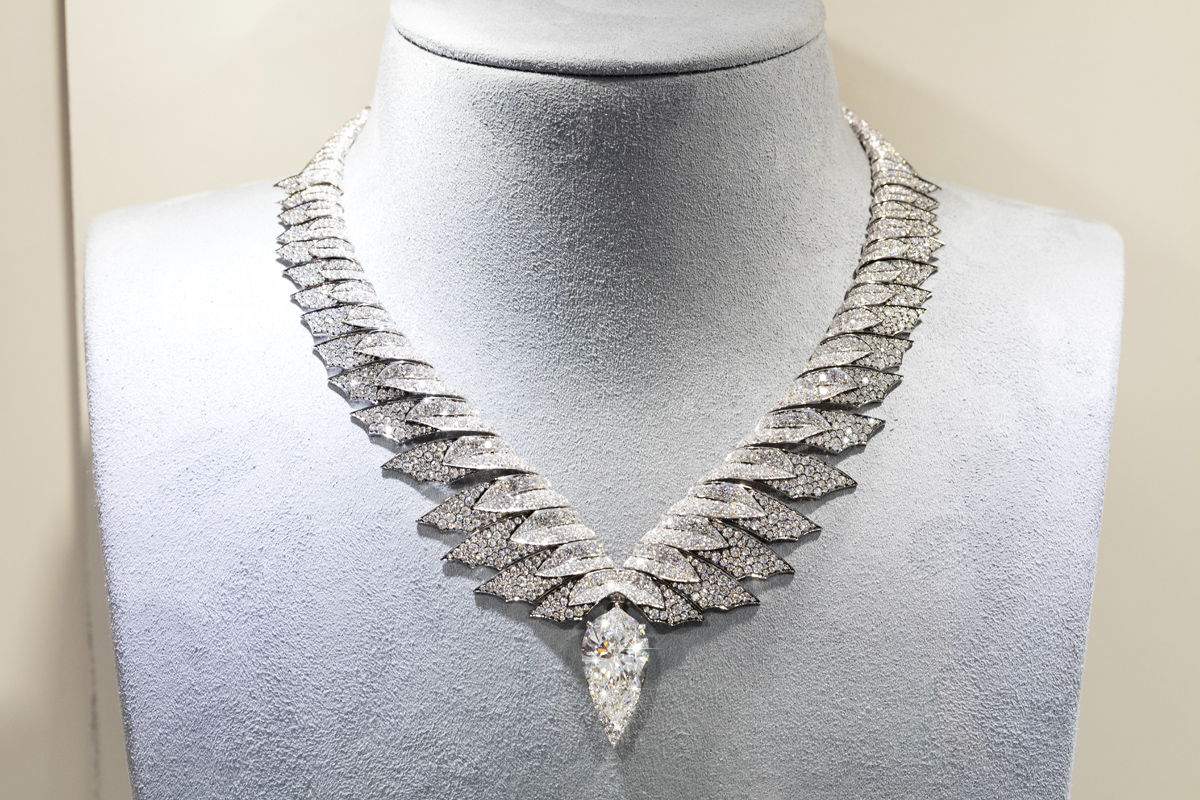 Now let's talk about jewellery. First of all, I want to talk about an Arunashi bracelet with a Paraiba tourmaline cabochon of 75 carats. It left visitors to Couture speechless and flooded social media with its beautiful neon light. Another attractive gem was the 26 carat kunzite in a diamond encrusted chain necklace by Hammerman Brothers.
A unique item, that I find I have to highlight at the beginning – is the luxurious "Orchid" necklace by Caratell. It has been executed to such a level of detail, that the flowers on it look almost real. I discovered another beautiful flower in the showroom of the German company, Stenzhorn. Its designers, together with the company's founder, Klaus Stenzhorn, created a magnificent necklace with a chrysanthemum, assembled with the aid of an invisible setting of sparkling rubies.
The "Panther" necklace by Gumuchian was yet another stunning discovery. At the heart of this necklace, on carnelian beads, is emblazoned the face of this predatory cat, hand-cut from a 20 carat green tourmaline. The neck adornment from NC Rocks is made in a completely different genre, however, it made no less of a powerful impression on me thanks to a spectacular combination of geometric elements from bright blue and green enamel. The same colour scheme was used to make the bracelet "Blue element" by Sucyian, adorned with milky aquamarine, sapphires and tsavorites. This year, the Turkish jeweller, has decided to inject some colour in his works.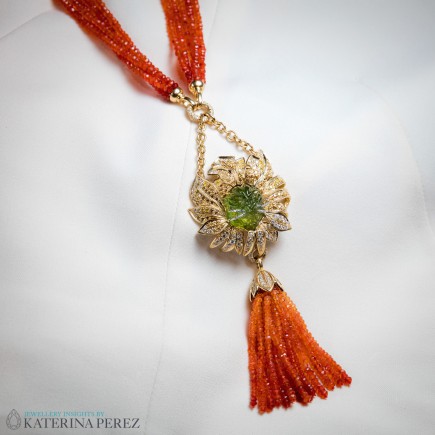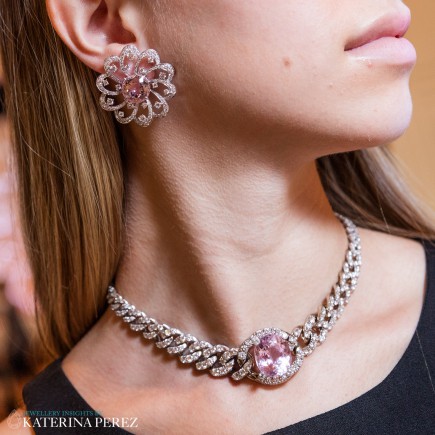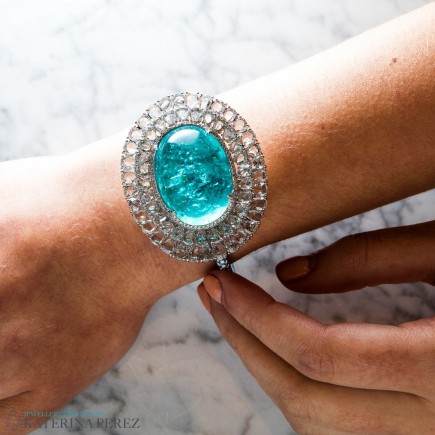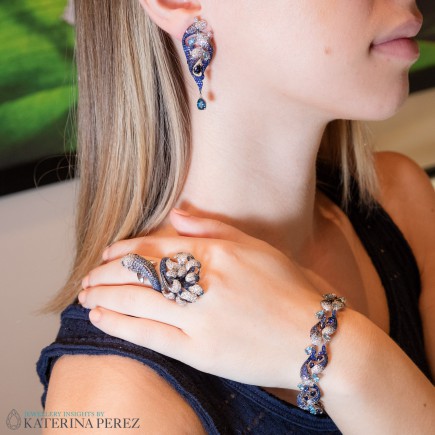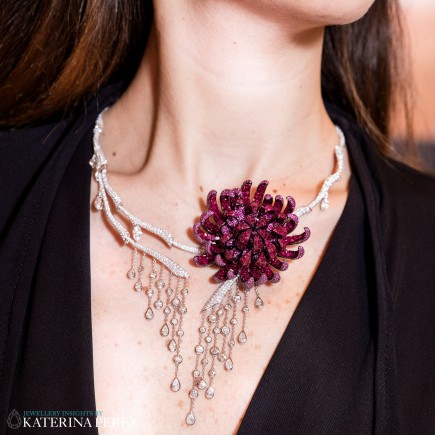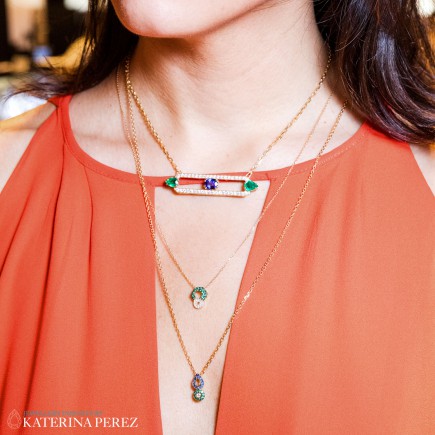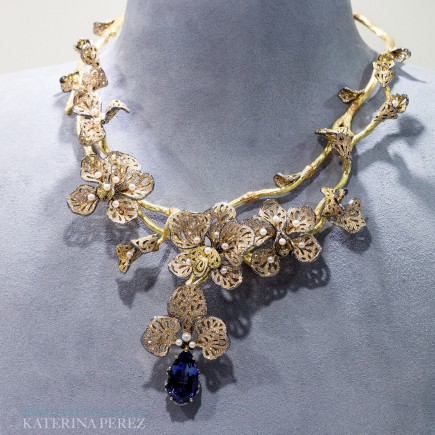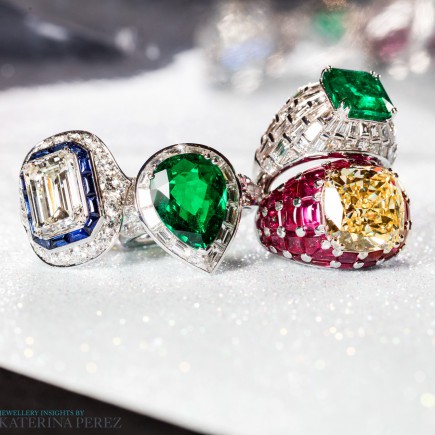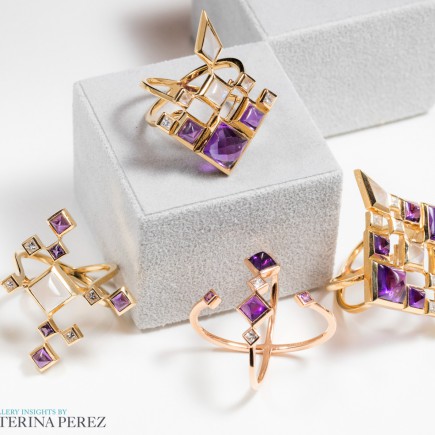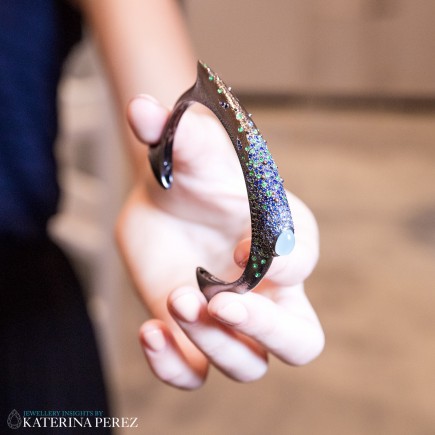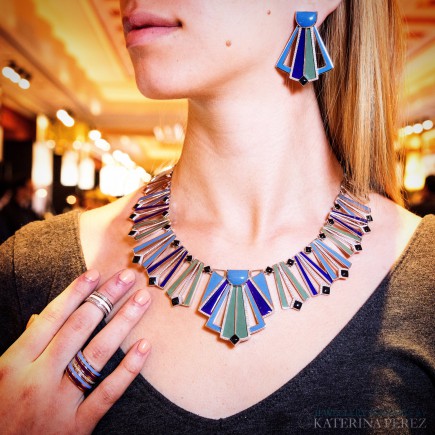 Many other designers apart from NC Rocks who took part in COUTURE have also used the theme of geometric shapes in their jewellery. For example, Rachel Shaw, the founder of the British brand, Ruifier, debuted her "Spectre" collection, the jewellery of which resembles snowfakes with diamond shaped gems varying sizes. A designer from the UAE, Reem Mobassaleh from R.Y.M. Jewelry made her debut with a collection of transformable geometric pieces that can be removed from one jewel and put on another as a central decorative element. The Israeli designer Yossi Harari creates rather minimalistic jewellery, most often of all oval or round in form. However, he made his new necklace in a different format creating an angular design. However, as with all of Yossi's jewellery the key feature of the design is the finish of gold.
The Couture Show would not have been the same without the collection of unusual cocktail rings on display. I fell instantly in love with several of Picchiotti's pieces with diamonds and emeralds, made in the very best traditions of Art Deco style. The Turkish designer Aida Bergsen brought a whole series of spectacular cocktail rings to the exhibition which were adorned with large smoky quartz and pictured scenes from the lives of insects. For example, the ring shown below resembles field in bloom, where a bumble bee is gathering nectar. For me the Couture Show, like a fine wine, only gets better with age, therefore I have every confidence that the 2017 jewellery will be even more spectacular. To see if this will be the case we will have to wait until June of next year.