Fame courted Jane following her role as Bond girl Solitaire opposite Roger Moore in 'Live and Let Die.' In her many roles, she has portrayed Queen Marie-Antoinette in La Révolution Française and appeared in Young Winston as Winston Churchill's lover. Over the years, the actress has garnered awards and won critical acclaim for her work in films and television dramas.
This special ring has been created for the Group's private collection to honour the immensely talented actress. "The invitation to behold this creation would rather you not compare The Jane Seymour to anything else in the high jewellery world," says Karan Tilani, Director, World Of Diamonds Group. In its rough state the blue diamond was hardly symmetrical in structure. "One tiny miscalculation, one slip and its colour would have disappeared entirely," says Karan. A lot of deliberation, planning and meticulous gem-cutting led to the creation of the cushion-cut 2.08 carat diamond, which is of perfect proportions.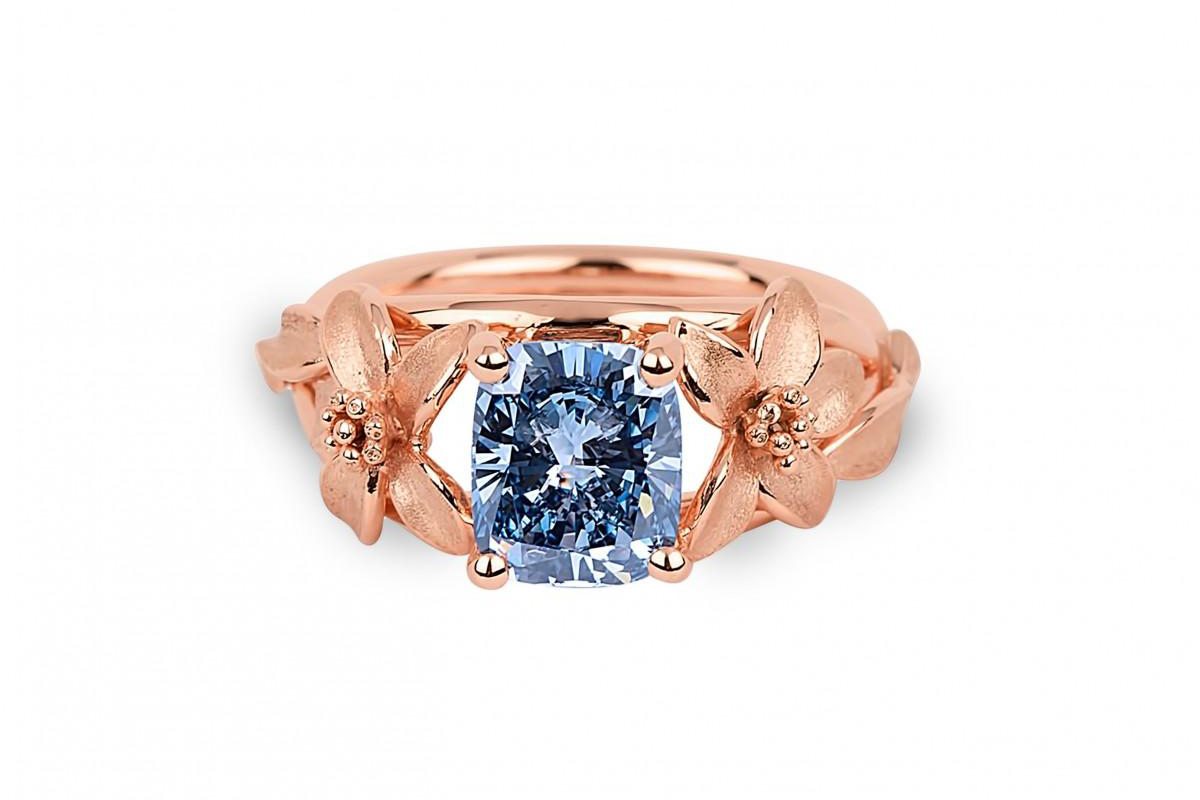 An ode to the British-American Hollywood star's legacy, this beautiful jewel has been crafted in platinum and plated with rose gold. The shank, featuring a blossom each, seems to be carelessly whispering to the pretty diamond. The Group's best craftsmen in Geneva worked for over two weeks to shape the contour of the ring and picked out the details of the flowers, while simultaneously configuring the symmetry of the ring. The floral motif was chosen to exemplify Seymour's personality: her grace, elegance and demeanour. Despite her stellar achievements, Jane remains very down-to-earth. The flowers, thus chosen – Erodium malacoides – encapsulate these fine qualities, while the combination of matt and gloss rose gold plating gives the ring a contemporary appeal, accentuating the blue hue of the diamond.
Blue diamonds of the same mesmerising saturation of colour as The Jane Seymour are highly covetable and have been known to fetch over US $2,000,000 at auction houses like Christie's and Sotheby's. However, you will never see The Jane Seymour diamond going under the hammer. As Karan says: "We don't want the ring to pass through an auction house, since we would like to be selective about the eventual buyer – this is a work of art and has to be appreciated by a true connoisseur. More importantly though, this is the only celebrity jewellery piece in the world that isn't pre-owned, while almost all pieces that pass through Sotheby's or Christie's are pre-owned."