Freedom of design, natural gemstones and an emphasis on jewellery ergonomics, technical skill and innovation have already drawn keen interest to FORMS' output. But like any craftsman who loves their work, the evolution of FORMS doesn't stop there. An admiration for the beauty and versatility of geometric shapes prompted a desire to create an intriguingly sculptural collection. Taking a square canvas as the foundation, the designers at FORMS began to "paint" patterns upon the linear shape with diamonds, emeralds, rubies, sapphires, as well as kunzites, tourmalines and mother-of-pearl. The contrasting textures, colours and sheens of these materials accentuate the playfulness and creativity of the collection.
"Our creations are unique examples of high jewellery art that are sophisticated, innovative and very wearable," says FORMS CEO Gilly Strauss. However, not everyone understands how much work is needed to combine all these elements masterfully into one piece. For example, the complex structure of each design in the Canvas collection took a significant amount of time to formulate and countless redrafts. As always, FORMS' designers wanted to highlight the natural beauty of the gemstones and to do this they needed to liberate the minerals as much as their gold and platinum surround – materials that play a secondary role in the collection.
Comprising six jewels, my favourite piece in the collection is a ring set with a rare Colombian emerald weighing almost 5 carats. Encircling the emerald cut centre stone, rays of emeralds and pavé diamonds emanate outwards, with iridescent mother of pearl in-between, creating a dynamic visual effect.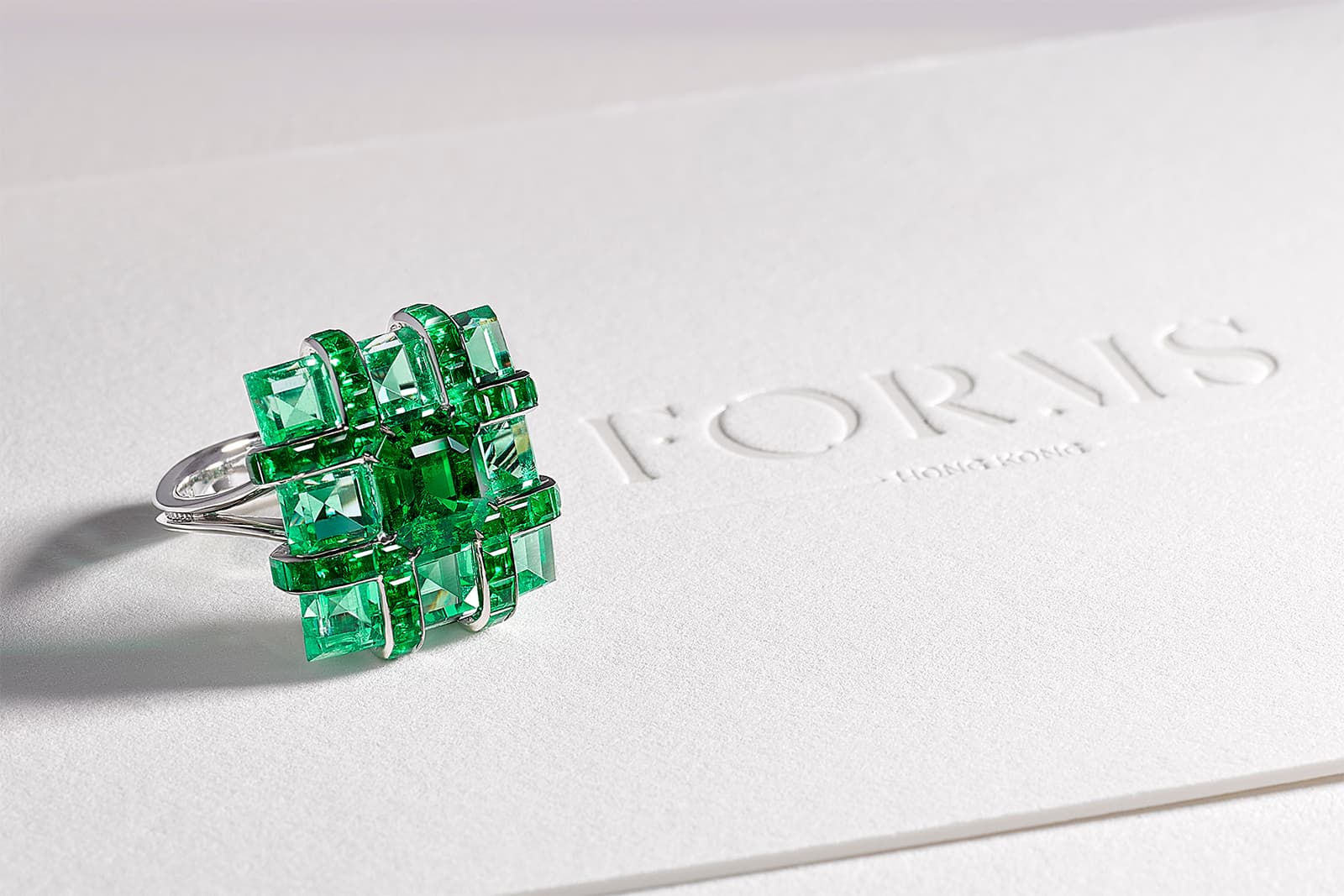 The Colombian emerald plays something of a starring role in the Canvas collection, featuring in three other pieces. The first is a geometric ring in platinum that is the embodiment of modern architectural design. The central 1.90 carat emerald cut Colombian emerald is set within a matrix of eight carefully matched emeralds in lighter shades. This matrix is covered by a "grid" of channel-set square emerald cut emeralds, which are secured in place by flawlessly polished bands of platinum.
The next two emerald jewels, a ring and earrings, are similar in design, but not in technique. The sculptural earrings are set with a combination of paler and darker emerald cut Colombian emeralds, divided by diamond threads and white gold lines. The gems are positioned at different levels to give the piece a lively, spatial perspective. The ring features both emerald cut emeralds and diamonds, set at different levels and outlined with pavé diamonds and white gold.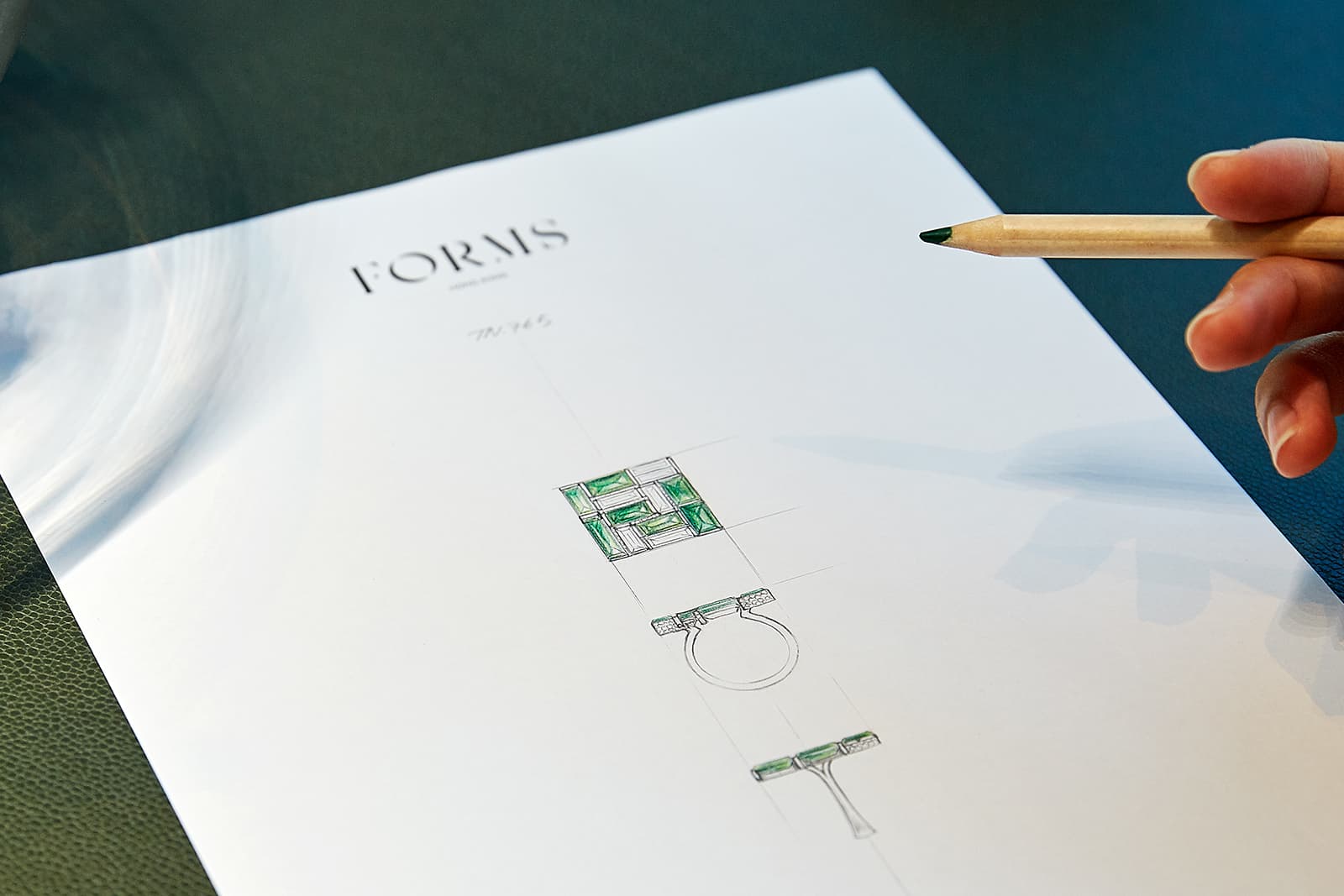 The romantic earrings, dominated by pink and purple hues, are adorned with a pair of fuchsia tourmalines weighing over 7 carats each, which have been custom cut to give the appearance of a blooming rose. The tourmalines are complemented by a dynamic pattern of pavé pink and purple sapphires, interspersed with angular slices of shimmering mother-of-pearl.
A soft pink glow illuminates a pair of kunzite earrings, complemented by almost 7 carats of rubies. The design incorporates lines of red enamel running from the rubies to the reverse of the earrings, a subtle detail that accentuates the colour contrast between the rubies and the kunzites and ensures the earrings look spectacular from all angles. Due to the intricacy of the frame, a combination of white gold and titanium was used to provide the earrings with strength, lightness and balance.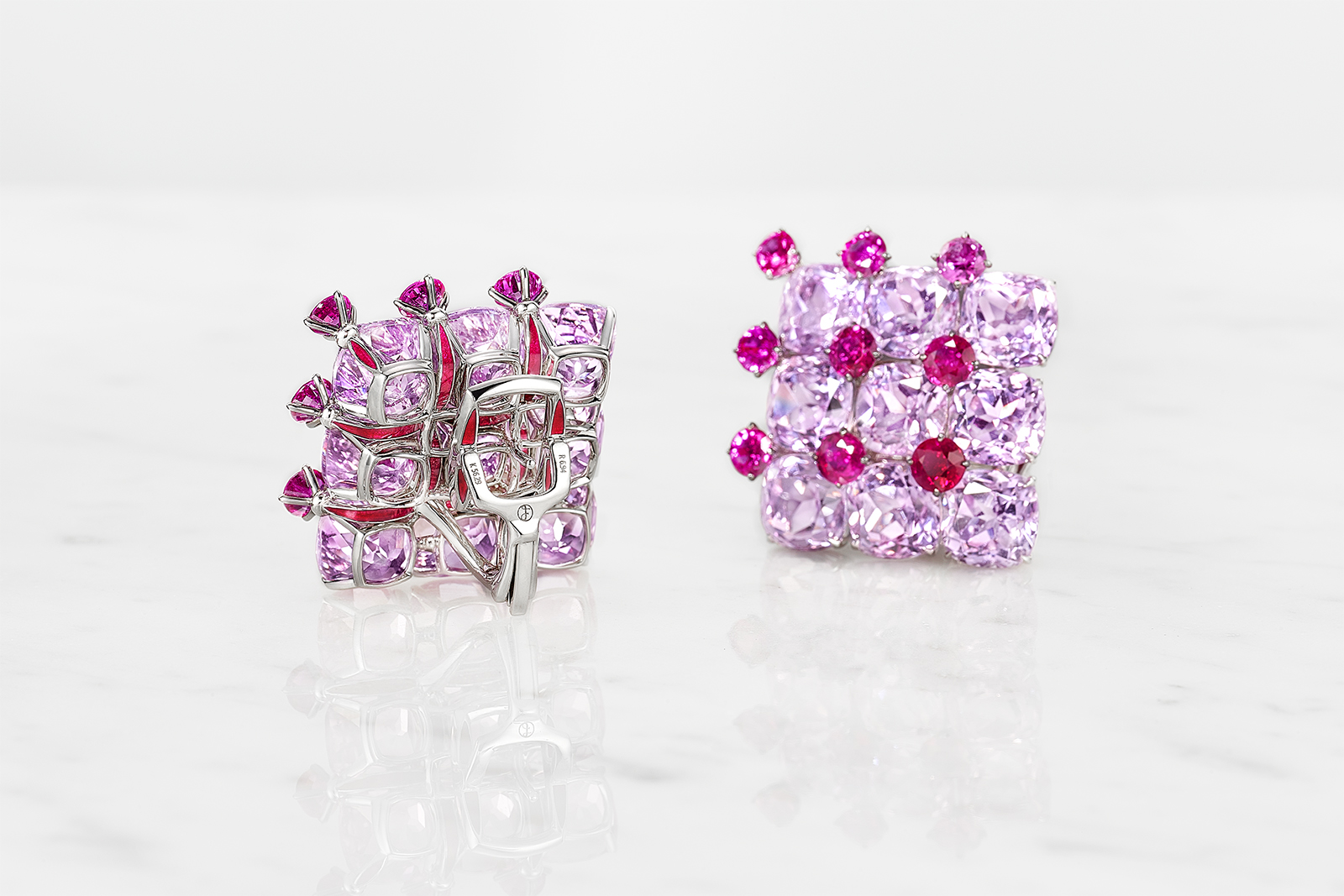 This collection is truly an amazing gift for those who love the work of the designers and craftsmen at FORMS. Once again, congratulations to the company on its anniversary. I hope that this bold experiment will continue to be part of the DNA of this exciting and innovative brand.