There's a spiritedness to Bulgari High Jewellery that's instantly recognisable. Its style is glamour encapsulated; always ostentatious, colourful and commanding but never gaudy. Eden The Garden of Wonders is the brand's latest High Jewellery collection that leans into its Italian heritage and whisks us away to sun-soaked Mediterranean coastlines that are both rooted in reality and sensationally fictionalized.
As this collection consists of more than 140 pieces, we must go on a journey through its highlights together or risk missing one or more treasures! Firstly, we must mention Bulgari's High Jewellery ambassadors, namely actresses Anne Hathaway, Priyanka Chopra, Zendaya and musician Lisa of the South Korean band, Blackpink. All four women have lent their faces to various stand-out pieces from the collection and have been wearing Bulgari jewels at high-profile events, like the Cannes Film Festival. Next, there was also an Eden The Garden of Wonders runway show in Paris earlier this year, which gave a select audience the chance to see the jewels worn by models and concluded by French-Italian singer and model, Carla Bruni.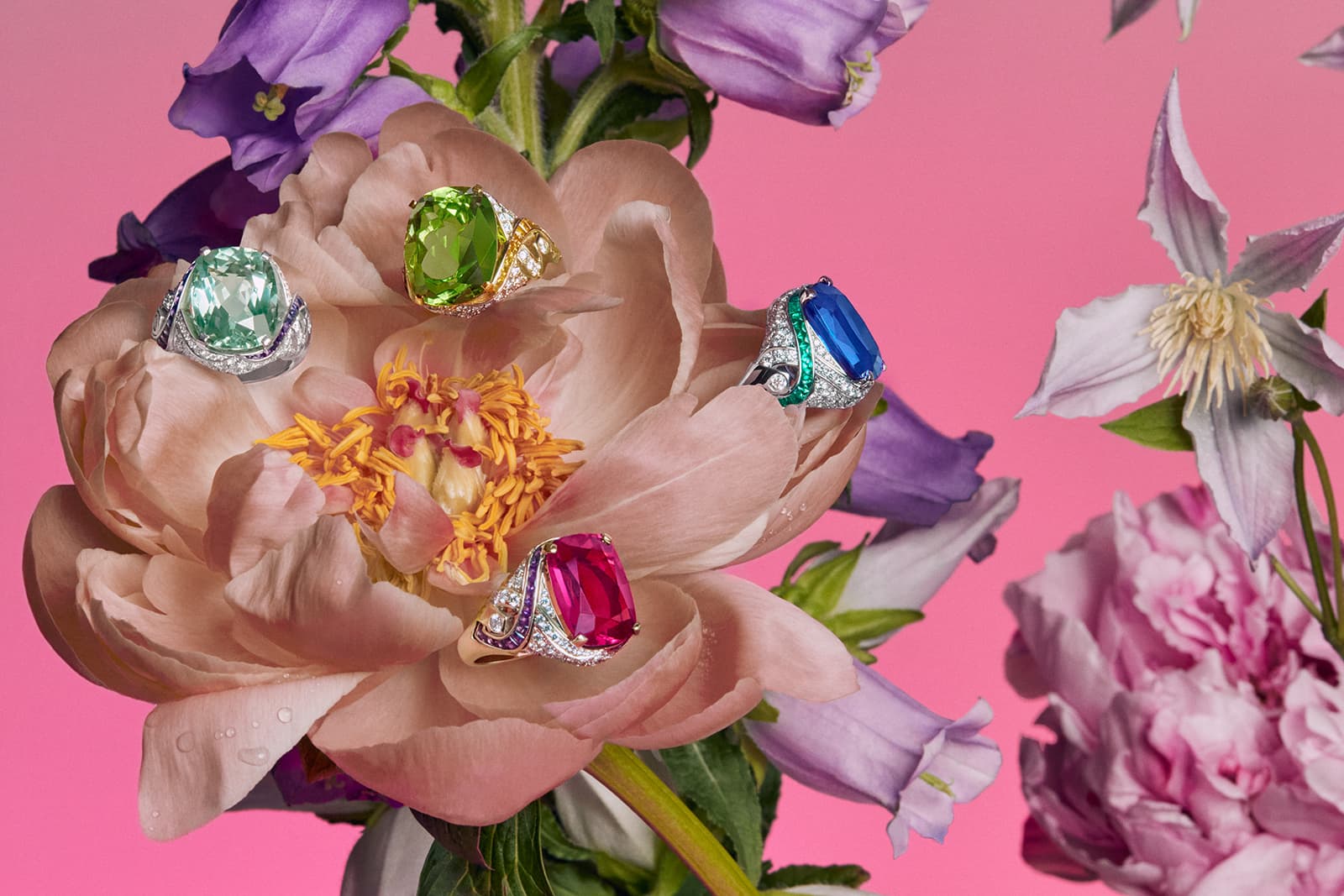 Now, the doors of the garden have been thrown open and we can see more of its beauty. What immediately captures the eye is the flurry of verdant emeralds – some 30 creations are dedicated to this singular gemstone.
"Interpreted rather than just emulated, nature delivers an endless territory of imagination that only human mastery and Bulgari's aesthetic sense can sublime into true works of art."
Let's start with the Emerald Glory necklace – a regal choker consisting of a lace-like lattice of 73 pear-shaped brilliant-cut diamonds of 110.39 carats, further diamonds for a total weight of 220 carats, and eleven pear-shaped Colombian emeralds, totalling 42.02 carats. According to Bulgari, this piece required more than 3,000 hours of craftsmanship.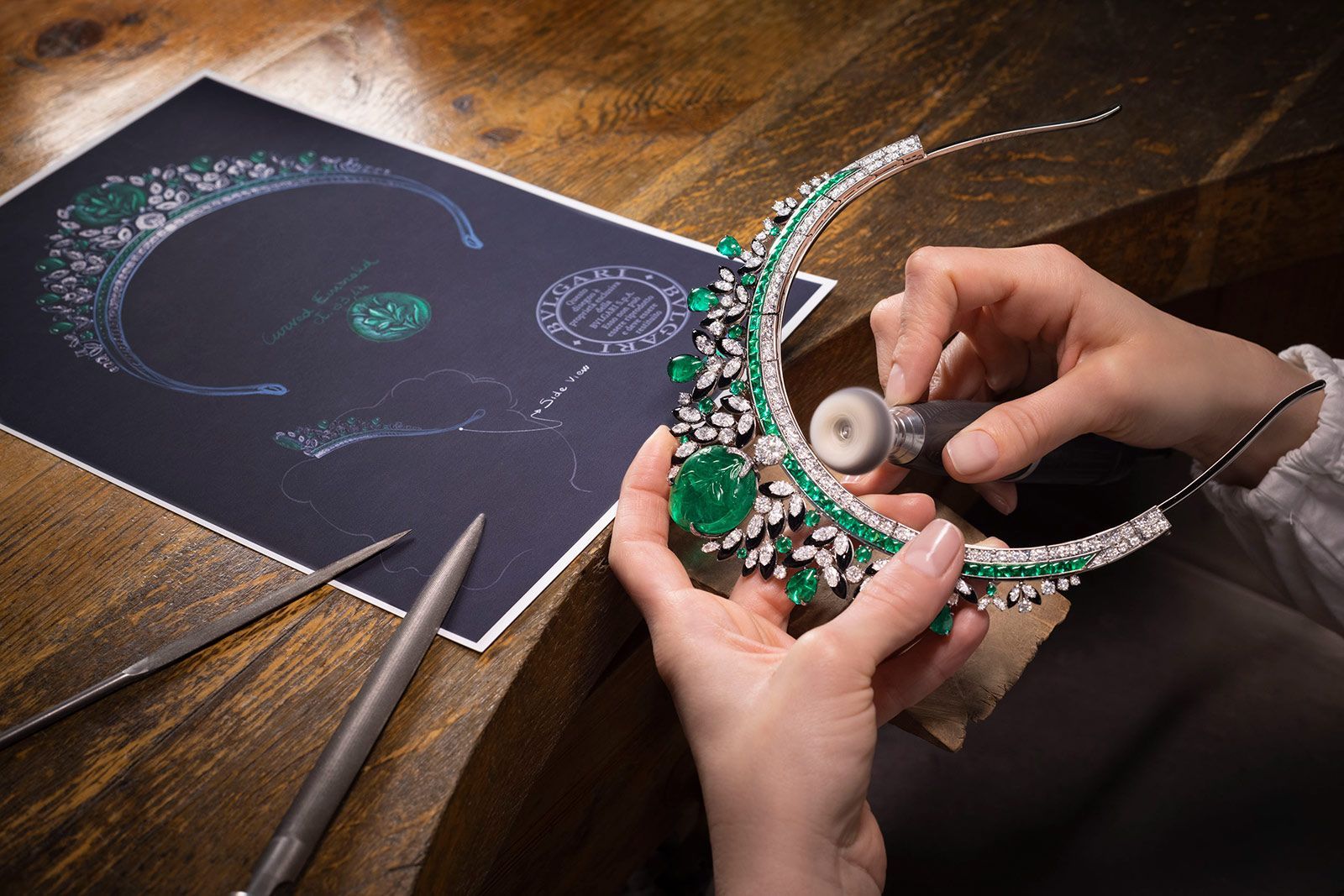 Speaking of emeralds, we have previously written about the Jubilee Emerald Garden Tiara, also from this collection, which was unveiled during Her Majesty the Queen's Platinum Jubilee in June 2022. It contains 63.44 carats of emeralds, including a central carved cabochon in the Mughal tradition, surrounded by diamonds.
Another fine emerald example is the Emerald Venus necklace, inspired by a Mediterranean fern – Capelvenere – that's colloquially called 'Venus Hair' as a tribute to the Greek goddess of beauty. It features branches of emerald beads and diamonds, anchored by a 20 carat Colombian octagonal-cut emerald. Despite the combined weight of its gemstones (71.24 carats of diamond-set leaves, and 130.77 carats of emerald beads), this necklace has an airy and feminine lightness that showcases Bulgar's approach to this collection as a whole.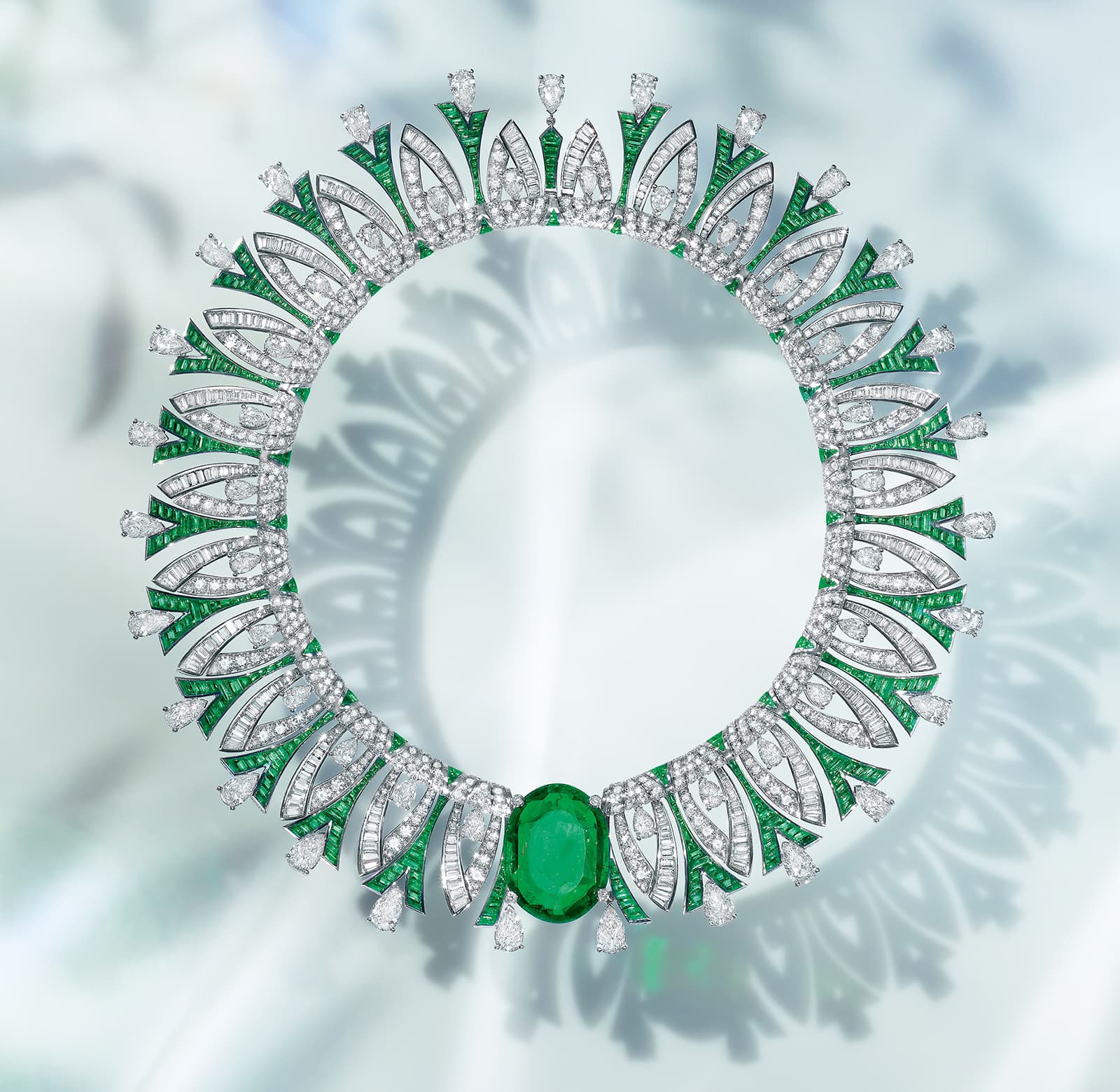 Perhaps one of the most publicized pieces from the new Bulgari Eden The Garden of Wonders collection is the Tribute to Paris necklace, which was worn by actress Julianne Moore on the Cannes Film Festival Red Carpet in May 2022. This piece, which is said to be a homage to the 1960s, celebrates the "artistic bond between two of the most exceptional cities in the world, Rome and Paris," according to the brand. It is set with a 35.53 carat oval-shaped Colombian emerald cabochon, surrounded by six pear-shaped diamonds of 6.08 carats, plus many more carats of buff top emeralds, fancy-cut diamonds and pavé-set stones that required some 2,000 hours of hand-setting. Its lightness and openwork design was inspired by the tapered shape of the Eifel Tower. Moore completed her Cannes look with the Bulgari Emerald Ode ring with an antique cushion-cut Colombian emerald of 11.38 carats and 10 fancy-shaped diamonds.
Staying on the theme of green but expanding our horizons is the Eden Enchantment necklace, which updates an older design found in the Bulgari archives. The shape and style of this necklace come from the 1930s, but its colour palette of Mediterranean blues, greens, soft yellows, and sharp pinks is a contemporary twist. It contains 10.98 carats of aquamarines, 70.15 carats of green tourmalines, 9.30 carats of amethysts and natural blue zircons for a further 22.18 carats. These gems are bezel-set and strung in two neat cascades, tapering to a contrasting diamond-set chain that wraps around the back of the neck.
Moving away from emeralds, we begin to see other magical pieces emerge from the Bulgari Garden of Eden. Sapphires also have a starring role here, especially in the Mediterranean Reverie necklace – worn by Anne Hathaway at the Cannes Film Festival – set with a 107.15 carat royal blue Sri Lankan sapphire. This necklace is inspired by the fabled Blue Grotto, or Grotta Azzurra, in Capri, which has especially vivid blue waters. This gemstone pendant hangs from a platinum necklace of diamonds and further baguette-cut blue sapphires in a striking overlapping link design and is coupled with a diamond leaf motif that descends down the décolletage.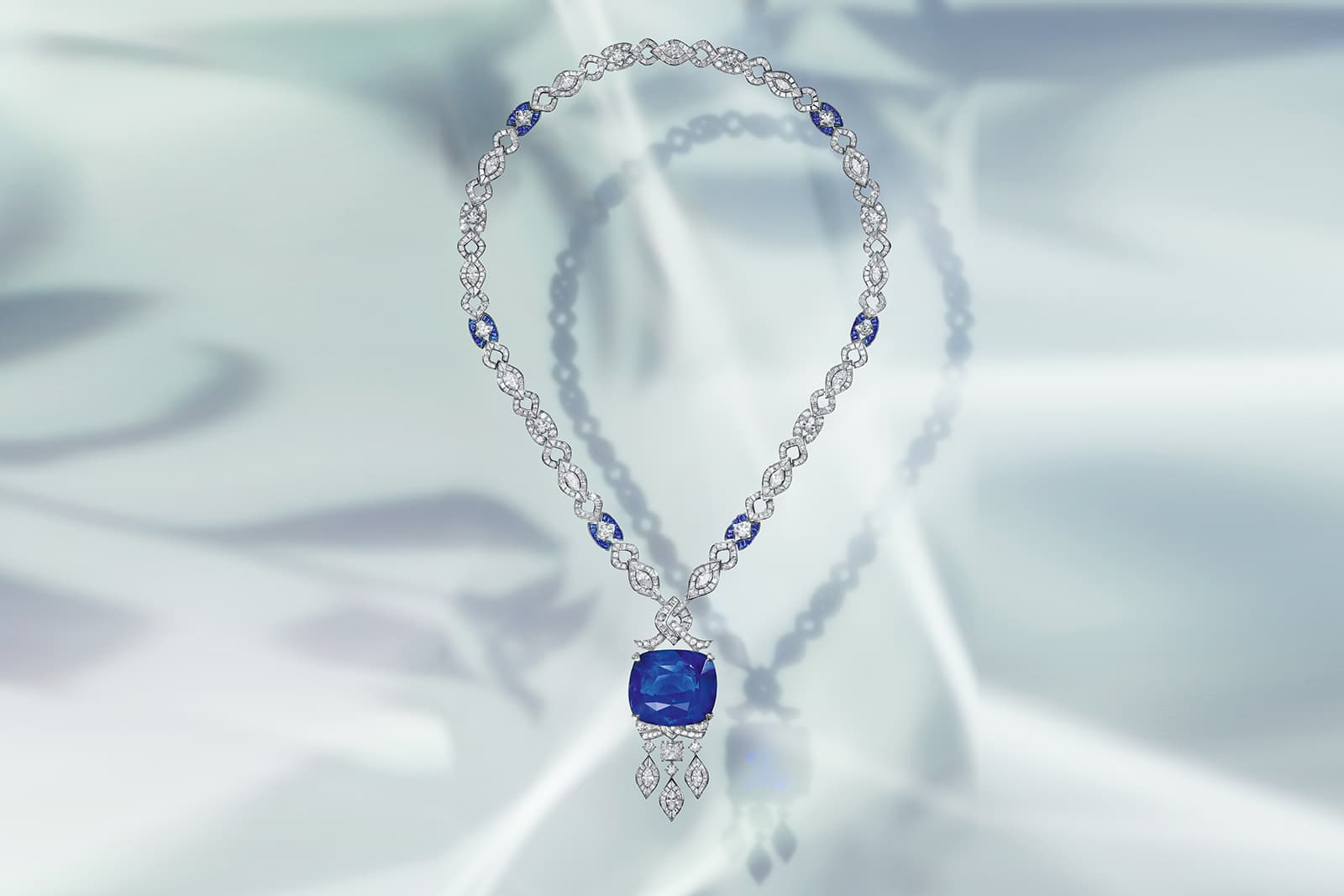 There's also the Sapphire Flower Fantasy necklace set with a cushion-shaped sapphire surrounded by diamond-set petals and sapphire, emerald and ruby beads in the tutti frutti style. There are also added details here, like gemstone inlays for contrasting textures and hues.
As you might expect, the iconic Bulgari Serpenti motif has an important role in this collection… we are talking of the Garden of Eden, after all! The Serpenti Ocean Treasure necklace is a fine example with the snake's twisting diamond-set body and head leading to a 61.30 carat pear-shaped sapphire with a deep blue hue. Of the 20 carats of diamonds used here, eagle-eyed viewers will see marquise, round brilliant, princess and baguette cuts used throughout. Personally, I have a soft spot for the Serpenti Spinel Embrace necklace that's crafted in pink gold and diamonds. The head and tip of the snake's tail wrap around a 25.70 carat drop-shaped raspberry pink spinel from Tajikistan, which is exactly the kind of bold colour pop we'd expect from Bulgari.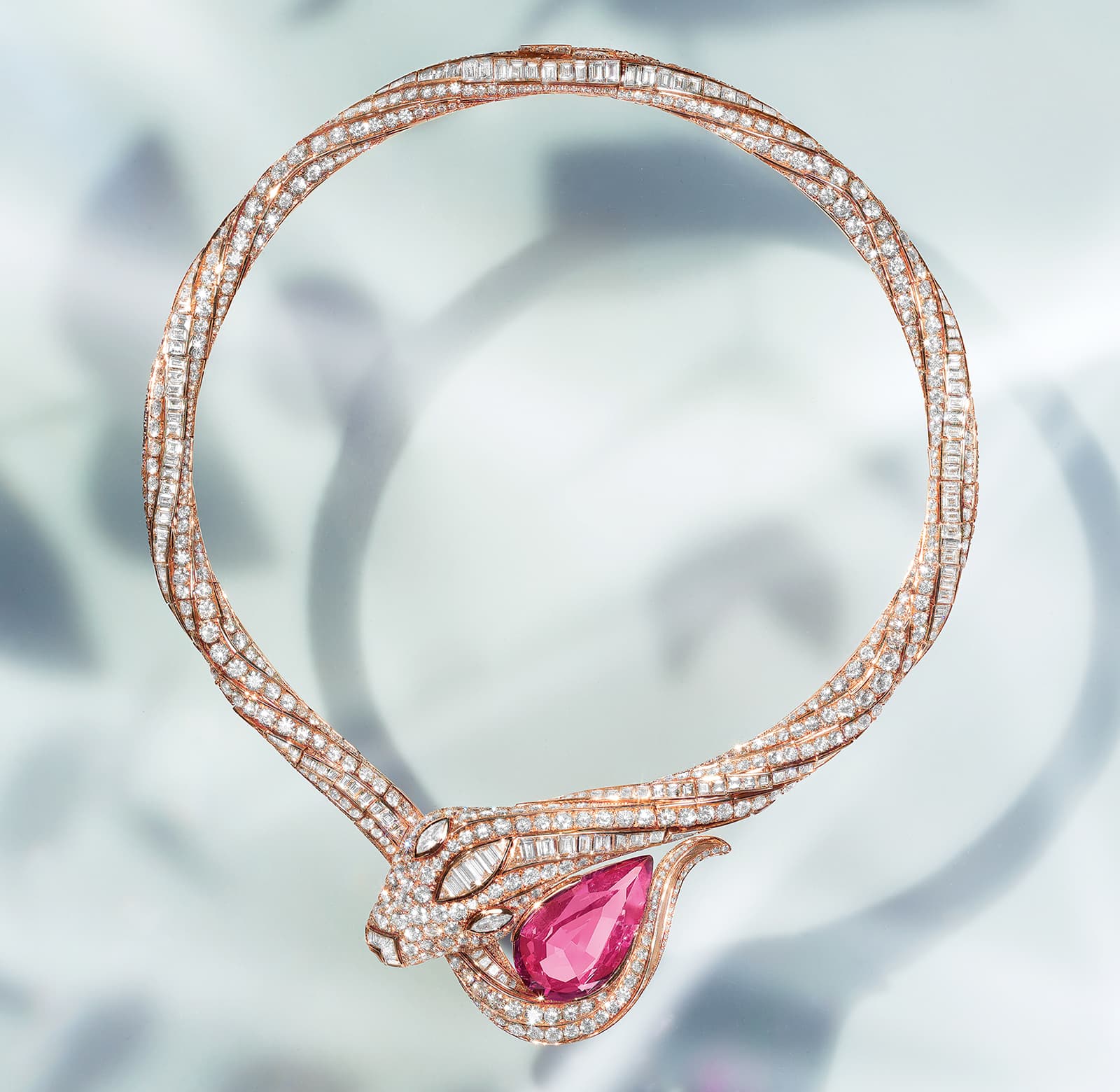 One of the most ambitious pieces in the collection is the Flowers of Eden necklace. It is described as an awakening of flowers after a long winter sleep, which is perhaps why the main floral bloom appears as if it is still unfurling. There are three asymmetric flowers, both crafted with mother of pearl and diamond-set petals, surrounded by dominant purple and pink tones that are achieved with tourmalines, carnelians, amethysts, and accents of emeralds.
This series of necklaces are the stars of the show but there are plenty more treasures to be found. The Sapphire Plumage earrings are set with two juicy sugarloaf cabochon sapphires, complemented with wings emeralds, sapphires, diamonds and two round brilliant-cut diamond cabochons. There are further earrings, cocktail rings and necklaces, too, many of which have yet to be named or formally unveiled by the brand, although we have tantalizing sketches and photographs to prove their existence. For example, there's a photograph of Anne Hathaway wearing a dual Serpenti necklace in shades of copper and deep red that has us itching to know more, plus a series of faceted gemstone cocktail rings that we'd love to dive deeper into. We do know of one – a cushion-cut emerald ring of 11.38 carats, surrounded by baguette-cut diamonds.
Eden The Garden of Wonders is no doubt a high jewellery gift that will keep on giving long after its formal launch is behind us. This is what we know so far, but with 140 treasures to comb through, we are guaranteed to discover more, especially as its brand ambassadors grace the red carpet.