On the eve of the exhibition, I went to an exclusive preview of these new items at the YOKO office, located in London's diamond district, Hatton Garden. The whole company is managed from this office and some of the jewellery is crafted by jewellers in the very same building. The CEO of YOKO - Michael Hakimian - personally selects pearls for future creations himself, taking special consideration over colour and size, especially when it comes to high jewellery art masterpieces.
It has taken more than half a year to develop the concept behind the new collection and produce the elements which will be displayed at Basel, and this collection will continue to grow after its début at the jewellery and watch exhibition.
For inspiration, Michael turned to the impending Royal wedding and traditional pearl jewellery for special occasions. He simply could not ignore the fact that Kate Middleton, the Duchess of Cambridge, has been seen wearing pearl chokers more and more often.
"Recently we have been creating a variety of chokers which are new design interpretations of classic pearl pieces worn by iconic women such as Jackie O. and Princess Diana. We feel that a resurgence of pearl necklaces and the more traditional ways of wearing them is beginning, and is set to peak around the time of the Royal wedding. The tall chokers with multiple strings of pearls are very classic and regal designs, and we feel that these will be in demand during this upcoming year," says Michael.
In front of my eyes, trays full of jewellery began to appear one by one, with luxurious creations adorned in pearls of an enormous variety colours and interspersed with diamonds. Some of them were made in a classical style which cover most of the neck, and the others were necklaces designed to rest on the collarbone. "We have designed some chokers to sit quite high up on the neck as the way these sit creates a lot of volume. They are very flexible and contemporary, and we will have multiple variations of them on display in Basel."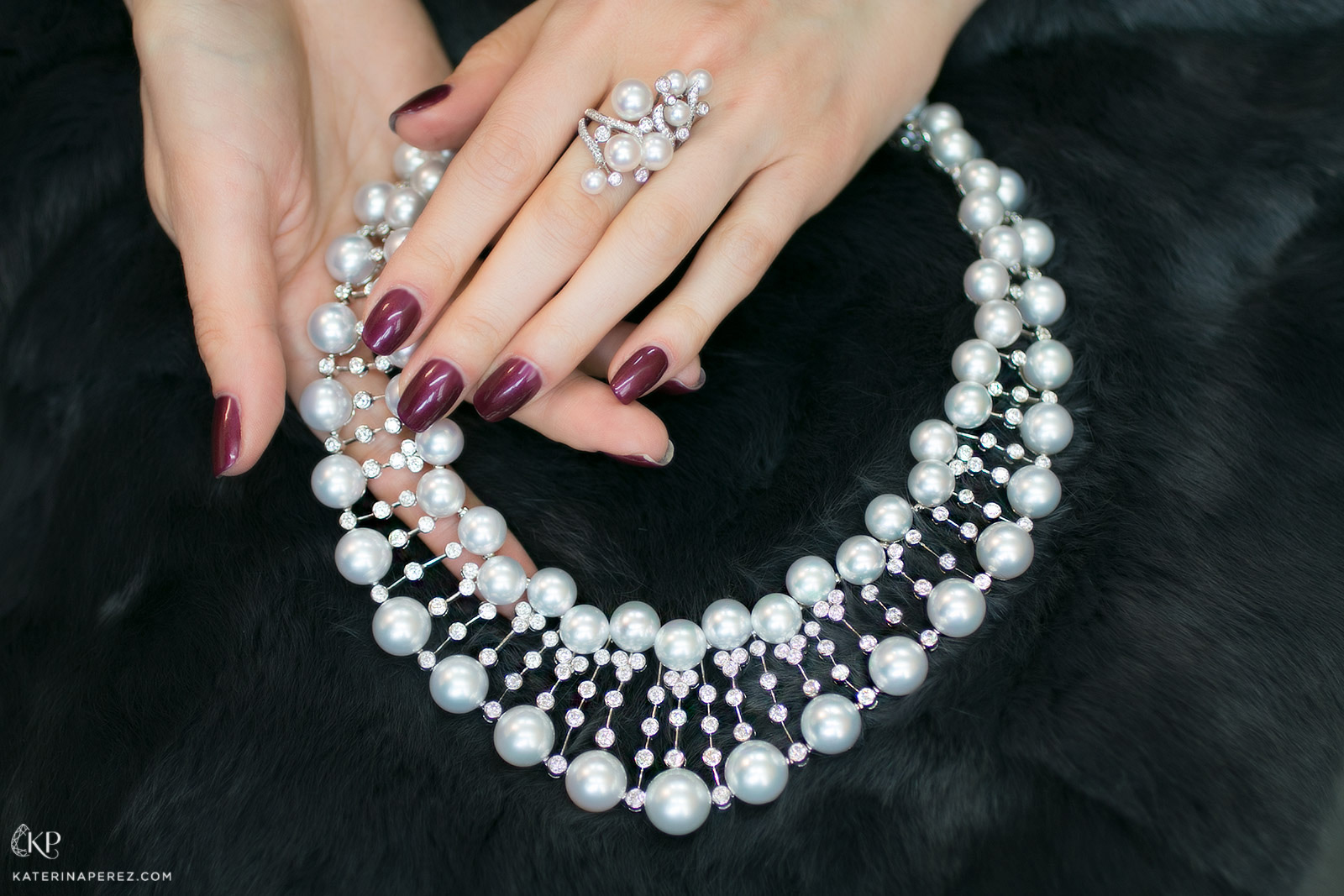 I especially liked the narrow choker, whose design allows for the potential to pair it with everything - from stylish jeans to an evening gown. The piece consists of thirteen snow-white pearls, which seem to hover in thin air. They are placed between two 'rails' of white gold with a delicate inlay of diamonds. Another way of wearing pearls in a modern sense is embodied in one of YOKO's white gold chokers. The metal base follows the contours of the neck, and converges in the centre at the décollatge, leaving an empty space between the ends of the choker. From each end, two pendants are suspended, both generously decorated with pearls and diamonds.
The complete opposite of this modern, laconic style is the YOKO choker, with its three rows of pearls and central floral motif designed in a classic style. The main decorative feature is covered in diamonds, and several pendants with pearls descending from it. The ideal complement to complete the look with the choker are a pair of long, elegant drop earrings.
"We're developing transformable and adaptable styles which have been very popular, particularly with Middle Eastern customers. One of our most contemporary new designs - a choker - will have detachable components that can then be adapted into earrings," Michael says about the new YOKO concept. However - to discover the full range of new choker designs and complementary jewellery pieces - I suggest taking a visit to Baselworld and the YOKO booth.