This year, Boucheron added some more lovely creations to its bejewelled menagerie, and among them were two delightful pearl necklaces. Turning to Greek Mythology and the peacock for inspiration, Boucheron toyed with rock crystals, diamonds and cultured pearls in its design. Symbolising peace, prosperity and immortality, Hera, the Peacock Medallion features 619 round diamonds rondelles intermingling with 152 multi-coloured, round cultured pearls and a rock crystal medallion accented with pear-cut and princess-cut diamonds and a luscious gold-hued pearl. Revisiting the feather, Boucheron adopted a fresh approach to the design motif and crafts yet another stunner – the Plume De Paon Medallion embellished with 589 round diamonds and 138 cultured pearls.
Renowned pearl house Mikimoto unleashed its creativity at Baselworld by switching between classic and contemporary designs. Evoking pearl blossoms encased in beds of fluted petals, the Flora necklace – crafted in white gold – adorned with 21 honey-hued golden baroque South Sea pearls and shimmering diamonds comes with a pair of matching earrings. The Manhattan choker – you'd rightly guess is inspired by Manhattan – featuring round Akoya and black South Sea pearls is paired with white gold and diamonds, forming a geometric monochromatic pattern. Silvery spheres and angles sparkle with the edgy sophistication of New York city, as it comes alive at night. Another classic stunner was the playful Skipping Rope Akoya pearl lariat. The lovely diamond removable bow clasp added an element of interest, enabling the lariat to be draped around the neck, knotted or worn with the tassels.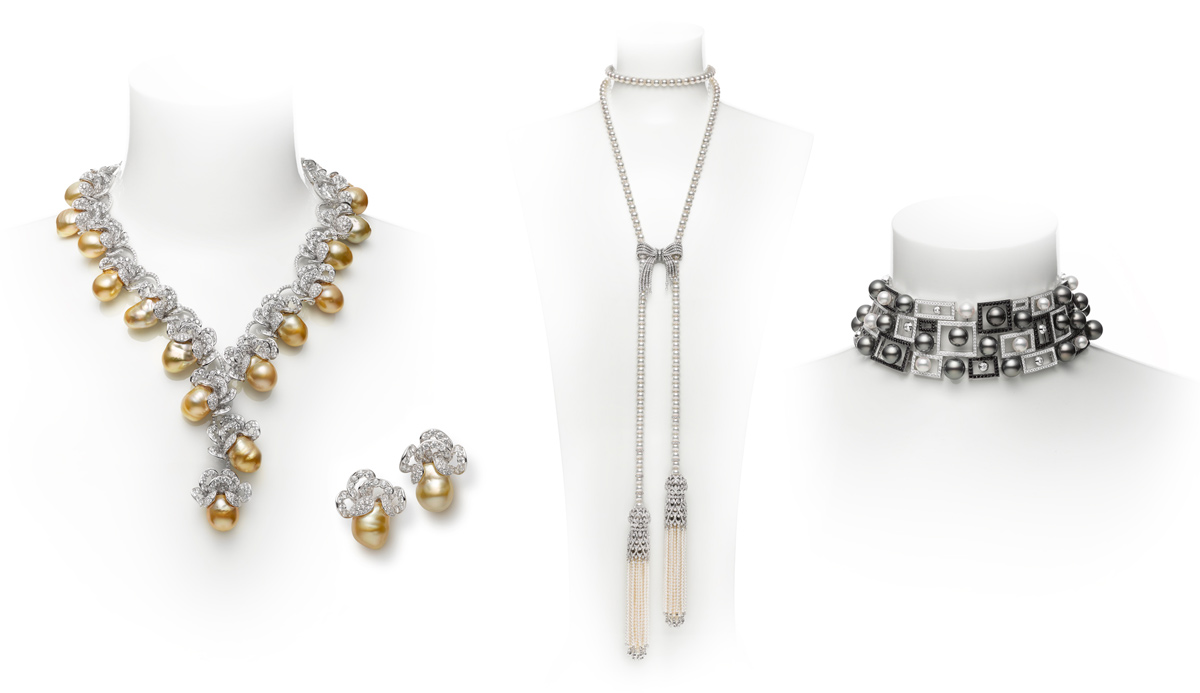 The brand returns to its creative playground, Baselworld, with one-of-a-kind opulent necklaces unveiled as part of its Masterpiece Collection and exciting new pieces. Yoko London added novel interpretations to its existing Nouvus and Pendulum contemporary lines. What makes this year special for Yoko London is that the brand has embraced the trend and liberally mixed its rare, natural coloured pearls with gems such as emeralds, rubies and sapphires. The accentuated result is a versatile narrative that is undeniably alluring.
Qayten's team of designers pored over history books and scoured the landscape of Greece and guess what they found? The labyrinth of Crete and the Minotaur along with a lot of inspiration. Here's the story that sparked the design of the Tahiti Bliss necklace: Ariadne (Arianna), the daughter of Pasiphae and the Cretan King Minos fell in love with an Athenian hero, Theseus. She offered to help Theseus kill the Minotaur and gave him a sword and a ball of thread. Theseus unravelled the thread, as he made his way through the labyrinth as Ariadne asked him to, killed the Minotaur, and found his way back home with the help of the thread. Aptly named 'Arianna,' the necklace – inspired by Greek myth and the power of love – features seven lustrous Tahitian pearls and colourless diamonds, weighing 57.06 cts with strong Italian aesthetics and technical mastery taking centre-stage.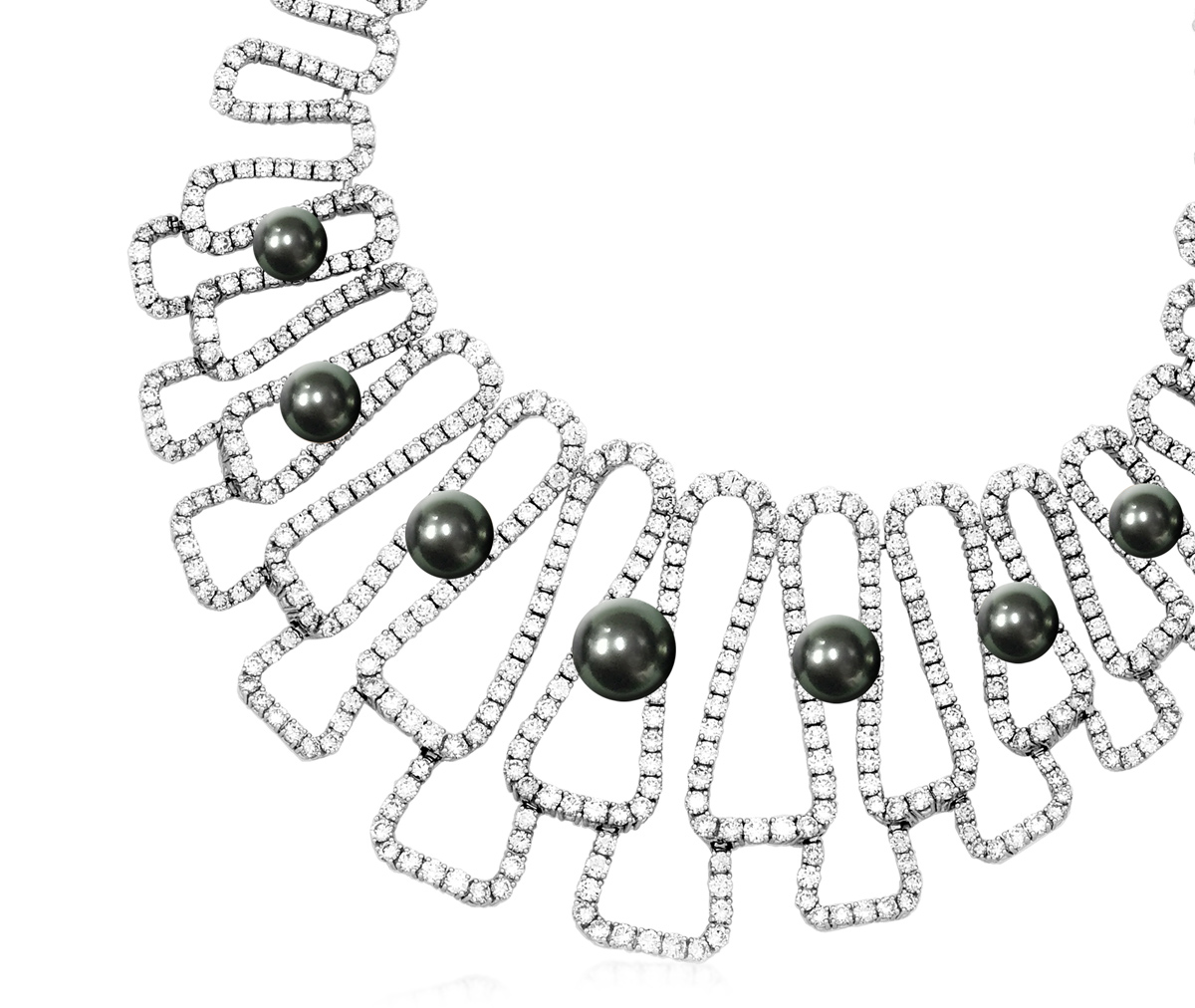 Founded by Orna and Isaac Levy in 1986, the small family business has grown by leaps and bounds to capture the imagination of devout pearl loyalists with its award-winning creations. Celebrating three decades of artistic excellence, Yvel unveiled its pearly visions – Almog and Sunset. The Almog collection takes its name from the Hebrew word, meaning coral reef. Pendants and rings from the Almog series mirror fluid lines and undulating, graceful curves evocative of the sea and spectacular coral reefs, revealing hidden secrets in its depth.
Think Sunset and you'll think of radiance. That is just what the Sunset collection, set in 18k yellow gold, is all about. Featuring natural Keshi pearls in gentle shades of gold and green, intermingling with natural colour diamonds, the necklace captivates you with its pristine beauty. With pearl being the birthstone for June, will one of these lovely new creations make its way into your jewellery box?