34 exhibitors across the fields of fine jewellery, fashion and event design were gathered under the beautiful Somerset House. While the ground floor of the building was all about fashion and accessories, the first floor was largely dedicated to the art of fine jewellery from all over India. Such brands as Amrapali, Jaipur Gems, Moksh, House of Rose, Sunita Shekhawat, Araya and Birdichand Ghanshyamdas displayed their exquisite pieces for special occasions along with some luscious bridal sets.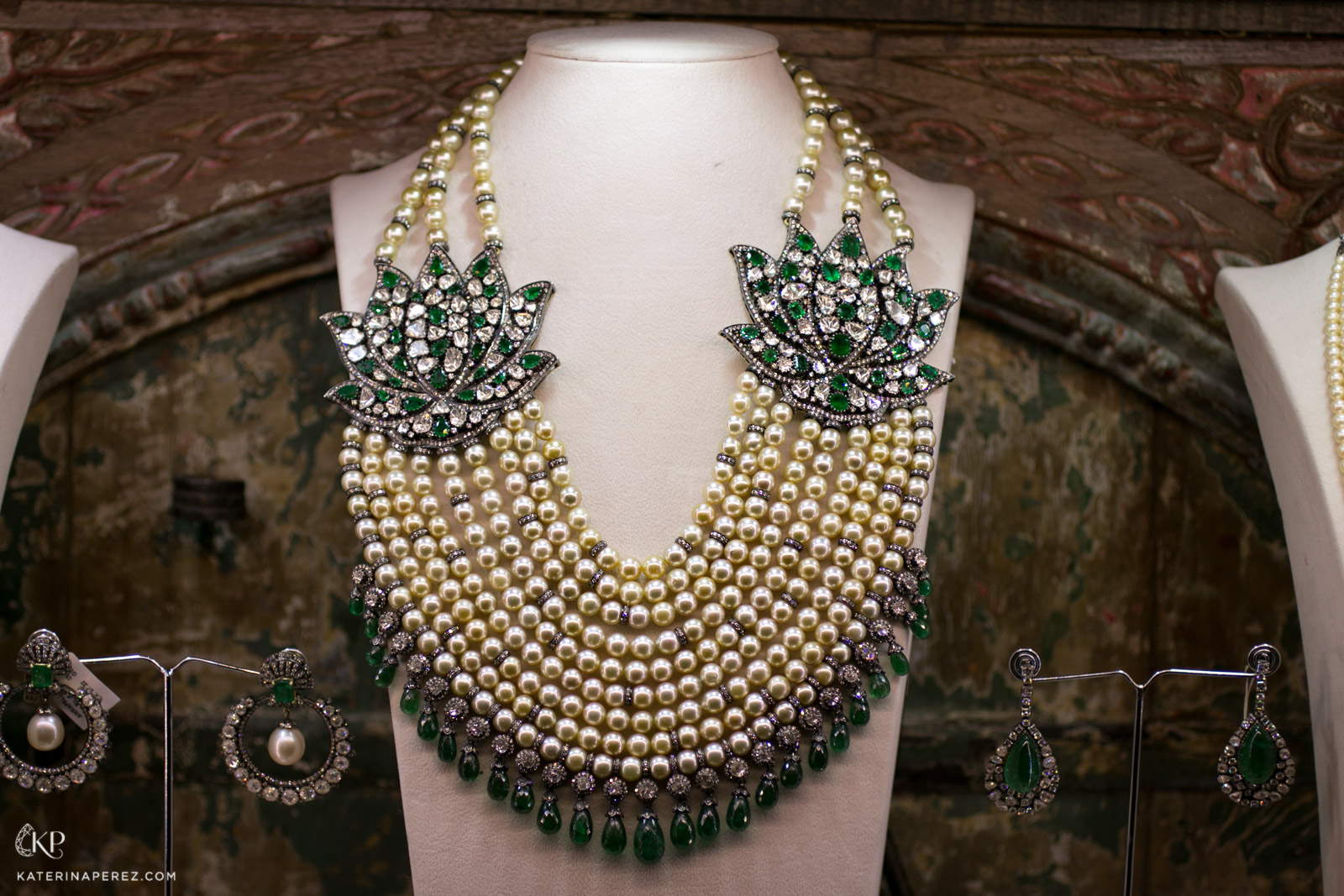 I appreciated the variety of jewels on display as each brand presented very individual collections with focus on different design elements. For example, Moksh specialise in fine jewellery bedecked by hand in miniature Keshi and South Sea pearls, whereas a relatively new brand - Araya - create art jewels focused on unusual gem shapes and settings, with a selection of their fine jewellery displayed at the exhibit for the discerning clientele.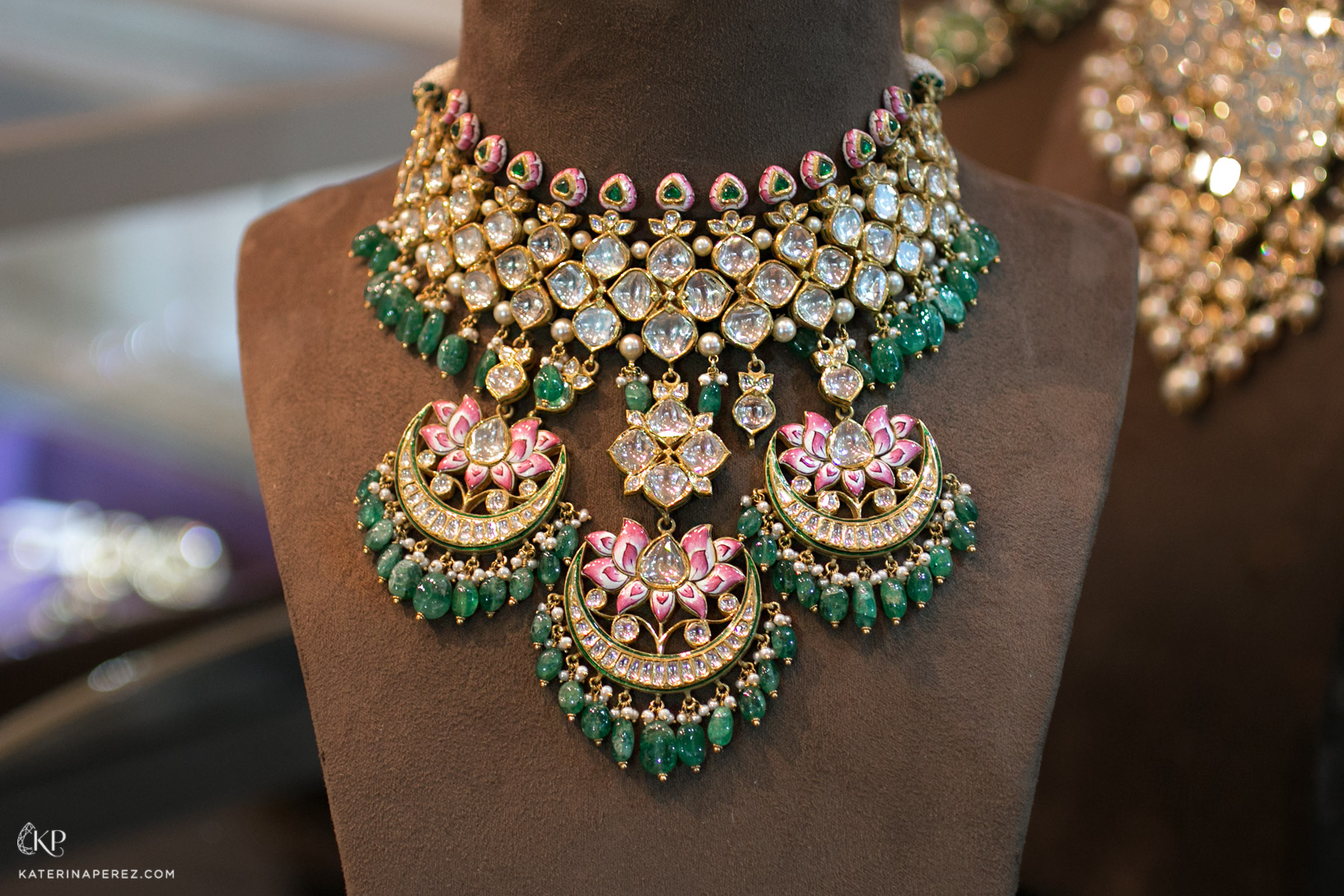 Jaipur Gems displayed their hand made pieces from the latest 'Gorgeous Gold' collection entirely made of sculptured gold, while Sunita Shekhawat known for her Meenakari work presented some colourful masterpiece necklaces that can be reversed to be worn in a different way. House of Rose, a 30-year old brand based in Delhi, certainly made a statement with their love of coloured gemstones, presenting jewellery with abundance of sapphires and rubies in cabochon and spherical cuts. This colourful jewellery celebrated the traditional love of vivid gemstones in Indian and south Asian fine jewellery across centuries.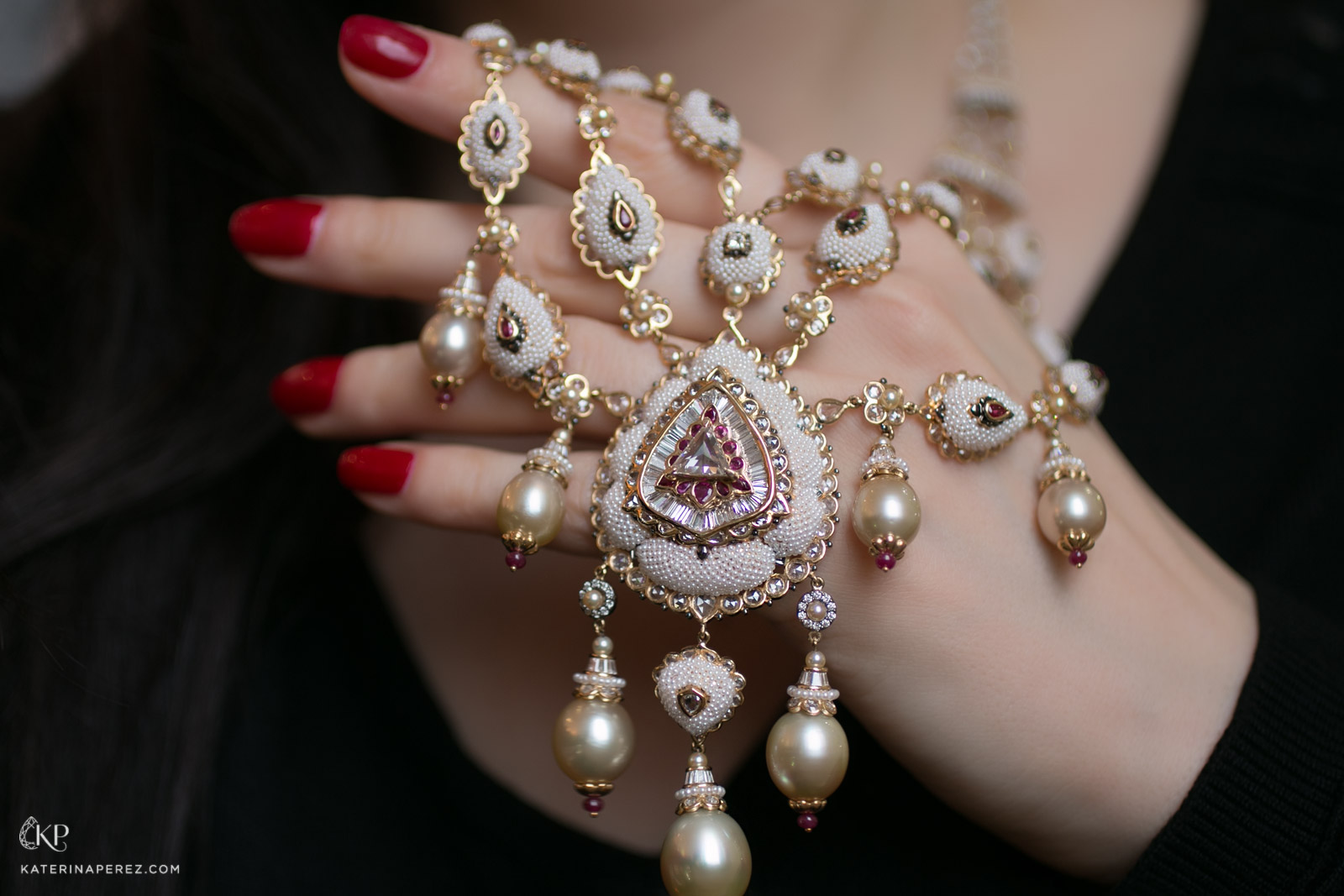 Moksh, Jaipur Gems and Araya fascinated me with their approaches to jewellery design, enticing me to spend time learning about their creations. 'TAANTVI' - meaning 'weave' in Sanskrit - is one of the key collections by Moksh, which was founded by Milan Chokshi in 2005. Necklaces, rings, earrings and bracelets feature pearls strung so finely by hand that they create a delicate woven net. Other popular pieces with the exhibition's visitors were the Keshi pearl tassel necklaces, which could easily be worn to any occasion and provided the opportunity to be worn layered and styled in a contemporary manner.
Jaipur Gems fascinated me with their incredibly light and flexible pieces entirely made of gold. Although the gemstone embellishment in this collection was minimal in comparison to many others at the exhibit, the ornate texture of their gold bangles and necklaces caught the attention of a great deal of visitors. Creating of each piece required a lot of metalsmithing, design trials, application of textures, experiments with different surfaces as well as embellishment with hand-beaten, light gold baubles. The pattern of each piece was unique, and all inspired by the temples of South India.
The charming husband and wife team of Sidhant and Ashni Kothari presented their brand, Araya. Both hold a heritage in fine jewellery and diamonds, which is evident in the jewels themselves, as well as in the way they presented the pieces accompanied by jewellery drawings. Design and a love of playing with a variation of diamond cuts and gemstones is certainly what distinguishes Araya, with Ashni herself wearing a stunning set of emerald and diamond art deco inspired earrings, totalling 17.69ct of octagonal step cut Zambian emeralds. Each of their 4 collections contained thoughtful and contemporary design, and maintained an individual style whilst maintaining the brand's aesthetic.
For anyone who is interested in broadening their horizons in the world of fine jewellery, spending an afternoon in the company of these designers in the setting of Aashni & Co.'s bridal exhibit is certainly an enlightening experience.