Inspired by the asymmetric jewellery known as "Toi et Moi" ("You and Me"), Victoire de Castellane has created a collection which makes use of stunning combinations of truly exceptional precious, semi-precious and ornamental stones and decorative techniques.
39 works from the new line – each possessing the signature of Dior Joaillerie's celebrated artistic director – work in harmony to depict the collection's theme: unexpected duets. Breaking with the well-established stereotype of high art jewellery, the collection's open and full-finger rings, bracelets, necklaces and earrings dare to combine unconventional colours, proportions, shapes and materials. Despite the fact that 'Dior et Moi' jewellery is very much in line with modern fashion trends, it seems clear to me that the pieces that constitute the collection draw their inspiration from the past – to jewellery of the Regency period it seems. However, Victoire herself actually referred to the fact that she was greatly inspired by the jewellery of the 1920s.
Diamonds, emeralds, blue and pink sapphires in pear, cushion, diamond or oval cut look striking when surrounded by spinels, tourmalines, rubellites, kunzites, turquoise, opals, malachite... and even lacquer! Incidentally, lacquer is present in 15 different (and indeed unexpected) colour variations throughout the collection. Sprayed in one of these colours onto matte gold, the varnish lends unique charm to each stone.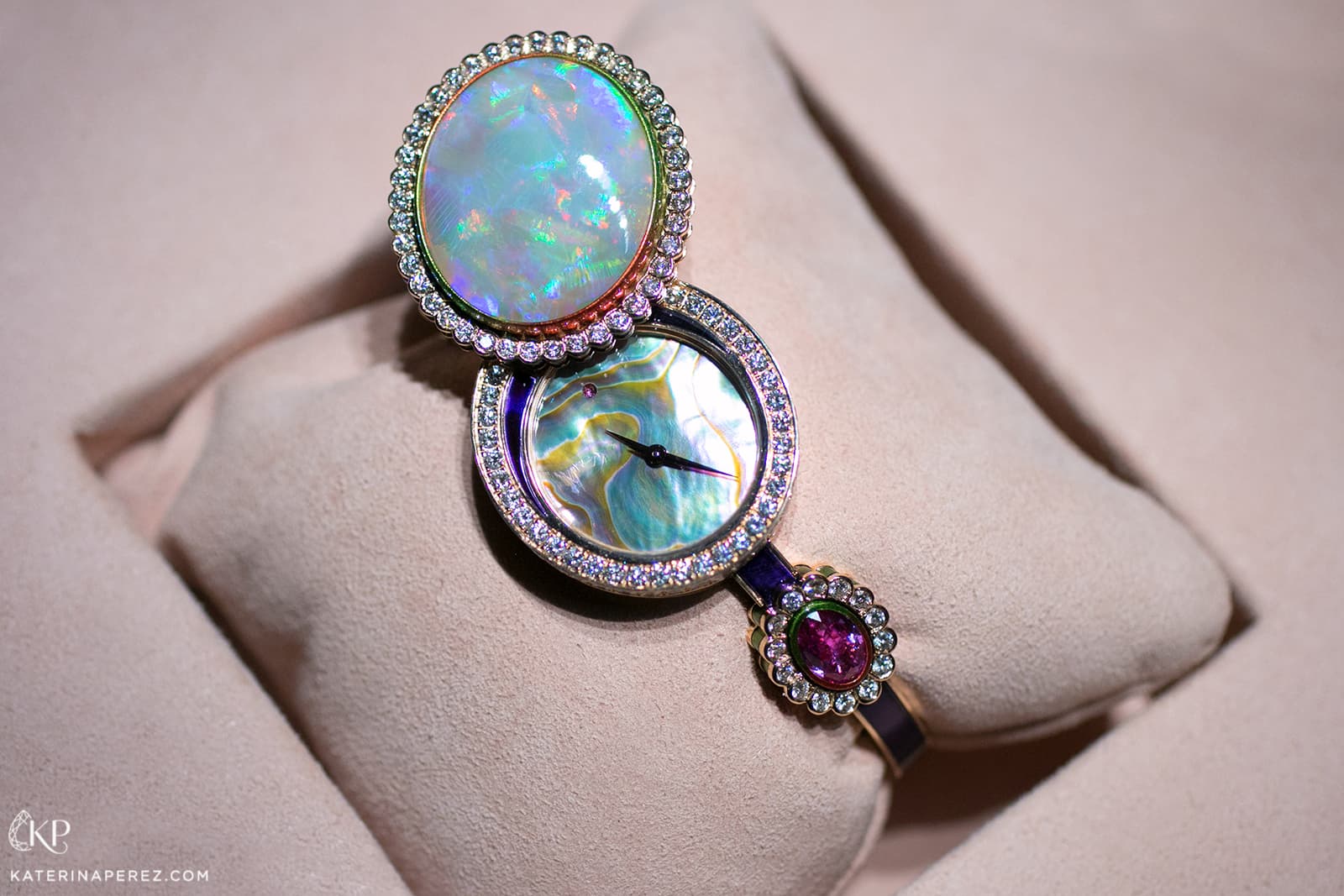 One of Victoire de Castellane's favourite precious minerals, opal, embellishes approximately half of 'Dior et Moi' pieces. One of them is particularly striking; in a yellow and white gold necklace with a teardrop of beautiful white opal, further complemented with cultured pearls and lacquer. The subtle gradient of varnish shades frame the stone with an almost hypnotic radiance, and also emphasises the brilliant play of colour so characteristic of opal. It is interesting that the jewel rests on a string of pearls – a sea mineral that is rarely featured in Dior's joaillerie work. Nonetheless, it is well known that Victoire de Castellane herself loves to wear these beautiful gems on her neck. A second hero necklace in the collection is adorned with an oval black opal edged with pink spinels and complemented by an emerald drop. Look more closely for a moment at the central stone – did you notice the pronounced red flashes of colour? It should be said at this point that such bright streaks in black opals indicate their higher value over the ones that lack this hue.
Opals and pearls in the 'Dior et Moi' collection have also been used as complementing stones for other minerals: they have here been expertly selected to emphasize the beauty of large kunzite, blue or pink sapphire, as well as emeralds on rings and earrings. Each jewel in the collection is worked upon with immense attention to detail on both the facing side and the reverse of the design, as well as from underneath the jewels. Indeed, the meticulous standards of Dior craftsmanship demand such attention to these even less visible details.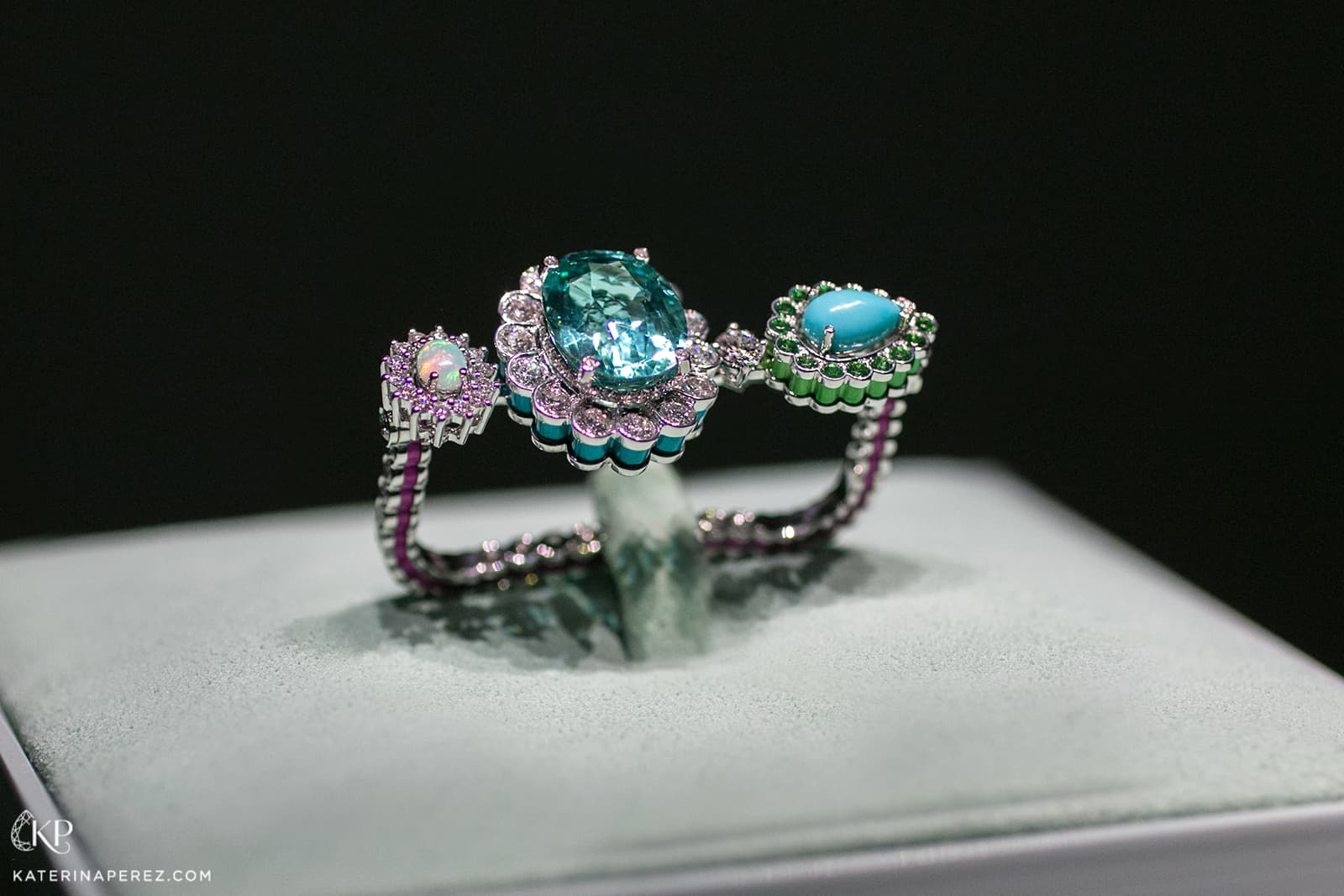 The asymmetrical rings and earrings in the collection are illuminated in a spectrum of vibrant hues, from green to pink, contributing their overall modern and playful aesthetic. Victoire de Castellane has not neglected watch lovers either, having developed two stunning bejewelled secret watch models for them.
The new 'Dior et Moi' line is a continuation of the House's dedication in creating odes to gemstones – an elegy first begun in the previous 'Gem Dior' collection. New works, in their own way, serve to emphasise the abstract and artistic essence of minerals, as well as the technical virtuosity of the Dior masters.