I will start with the main jewel, a spinel brooch from the private collection of famous art and precious stone collector Philip Hope. The pink octagonal-cut spinel that adorns this particular piece weighs over 50 carats and is surrounded by rose-cut and brilliant-cut diamonds all weighing 6.5 carats. It is possibly the most extraordinary lot on show across the entire auction. The certificate from Swiss jewellery laboratory SSEF confirms that the shinel has not undergone any modification. The declaration reads: "this natural spinel is incredibly rare in both size and quality and can certainly be considered a genuine natural treasure." What with Hope's stone, the value of this 19th Century brooch is in fact such that competition for the piece will be fierce, with the potential buyer expected to shell at least £200,000 to get their hands on it.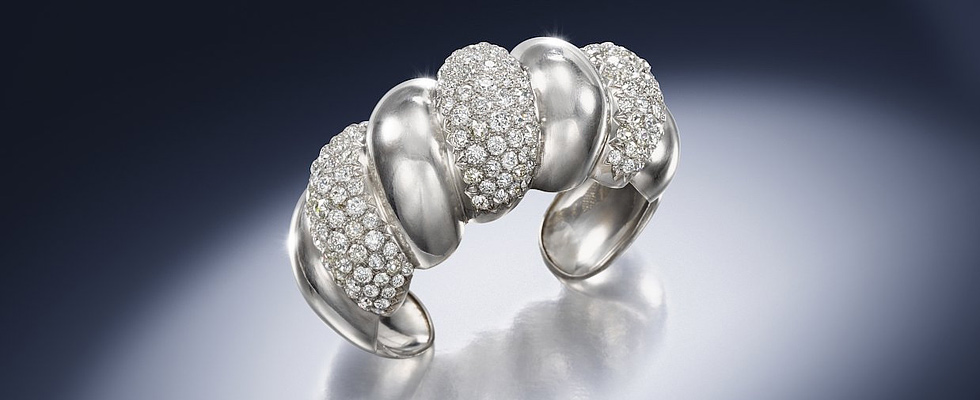 Suzanne Belperron, one of the 20th Century's most well-known designers, did not need to sign her work, so recognisable is her unique style with its eye-catching features and quirks of geometry and form. Nonetheless, her platinum bracelet with old-mine diamonds (Abovea will be presented at auction along with a certificate of authenticity from Belperron LLC. "There is no doubt that the jewellery of Suzanne Belperron is highly collectable and sought after. She was a pioneer in her use of unusual materials (including rock crystal, turquoise and many semi-precious stones) often mixing cabochon, tumbled and faceted stones together in one piece to create contrast and texture. Her pieces are almost sculptural in their conception, and this bangle is no exception, the look and feel of it makes it appear as contemporary now as it was when it was made in Paris in the pre-war period", observes Jean Ghika.
Diamonds in unusual cuts, whether in old-fashioned or fantasy shapes, are always attractive to collectors on the lookout for something different. Of all the diamond rings I saw, the one that really caught my eye was a Belle Époque ring with an 8.18 carat octagonal stone (on the right). Jean describes it thus: "the hexagonal-cut is an extremely unusual cut and rarely seen. This particular stone dates to the late nineteenth century when there was an influx of diamonds on the market from the newly discovered mines in South Africa (these deposits were discovered in the 1870s). Although is it not possible to identify this particular stone as a South African diamond, it certainly dates from a period when diamonds were in plentiful supply and many were fashioned as solitaire rings. Most diamonds were cut in either a round brilliant, pear or marquise shape and anything varying from this is highly unusual and deemed collectable."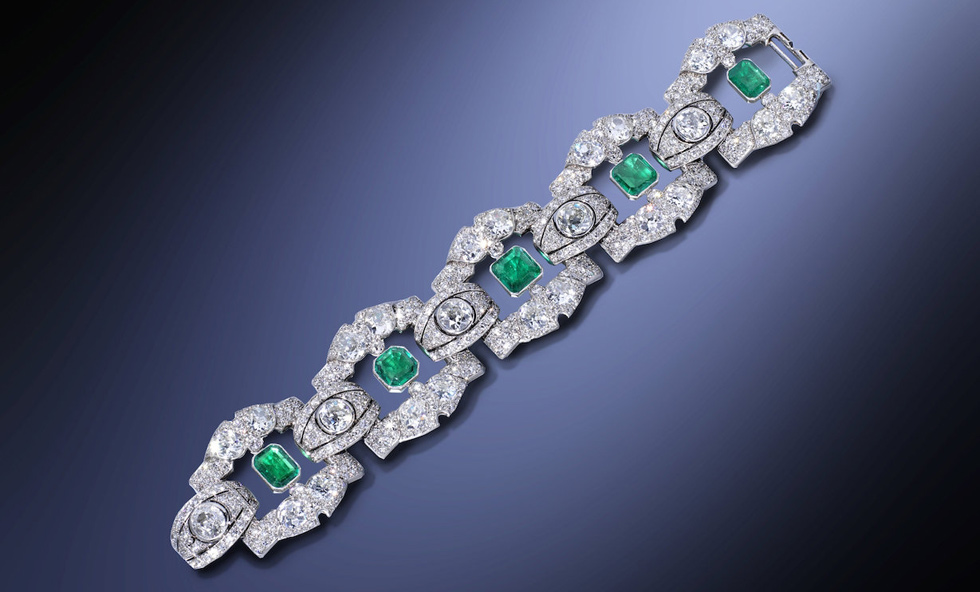 Another nice piece is an art-deco Linzeler-Marchak bracelet featuring a 38 cts diamonds and an emeralds weighing just under 8 carats. Designed by Robert Linzeler and Alexander Marchak, this bracelet was created over a three year period of collaboration between the two successful jewellers. "Originally established as a Jewellers, Clockmakers and Goldsmiths in Kiev in 1878, the firm Marchak enjoyed Royal patronage in pre-revolutionary Russia. After the Russian Revolution Alexander Marchak, son of the founder Joseph Marchak re-located to Paris where the firm had considerable success. Marchak is a brand synonymous with quality and bold, innovative design and regardless of age pieces by the firm continue to be sought after."
The final piece of jewellery I would like to tell you about is a sculptural tiger brooch from Cartier, created around 1990. The striped cat, a motif first interpreted in jewellery form by John Toussin in 1950, is gracefully fixed in motion with shining eyes of emerald. It is well known that Barbara Hutton is a big fan of Cartier's tiger jewellery, and I have no doubt that there will be more fans like her in the audience at Bonhams.
Photos are courtesy of Bonhams