Boghossian 'Emerald & Diamond Double Riviere'
This year, jewellery maison Boghossian unveiled a necklace that boasts a whole selection of 28 cushion and emerald cut Muzo emeralds, totalling 117.6 carats, in addition to 59.40 carats of shimmering diamonds. There seem to be so many emeralds on the gemstone market, but if you try to find beryls that are ideal for their colour saturation in a particular shade of green, then the search can take several months to several years. It took Boghossian four years to find and combine all the emeralds needed for this necklace. Edmond Chin, Creative Director of Boghossian, tried to present them as simply and effectively as possible, and therefore combined the stones in this single Rivière necklace. He divided the emeralds so that the size and quality of each one could be appreciated, but in two rows. He fastened the first row, consisting entirely of diamonds, to the second of emeralds, with elements in the shape of the letter "X" that simultaneously connect and separate the stones from one another. The finishing touch is the diamond and green jadeite trim and, voilà, you have a unique necklace made from the finest emeralds. The necklace was sold at Christie's Magnificent Jewels auction in November 2020 for almost $7 million. This is a world-record price for an emerald necklace containing gemstones that have not been treated with oil to enhance their clarity.
As part of the 'Diamonds That Care' social project, whose philosophy is that every diamond (typically the prerogative of the wealthy) should help those in need, Anna Hu has created three stunning pieces of jewellery: a necklace, earrings and a ring. All the money raised from their sale went to support health workers fighting Covid-19. The design of the exquisite necklace, which is based on a romanticised image of the heart, is made from white and red gold and set with more than 300 brown-yellow and colourless diamonds mined by ALROSA in Yakutia. The weight of the largest brown-yellow beauty included in the necklace was 27.02 carats. Ultimately, the necklace achieved a price at auction of HKD 2,612,500.
Chinese designer Feng J made her debut in 2020 at Phillips with two high jewellery pieces, one of which was the Jardin de Giverny necklace. It was sold for $2.6 million on 28 November 2020 at the 'Jewels and Jadeite' auction. This makes Feng the youngest designer from China to have had jewellery sold at auction for such an enormous amount. Feng herself admitted that it's all about the design: her inspiration for the necklace was a garland of blossoming flowers from Claude Monet's garden in Giverny in France. Numerous "double rose" cut sapphires, spinels, tanzanites and tsavorites that are pastel blue, magenta, pink and green in colour are combined with 19 carats of light pink and colourless diamonds in the jeweller's same unique 'Floating Set' style. This signature setting creates the illusion of stones floating in the air, as if they were devoid of any metal frame. You can learn more about Feng J in this interview with her.
Chaumet's new collection of high jewellery, Perspectives, pays homage to the architecture that the Parisian maison has been inspired by throughout its 240-year history. The major periods of architectural development are represented in six jewellery chapters, distinguished by traditional craftsmanship, clear lines, sculptural forms and three-dimensional volumes. The result is some of Chaumet's most exciting contemporary masterpieces, and the Skyline necklace deserves a special mention. It was created in memory of Pierre Sterlé, who worked at the Parisian atelier in the 1930s and was known as the "couturier of jewellery". In Skyline, Chaumet channels an Art Deco aesthetic with soft golden folds that flow down the neckline. Gold plates, reminiscent of lightning, contrast with carved gold inserts and create a special texture and pattern that emphasises the rows of invisibly set emeralds and diamonds, crowned with a bright green Colombian emerald weighing 16.06 carats.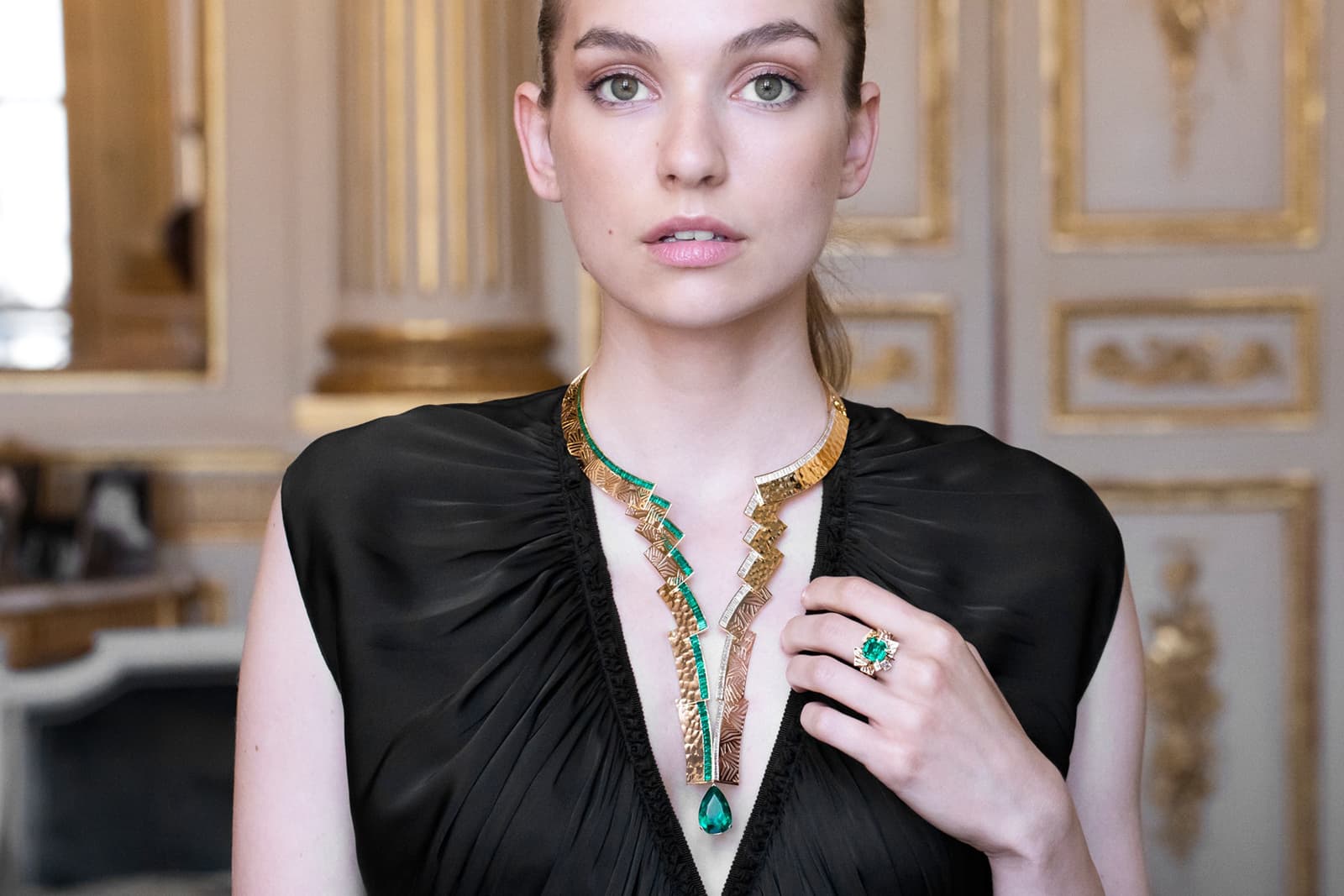 Boucheron's Goutte de Ciel (A Drop of Sky) necklace made a big splash at Paris Fashion Week this summer! It is not only one of the most complex pieces of jewellery from Creative Director Claire Choisne's new Contemplations collection, both technically and conceptually, but also one of the most original among those newly released by all other brands this summer. Claire wanted to adorn her neck with a bit of sky, but she could not identify a material within the industry's traditional arsenal that would perfectly suit her. She then decided to look further afield and, after doing some research, discovered aerogel, known primarily for its use in the NASA project "Stardust" to capture stardust. Claire placed the blue substance, resembling a moonstone, in a shell of rock crystal. She then put this unusual pendant on a short necklace decorated with transparent quartz and diamonds. Staying true to the traditions of the maison, Choisne ensured that it could be transformed if desired: the pendant can be removed and worn separately on a string, turning the short necklace into a piece in its own right.
Francesca Amfitheatrof, Artistic Director of Louis Vuitton's jewellery department, this year unveiled her unique and exciting vision of the universe with her new Stellar Times jewellery collection. Its principal necklace, titled "Soleils", is dedicated to that most inextinguishable source of inspiration, the fiery heart of our solar system and the supreme catalyst for all life on Earth: the Sun. This majestic four-row transformable necklace has been crafted with LV's signature checkerboard pattern, made from white diamonds and yellow sapphires, the most prominent of which are 8.48, 14.52 and 35.38 carats, decorating the very heart of the jewel. This necklace can be worn in three ways: as a simple choker or bib, and either with or without the last two sapphires.
The most Baroque piece in the latest high jewellery collection, inspired by the Baroque period, is the Lady Arabesque necklace, which embodies the true aesthetics of the era combined with Bvlgari's quintessential colour palette. Enchanting shades of pink and purple sapphires, neon flashes of paraiba tourmaline, the deep greens of emeralds and the transparency of diamonds contrast with shades of gold. Lucia Silvestri, the Italian maison's Creative Director, had never used such a combination of shades before and had initially wanted to work with a completely different palette of multi-coloured sapphires. She experimented with gemstones for a month and eventually decided to combine contrasting pink and green stones, but immediately eliminated large emeralds. Paraiba tourmaline was singled out as the best option. The purpose of this necklace was to capture the movement of typical Baroque curves in gold that "flows" around gemstones.
As you can see, there are many vivid and positive memories of 2020 to be had. Each of these necklaces came about thanks to the courage, ingenuity and perseverance of their creators. I believe that these are excellent qualities that will be of no less relevance in 2021. Bear them in mind!