The house's collection includes more than 900 objects, and 60 of them are particularly rare exhibits: travel bags, powder boxes, cigarette cases and famous jewelled handbags known as minaudières (evening handbags and clutches that are very rich in décor with a fine, often jewelled, finish). All these precious accessories in ladies' fashion were made by hand and tell the story of the decorative and applied arts from the 1920's to 1960's.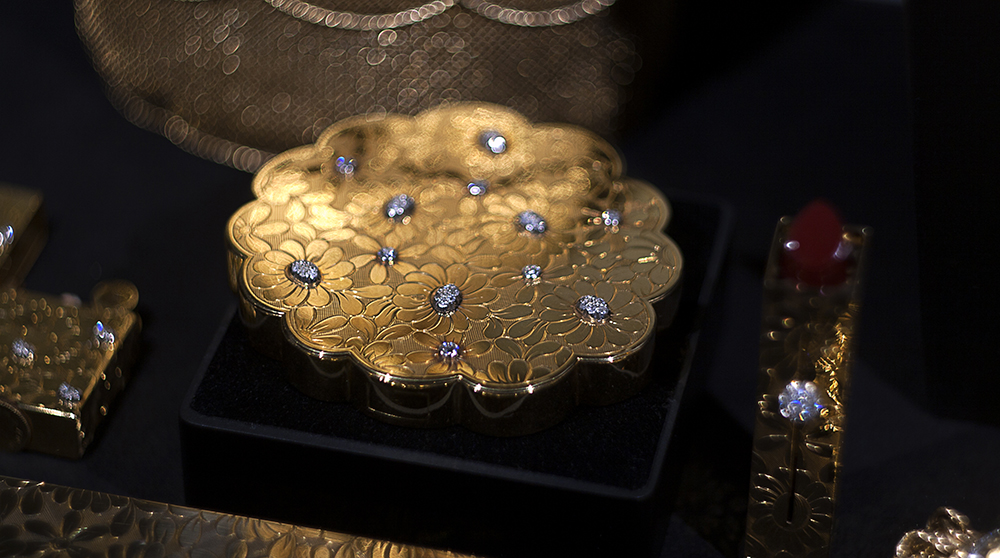 The 20s were marked by the deliverance of women from the snare of corsetry, which resulted not only in change of clothing but also in hairstyles – and jewellery. Dresses from the period and some jewels made by the French jewellery house are on display at the ongoing exhibition "Elegance and Splendour of Art Deco. Kyoto Costume Institute, Jewelry Houses Cartier and Van Cleef & Arpels". This exhibition is in the Kremlin until 11 January, and I have already written about what I discovered there. All the accessories which followed the trends in fashion of the time were consistent in their manifestations with the emancipation of women during that epoch. Evening bags were designed exclusively for the evening and were characterised by a decrease in size. Often, all that they stored was a powder box and lipstick. The main design inspirations become abstract patterns, geometrical figures, floral motifs, and paintings of exotic countries or distant travel.
That is how Charles Arpels met Florence Gould, wife of American billionaire Frank Jay Gould, and saw that she was carrying her make-up and accessories in her Lucky Strike cigarette case. Shortly after their acquaintance, he presented her with a minaudière, which was both more functional and also more aesthetically pleasing than a cigarette case. The accessory, invented by Arpels, got its name in honour of his sister Estelle, whom everyone considered a charming and highly affected flirt – in French she was called a "minaudière". Since 1933 only one interesting item has joined the arsenal of women's fashion accessories, and that is the minaudière as invented by Arpels. Since the original minaudière, subsequent clutches were made only by the most experienced of craftsmen. A complex and extremely expensive décor took over, incorporating various other decorative techniques, such as carving, engraving, enamelling, varnishing, polishing and inlaying with gemstones. At the same time, internal surfaces became mirrored – so the owner could correct her hair or make-up, and all in opening up the minaudière by just a fraction.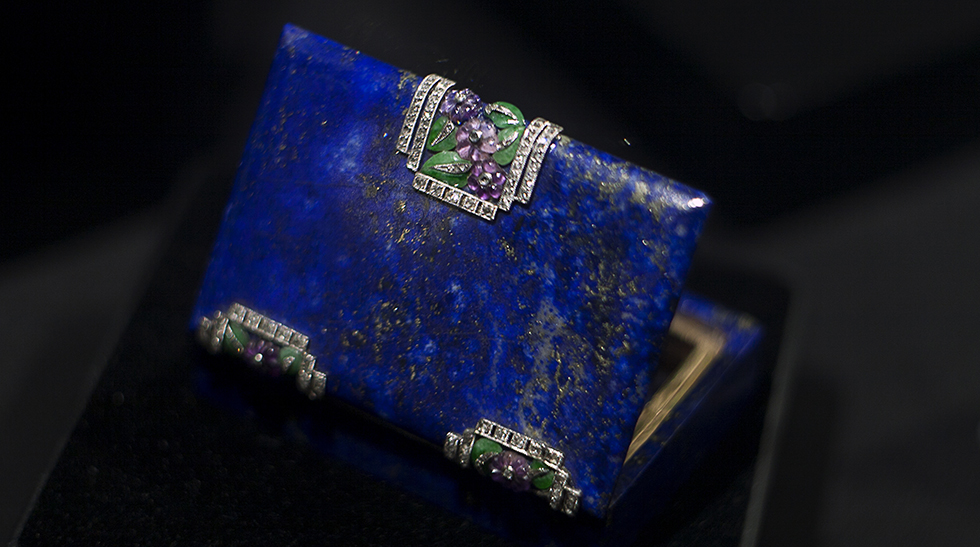 Wearing this accessory is permissible during the daytime, usually when the item is make of fabric, and especially when the fabric imitates the complex decorations found on the more sophisticated evening minaudières. But it is in the evening that the women would take out their jewelled clutches whose covers radiated with emanating beauty. The history of minaudières is rich, in spite of the period of austerity and savings which followed the Second World War. French fashion houses ventured back into femininity, luxury and elegance in their fashions, and abundant accessories became a leading motif of trends during this era.
In the 1950's, for example, gold evening bags with handle-strings simulating woven fabric were at the height of fashion. Often, these would have been decorated with a diamond clasp. Van Cleef&Arpels used a similar technique at this time to create a necklace and bracelet with tassels. The woman who owned these pieces of jewellery – including a gold cord necklace in the form of a tangled rope – was Soraya, Queen of Iran. Van Cleef&Arpels creates modern minaudières, which differ significantly in style from their ancestors. These accessories, as a reflection of the times, include not only a separate compartment for powder boxes, lipsticks and watches, but even one for smartphones.