Dior's 'Grand Soir' collection includes 9 one-of-a-kind pieces that are inspired by the magnificence of fireworks lighting the night sky, and their celebratory flashes of colour that Monsieur Dior loved so much. These precious watches - designed to recreate the atmosphere of this nocturnal man-made spectacle - were presented in several colour varieties.
So, which jewellery techniques did the craftsmen at Dior employ to achieve this effect? Firstly, they chose a 36 millimetre frame made of white or pink gold, the perimeter of which is adorned with pavé set diamonds or sapphires. This bejewelled setting was then combined with a black lacquered dial: the colour palette is designed to create the illusion of the night sky and its twinkling stars, the background against which the main event takes place.
Each watch face is decorated with its own unique illustration made from dozens of precious stones and couture elements that mimic cascades of glowing firework embers. A tactile black calfskin leather strap with a silver lustre perfectly complements the diamonds, emeralds, pink and blue sapphires, aventurines, garnets, and lacquers that blaze with light and colour. In these timepieces jewellery bliss meets technical perfection: each model is fitted with a Swiss quartz mechanism and equalizer.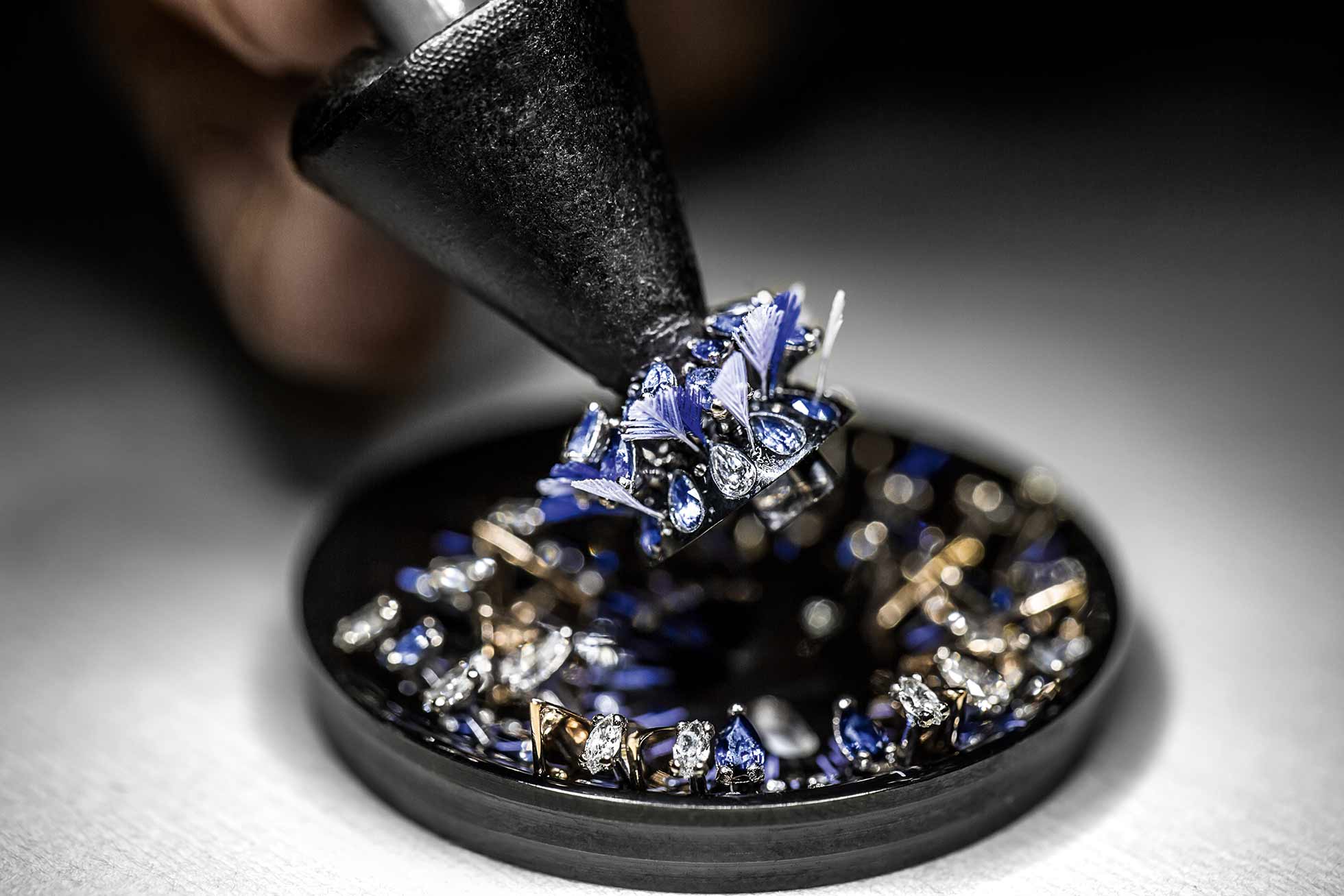 The 10 unique creations that are part of Dior's 'Grand Bal Jardins Imaginaires' collection have been inspired by the magic and intrigue of nature. These watches feature gold faces and decorative elements of glass, gold, and the wings of beetles or butterflies applied with marquetry - which reflect another of Monsieur Dior's passions - the exquisite flora and fauna of rich gardens.
Within these bejewelled horological pieces, the colourful depictions on the dials are entwined with glittering diamonds that either completely engulf the precious frame of the watch, or partly cover its surface with dispersed pockets of sparkle. The highly sophisticated elements such as the alligator leather lining of the satin strap, the butterfly wing decorating the watch's case back, and the rotating Dior Inversé 11 ½ cylinder gauge installed above the watch face leave you in no doubt that the mysteries of these imagined gardens are boundless.
Every model in the 'Dior Grand Soir Feux d'Artifice' and 'Dior Grand Bal Jardins Imaginaires' collections is an independent and inimitable work of art, created out of audacity and a thirst for experimentation.