Although some high jewellery collections boast upwards of 100 pieces, there's equal artistry to editing and creating a small but powerful selection of jewels, each one memorable in its own way. This was certainly the ambition of British jewellery house, David Morris, which has presented its new 13-piece Renaissance High Jewellery collection, so-named to reflect its desire to continually evolve, refresh and reinvent its approach. When announcing the collection, David Morris used the opportunity to introduce a new partnership with luxury e-commerce platform, Farfetch, described as a "first-of-its-kind collaboration" that "paves the way for David Morris' collection, where e-commerce will offer instant and exclusive access to its collections wherever in the world clients may be".
Embracing new technologies is important to David Morris, and it is interesting to hear the house describe the 'engineering' behind its high jewellery creations. With many brands presenting their jewels as gouache paintings – a nod to traditional artistry – David Morris is choosing to acknowledge the feats of science that allow gemstones and diamonds to be brought to life in new ways, in new combinations and ever-more elaborate settings.
CEO and creative director, Jeremy Morris says: "We are showing that in order to continue our brand's evolution and meet the demands of the modern consumer, it is vital to keep breaking boundaries at every level. Whether that be through our design and atelier processes, or the ways in which our pieces are made available to the remarkable women around the world who collect our jewellery."
Let's start with the Azure cocktail ring, a 16 carat Paraiba tourmaline surrounded by 20 carats of sky-blue turquoise, and two carats of round and triangle-cut diamonds in white gold. There's an energy and vitality to this outsized cocktail ring that's only surpassed by the Aura ring and its 10ct Australian black opal with flashes of green and inky blue. The 2021 trend for lapis lazuli, seen across many high jewellery creations this season, is acknowledged in this ring with around three carats of the midnight blue gem, surrounded by a further three carats of round and triangle cut diamonds. Although both the Azure and Aura rings have fundamentally the same design, it is amazing how the choice of materials make them look remarkably different – a lesson in using the character of gemstones to the jeweller's advantage!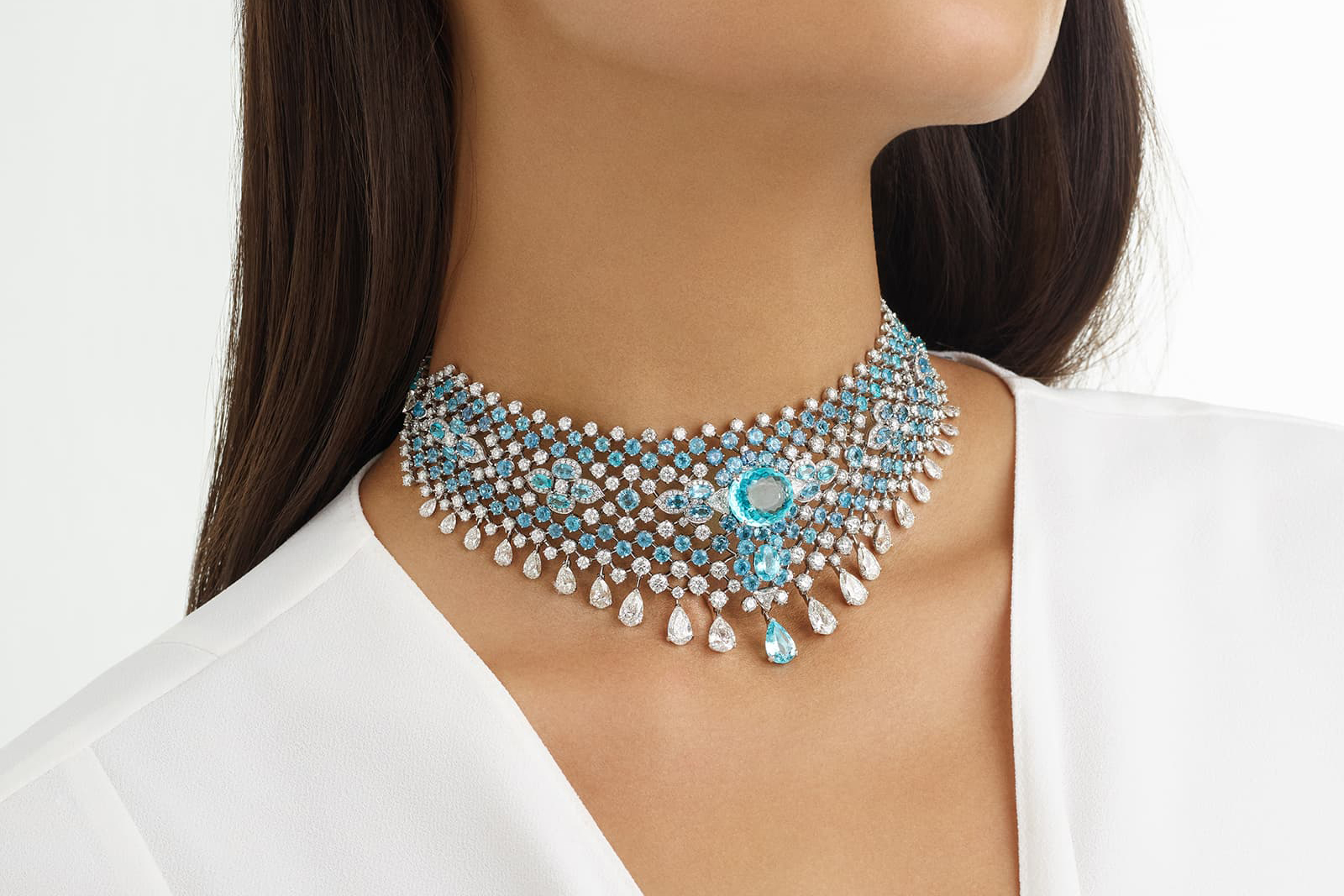 The use of neon blue tourmaline continues in the Azul choker with 41 carats of Paraiba and 40 carats of round and triangular-cut white diamonds and pear-shaped diamond fringe detailing. This piece was digitally designed by the David Morris atelier and required almost one year, around 800 hours of handmaking, from concept to completion.
Chokers are a feature of the Renaissance collection and even its necklaces sit high upon the collar. The Rubia cabochon choker necklace is set with 380 carats of Burmese rubies and is more than a little evocative of Indian jewellery commissioned during the Art Deco design era. This necklace, which has a detachable pendant, is shaped by a graduating fringe of ruby cabochon beads and an eclectic array of square, oval, pear and round-cut diamonds that add a contemporary flourish. Matching Rubia earrings also contain 32 carats of rubies, fluted rubies and pear-shaped white diamonds.
Continuing with chokers, the Lattice choker presents a cacophony of pear, round and cushion-cut sapphires, with a total weight of 85 carats, set among 35 carats of round and oval-cut white diamonds in a lace-like framework of gold. The matching drop earrings have the same reserved use of precious metal, giving the quartet of cushion-cut blue sapphires the space to shine.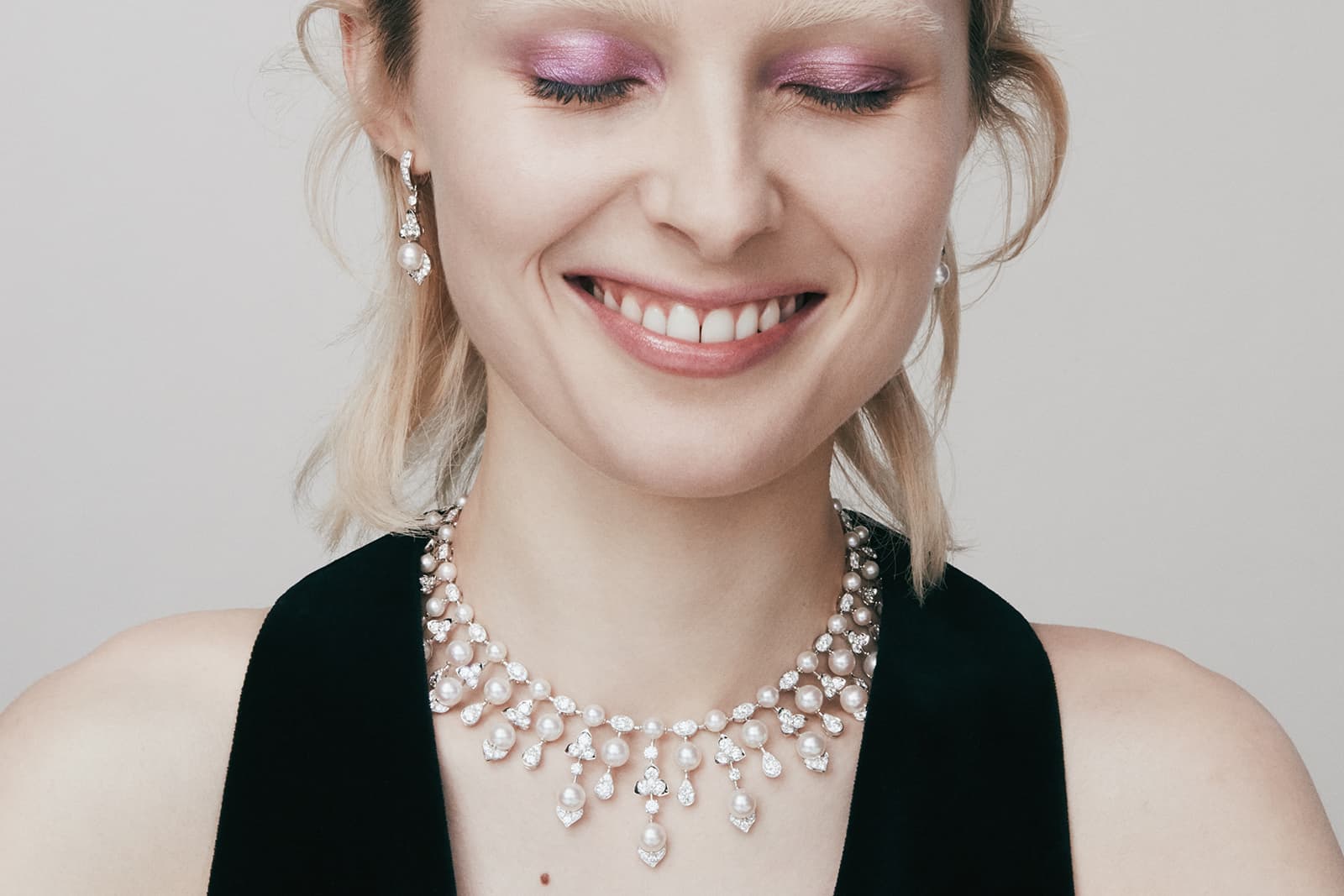 With all this talk of modernity, it's interesting to see rose-cut diamonds in the Monsoon necklace and earring set, which comprise over 55 carats of rose-cut, cushion, pear, round and oval white diamonds in a fluid, droplet-inspired silhouette. Jeremy Morris has been championing rose-cut gems for more than 20 years, but he's also known to have a particular love for Colombian emeralds, which feature in the Gardenia earrings. Their modern candelabra shape is built from 26 carats of pear, round and oval-cut white diamonds, leading to two pear-shaped emeralds with a combined weight of 20 carats.
The final pieces in the Renaissance collection are for pearl lovers: The Purity Trillium necklace and matching earrings boasts 91 carats and six carats of Akoya pearls combined. And then there's the Two Seas necklace with 71 carats of natural black pearls, 46 carats of natural white pearls and natural-coloured pearls, pink diamonds and white diamonds, set in rose gold. It's neck-hugging shape is in-keeping with the overall aesthetic of the Renaissance collection, which has certainly been engineered for beauty.