The fine jewellery brands featured in this article have created collections whose proceeds are directly donated to various charities - these are the luxury jewellery gifts which will make a real difference to more than just your loved ones this year.
One of the most famous and immediately recognisable charitable jewellery collections comes from the house of Bulgari, whose Save The Children jewellery was launched in 2009. Almost a decade later, the Italian brand are still encouraging consumers to #raiseyourhand - and contribute to the non-profit organisation, which provides support and opportunities to the world's most vulnerable children and youth all across the globe. The sterling silver and ceramic materials would not usually qualify to feature on a fine jewellery channel such as this; nevertheless, the affordable nature of the line combined with the clout of the Bulgari name, the iconic B.Zero1 design and the altruistic intentions means that this is still a desirable – and popular – jewellery gift option.
Another world-famous luxury brand – Chopard – offer fine jewellery which gives back. President Caroline Scheufele understands that Chopard has a "duty to dedicate the family-driven success and influence of the Maison to philanthropic commitments;" therefore it is unsurprising that not only one, but two charities benefit from their selection of compassionate jewels. In 2005, Petra Nemcova founded her charity, Happy Hearts Fund, which then later became All Hands and Hearts – Smart Response Foundation. In this selection of jewellery; a large heart with red stone and a small heart housing one of Chopard's signature moving diamonds act as a tribute to the love and kindness which the jewellery represents. The second charity which Chopard contributes to is Education Above All, and Chopard's dedicated pieces include a child figurine, inspired by the Educate a Child program logo. The 5 bangles and 3 watches from both lines are alternately available accented with diamonds, 18k rose and white gold, mother of pearl and red mineral stone.
Lauren Addison is an American designer who has created a collection which will donate 100% of its profit to charity. The Single Link collection is crafted in New York City, and will contribute all proceeds to Bottomless Closet in 2019, which is a non-profit organisation who help link disadvantaged women in New York City into the workplace. Bottomless closet provides low-income women with business attire, résumé help and interview preparation, as well as workshops, ongoing support and training, all free of charge. More than 35,000 women have been served by the organisation since its inception in 1999. The 14k white, yellow and rose gold rings, necklaces and earrings in the collection are available with diamonds, depending on your taste for sparkle.
A brand whose commitment to ethical sustainability and sourcing is part of their DNA is Vanleles, and founder Vania Leles is dedicated to contributing to a more positive relationship between luxury and the developing world. She achieves this mission as a sponsor of the charity Women for Women International, and even devoted her Sahara collection to celebrating this partnership. This line is the first fair trade gold and ethically sourced diamond selection of Vanleles jewellery, and the design is inspired by the rooftops of traditional desert and West African tribal houses, using their conical form as a motif in each jewel.
Alessa Jewellery was founded by couple Yuvraj Pahuja and Alessandra Robles, who met while studying at the Gemological Institute of America. The love between them manifests itself in fine jewellery, particularly the 'Butterfly' pendant which is part of the limited edition 'Give Wings' collection. The necklace is available in either 18 karat yellow or white gold, and is decorated with a single ruby and colourless rose and brilliant cut diamonds. Alessa donates 20% of sales from the 'Butterfly' pendant to the Give Wings foundation - which provides education and health for Guatemalan children in need.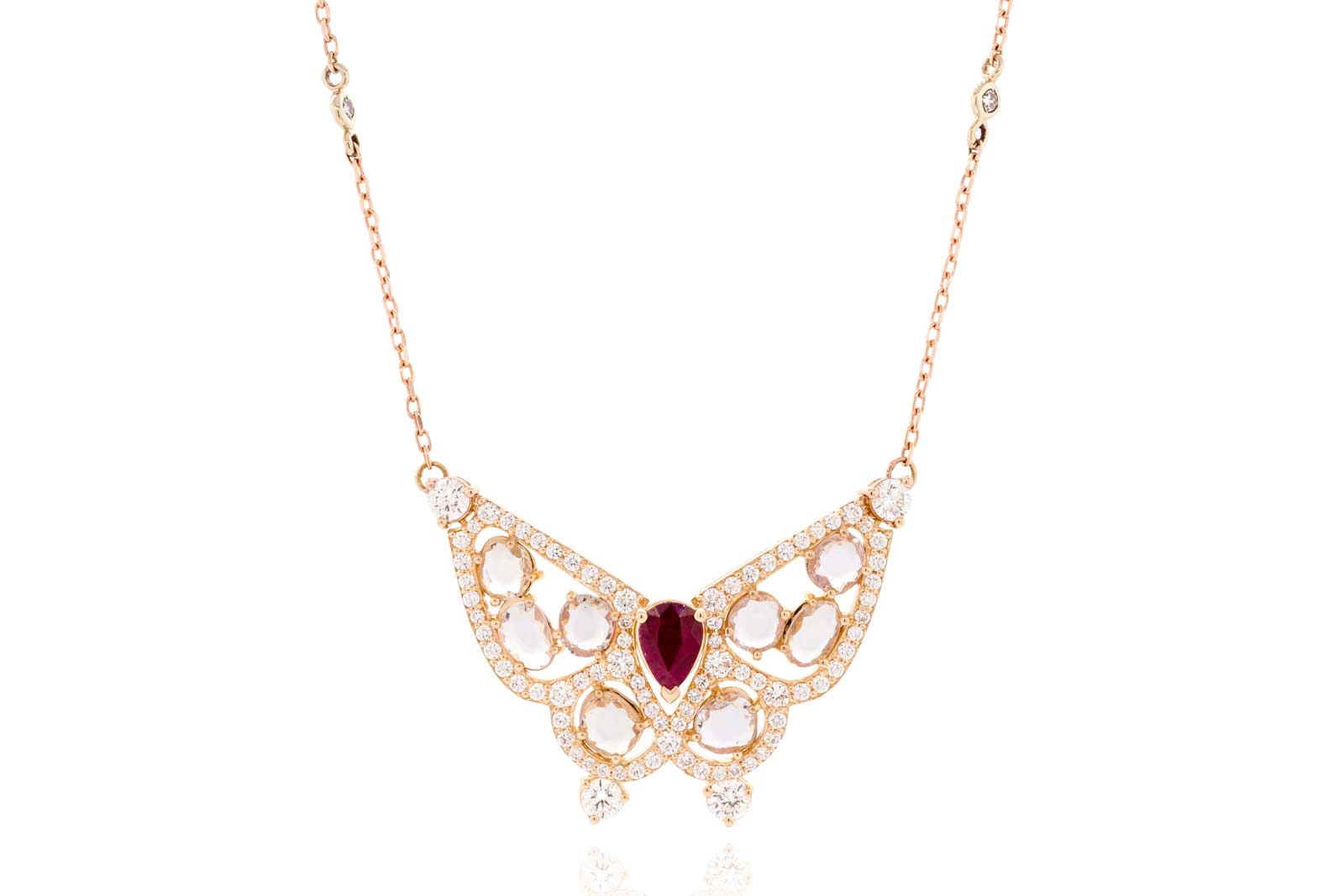 The 'Diamond Ray' choker has been created by NOA Fine Jewellery in support of charity aiding children with cerebral palsy. The necklace is crafted in rose gold, set with pink sapphires, and finished with a pink ribbon, and the design of the piece is inspired by the dynamic movement of the dancing 'flapper' girls of the 1920s. 25% of the proceeds go towards aiding the Gracious Heart Foundation, whose founder Tatjana Korsakova worked alongside NOA's Creative Director Frieda Kaplan-Gross to create the feminine, fluid necklace.
Since August 2017, Tiffany&Co. have offered the Save the Wild collection, which donates 100% of its profits from our collection to the Wildlife Conservation Network, further committing to a total of USD 4 million by December 2019. The simple and endearing line features lion, rhino and elephant charms in rose gold and sterling silver, which can be added to chains and worn as pendants, or can be attached to charm bracelets, and brooches with emeralds or diamonds.
No matter your budget for jewellery gifts this year, it is worth considering choosing a luxury item which gives back to a good cause. This way you can rest assured that you are making a difference while exchanging presents, and still giving beautiful jewellery in the process!