Christina's father was a supertanker engineer who would sometimes be away from home for as long as six months, but he would always return, and not empty-handed. His homecoming gifts included the designer's first dog, Jenny, who came from Philadelphia, and her very first gemstones, which originated from all over the world. At the time, the gemstones were of little interest to her. Architecture and interior design were her passions, and she ultimately trained to be an orthodontist, a profession she has been practising for more than 25 years. But artists, sculptors and musicians have, as friends, acquaintances and colleagues, surrounded her all her life.
Christina recalls one of the friends who influenced her most: "I suddenly became interested in jewellery while I was training to be an orthodontist. My professor, who was also my best friend, was fond of jewellery, antiques and art. I think everyone meets somebody who acts as a catalyst in their life, providing them with the impetus to try something new. Every day at work I was surrounded by jewellery and art that made a great impression on me. I also began to visit exhibitions, museums, cathedrals, historical places – this all affects my jewellery to this day."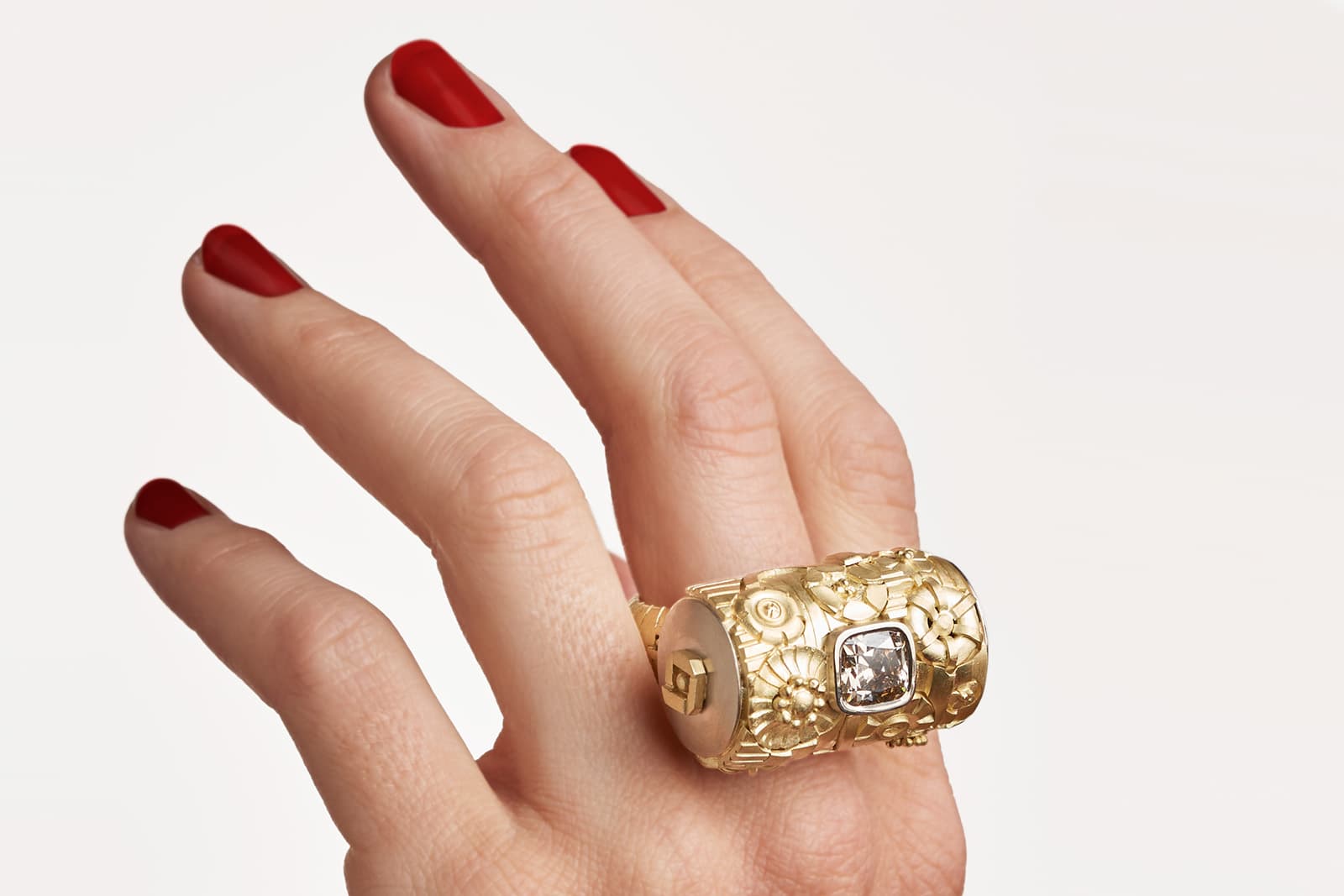 Christina's creations are works of art in their own right because their creator is not obsessed with quantity. She thinks it more important to find unusual gemstones that she would love to wear herself (for example, it took her four years to find all the emeralds for her Tu Felix Austria ring) and to follow her own creative path without prioritising the financial aspect. This means she only produces a few items per year, all of which soon end up in the hands of collectors who admire the freedom of her creative thoughts and the eccentricity of her designs.
Linearity, angularity and geometry, all dictated by a love of the Roaring Twenties, can be observed in every Brummé piece. "I once showed my jewellery to an orthodontist colleague who paints in his free time, and he exclaimed: they are all spiky! And he's right. They all, more or less, have spiky shapes. My jewellery is a part of me, and I'm not one for dresses with frills," says Christina. Incidentally, I found her to be the exact opposite. When we met at the Inhorgenta exhibition, Christina received me with such warmth. It was such a stark contrast: on the one hand, I was surrounded by all these sharp precious objects, and on the other, a very gentle, sincere person.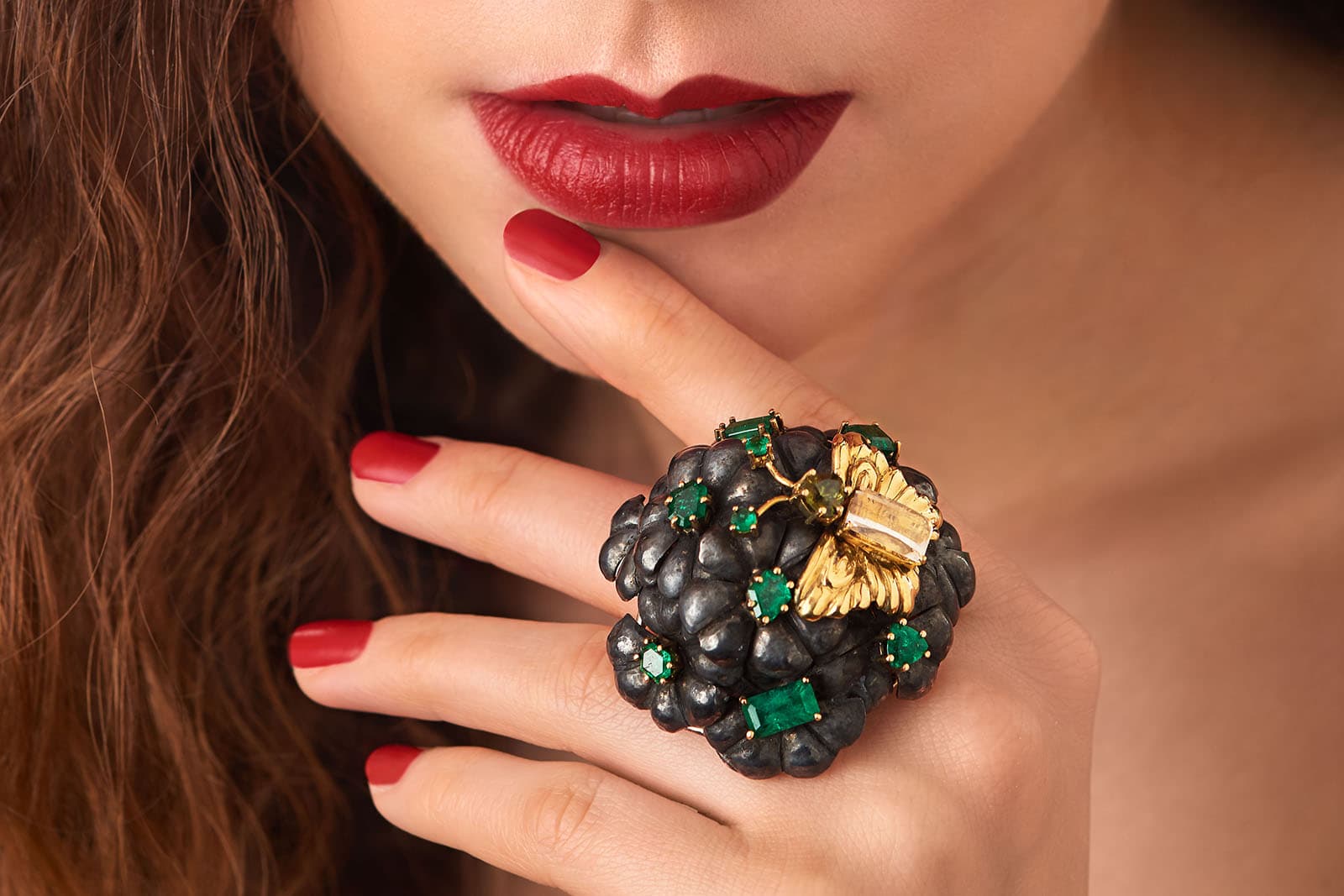 Architecture, art and national dress inspire the German designer, and their finer details are often incorporated into her work. In her Rosswells ring, an elevator door is visible; her Turbine earrings feature an aeroplane turbine; in her Shaolin earrings, one can see the resemblance to Shaolin monks, as captured by photographer Sabine Kress in her book, Die Shaolin-Mönche. "You can only see what is familiar to you, so the saying goes," says Christina. "I photograph buildings on the street, and I read lots of articles and books about precious stones and pearls. I am interested in the rarest and most unusual stones: moonstones from the Alps, sapphires from Missouri and Yogo, hauynite from Eifel and benitoites from the San Benito County in California, as well as stones named after the places in which they were discovered. I hope to find spessartine from the Spessart region in Germany."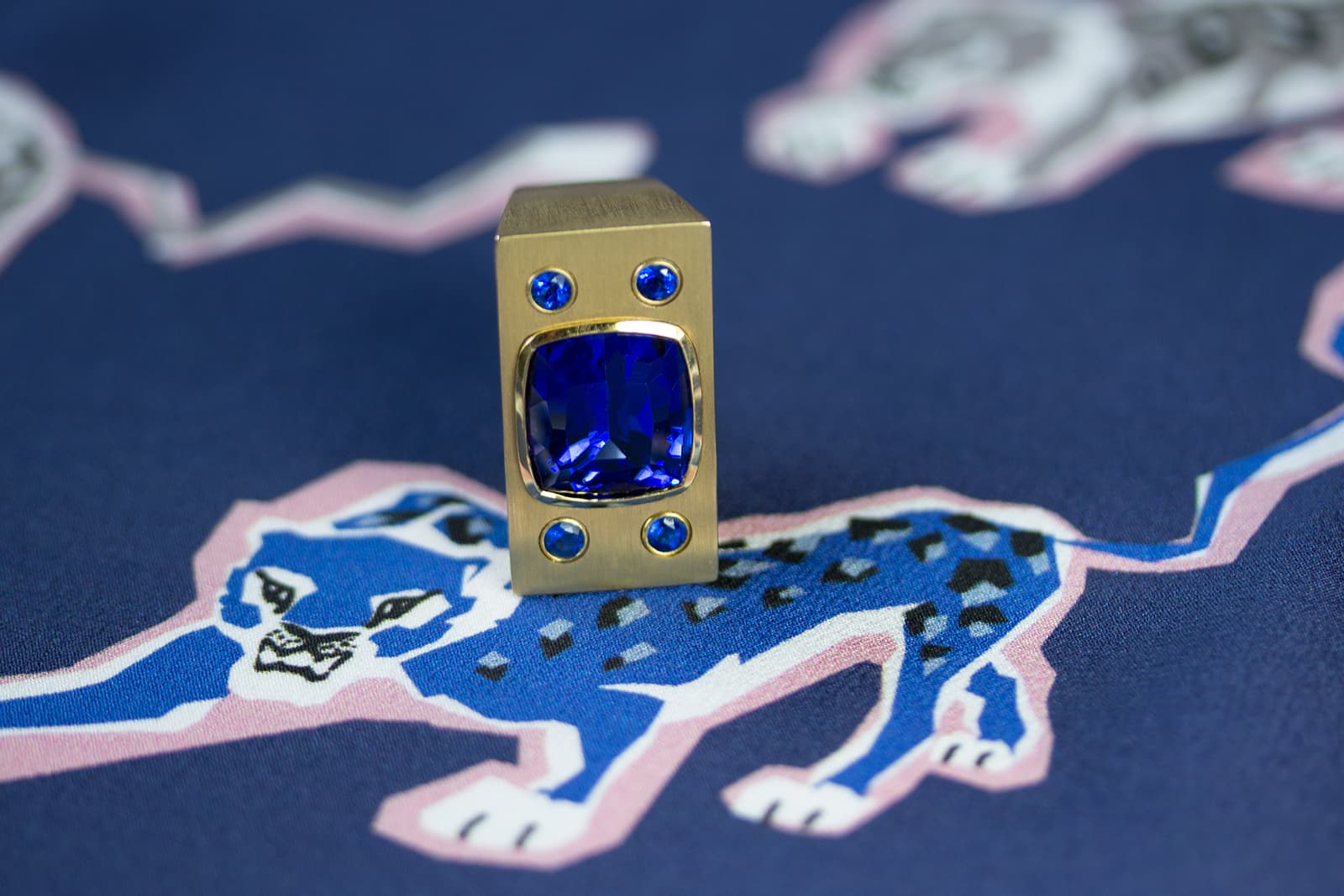 This gemmological infatuation all began with her M&E ring, which was crafted using high-quality tanzanite and four small cornflower hauynites purchased in Idar-Oberstein. But this is not the end of her quest. Christina wants to experiment with all sorts of metals and techniques. "One material that I have not seen in jewellery yet and would like to use one day is a special kind of cement called Flowstone. It is usually used in spectacular ornamental architecture," Christina tells me.
To better understand Brummé's creative rationale, the jeweller proposes a very attractive game: put on delicate earrings and rings, go outside and record the reactions of passers-by, then the next day repeat this process but in exquisite, bold jewellery. You know the proverb beautiful feathers make beautiful birds? "I think most people can predict the outcome of this experiment. That's why I create jewellery of a certain style and size," Christina wryly remarks.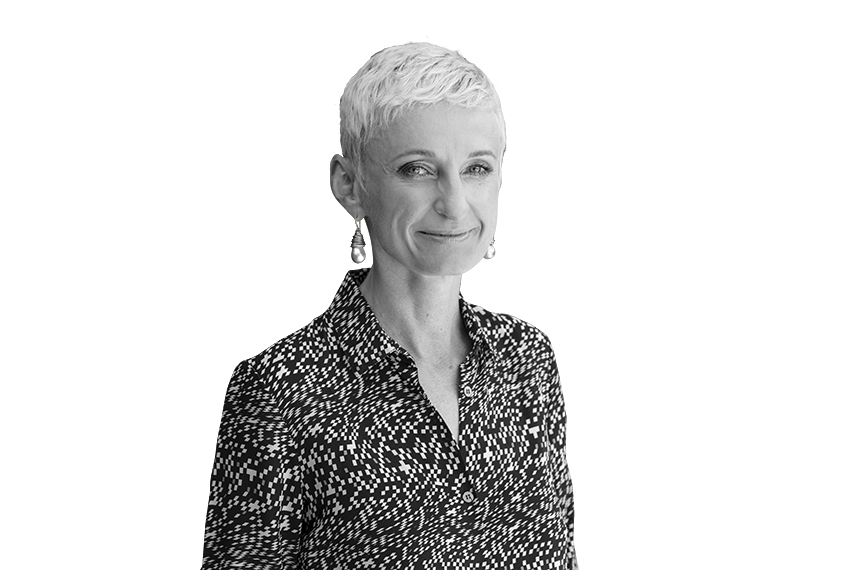 Now you know enough about this extraordinary jewellery designer, take a closer look at her work and reach out to her on Instagram: @brummedesign. There you can share your opinions with Christina about her designs. Don't forget: your awe at the sight of her creations is the "fuel" that drives her to make remarkable new jewels.