The best advocate for a bridal jeweller is a happy customer, which is why for Bridal Week, we've collated some charming real-life stories to share with you, courtesy of the brands described below. Whether it's incorporating sentimental stones or proposing with a tin-foil ring, there's a story here to tug on your heartstrings!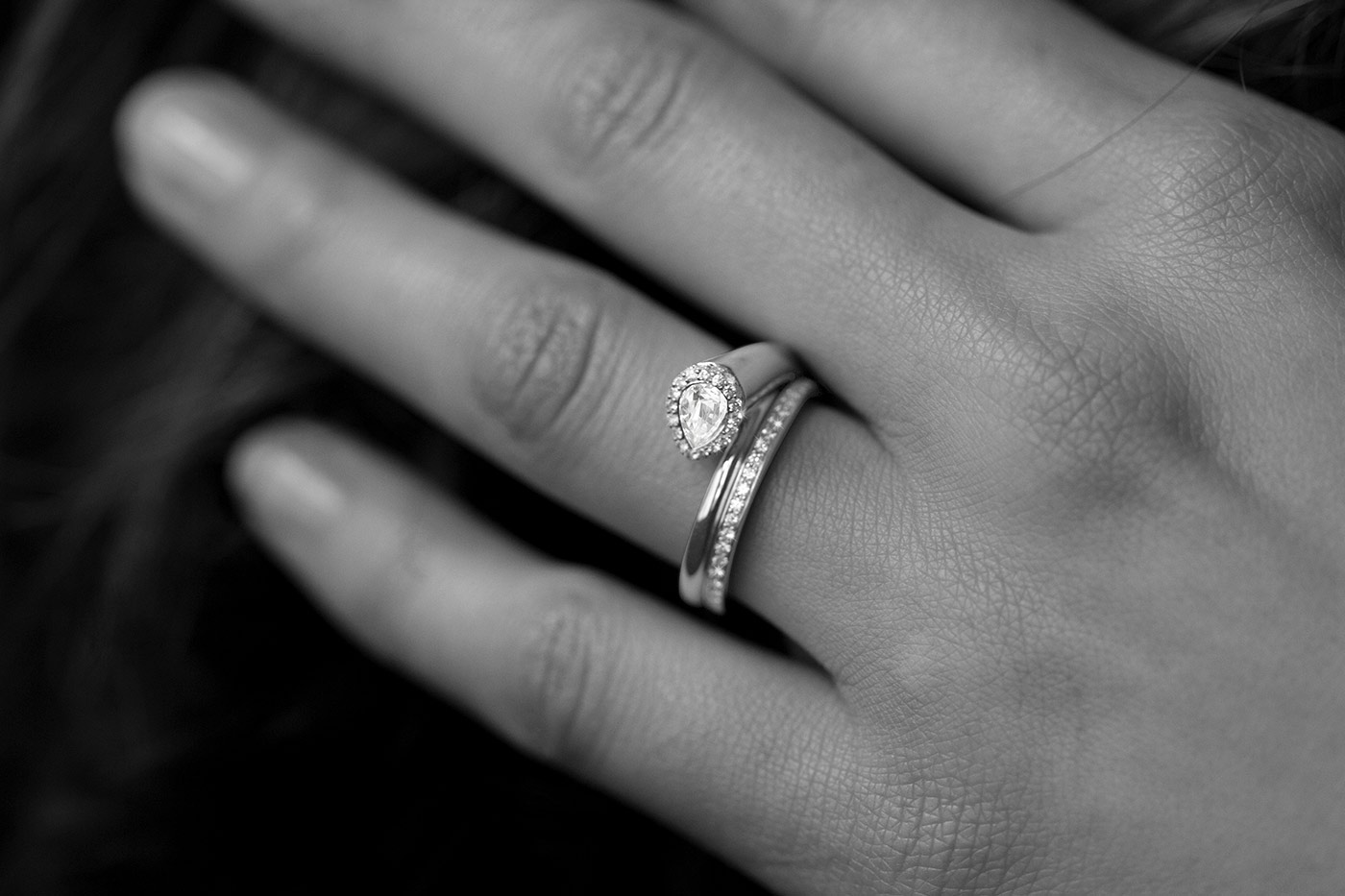 Founded by Ori Vechler in 2013, Gemma Fine Jewellery has roots in Tel Aviv and a pathway that weaves through China and the luxury hubs of Hong Kong and Shanghai. Today, the brand specialises in extraordinarily proportioned diamonds for clientele in Asia, North America and the Middle East: think A-list engagement rings with an added splash of colour! Gemma Fine Jewellery designer, Trudy Chan, shares this story: "A client came to us wanting to surprise his wife with a pink diamond ring for their 10th wedding anniversary. They were the classic childhood sweethearts. They tied the knot shortly after college in their early 20s and are now living happily ever after in China with two lovely kids of their own. He decided on a radiant-cut fancy intense pink diamond and a timeless three-stone setting, with two heart cut side stones, which symbolized their two children."
Russian jewellery studio Miracle is continuing a long family tradition of creating bespoke pieces, like engagement rings and bridal suites, in collaboration with its customers. Miracle blends old and new, both in terms of its methods of craftsmanship and its take on design. Recently, the brand experienced a moment of fate in its showroom. A customer proposed to his fiancée with a foil ring and they both visited Miracle together to choose a piece. When browsing items in the brand's ready-to-wear selection, the bride-to-be chose a beautiful engagement ring that was perfectly sized. Unbeknown to her, her fiancée had chosen the exact same piece some days earlier but hadn't purchased it in case his beloved didn't like it. Clearly, he knew her so well he made the perfect choice! When he got down on one knee in store, his bride joked that she would "have to think about it", which made the Miracle team smile and added a touch of humour to a magical moment.
Otherwise known as Laurence Bruyninckx Antwerp, LX has created an ingenious system of interchangeable rings that nest and stack together. Couples can choose bridal jewellery with their own combinations of diamonds, coloured gemstones, settings, styles and shapes to reflect their personalities. Perhaps also a good idea for the bride who can't make up her mind! Laurence tells us the story of one of her most memorable customers: "Her fiancée purchased the 'Bellona' engagement ring and proposed. His bride-to-be was excited to find out my rings are named after Greek and Roman goddesses because her future husband was Greek! 'Bellona' was the ancient Roman goddess of war, which resonated with the bride as she served in the military police in the US Air Force. Now, this customer owns six of my rings and loves how she can wear a combination of rings stacked together with her engagement ring."
Taylor & Hart specialises in bespoke engagement and wedding rings that are designed in collaboration with its customers, whether at its showrooms in London and New York, or via a customisation process on its website. The brand has a 'no limits' policy when it comes to creating exactly what a couple wants, whether that's diamonds, coloured gemstones or a remodelled heirloom. They're also seeing a surge in couples shopping together, which means incorporating two people's tastes and making something unique to them… no pressure then! Design Director, Kate Earlam-Charnley, says: "One of our customers had inherited a family heirloom that he thought might be perfect for his girlfriend but knew that the style needed updating. The antique ring had a wonderful presence with seven old European-cut diamonds in an opulent cluster design set in yellow gold. He knew that he wanted his girlfriend to be involved in the design process and they decided to honour the original design while still putting their own stamp and style on the ring. In the end, they decided to keep all the original diamonds and even added more. They also wanted to incorporate a snowflake pattern into the design and gave us creative license to come up with something wholly original."
I hope you will agree with me readers that the joy of bridal jewellery isn't just in the jewel itself, but in the story that surrounds its creation, selection and, of course, the proposal itself. Discover Part II of this Bridal Week focus for more inspiring tales of happy couples.