"When we choose what designers to represent the main things we are looking for are originality, a clear 'DNA', and the potential for genuine longevity. In short, defining design talent for their generation and aesthetic or style," says Joanne Ooi, PLUKKA's founder and creative director.
Originally conceived as an online platform for jewellery sales, the brand became a global success and opened its first boutique in Hong Kong in 2014. The shop began as a pop-up, intended only to run for a short time, but as months went by its popularity grew and business boomed to the point that Joanne and Elle, the brand's owners, decided to set up the boutique for good. They are in the process of moving location, however, taking up residence in the prestigious Landmark region of Hong Kong and the city's Peninsula Hotel.
But they weren't content to stop there – the business partners began making plans straight away for the broader expansion of the PLUKKA brand. The logical next step for their multi-brand platform model was to open another boutique; this time they decided to do it in London. Here, in the centre of the capital on the parallel street to London's famous Bond Street they set their sights on the Burlington Arcade, whose prestige has only grown in recent years thanks to the opening of a number of boutiques by big brands such as Chanel and La Perla. It didn't take long for Joanne to settle on this as the perfect spot for a new PLUKKA boutique.
The design for this modest in size but attractive boutique was conceived by award winning architecture agency, David Clovers, who opted to follow the style of the existing Hong Kong brand with a black and grey colour scheme which creates an effective contrast with the lustre of the jewellery on display. There are currently around 12 designers on show at PLUKKA, including some of the best work from Wendy Yue, Dionea Orcini Fine Jewellery, Layla Adbollahi, Ashu Malpani, L'Dezen,, Sidney Chung, Baer Jewels, Etername and Bochic. Each designer has been allocated a spot in the variously sized and characterfully arranged window display so they all have the chance to shine.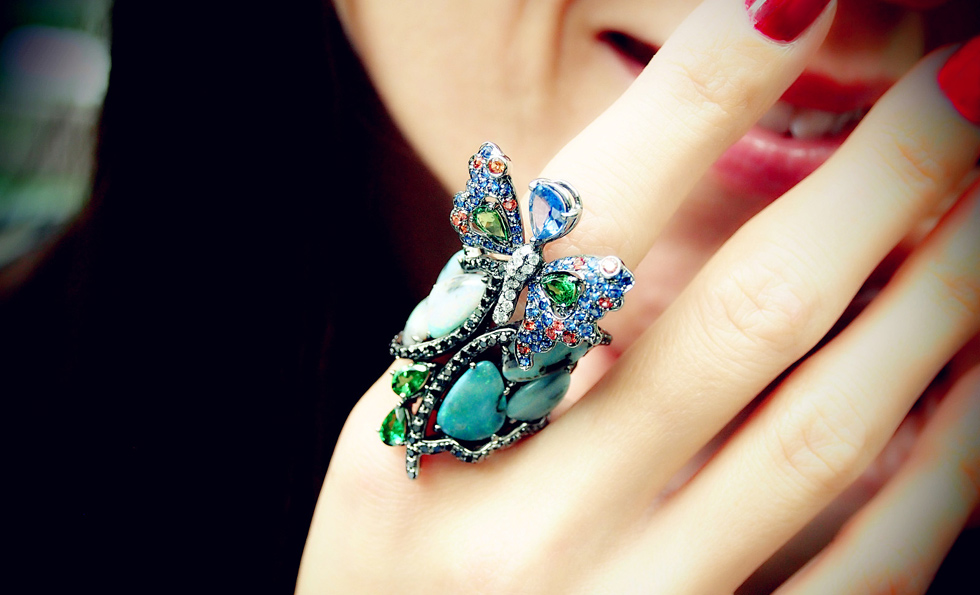 "Everyone we represent in the boutique is very different and we discovered our designers in different ways too. One of them, Ashu Malpani, I came across at a trade show while I got to know L'Dezen through mutual friends because we were both kicking off our businesses at the same time. Elle and I got in touch with Bochic when we saw that David was doing a trunk show in Hong Kong, where we are based," says Joanne.
Looking ahead to the next half of the year, the founders of PLUKKA have already set course for America, where they will be opening a trade space in Madison Avenue's Jack Vartanian boutique in May.
As Joanne Ooi puts it: "The future of PLUKKA is bright; our business model delivers what today's consumer wants most – creativity and individuality with the convenience of efficiency and fastidious curation. Our online platform is considered by the industry to be the number one engine for discovering the world's best fine jewellery, but within the next two years I want the consumer to see that too and agree for themselves!"