It took around two years to make the collection's 37 precious jewels, nine of which had already become part of the Princess' personal collection. Two years is actually the standard period of time that jewellery brands need to develop designs, to source the gemstones and to create the high jewellery masterpieces they have conceived.
The concept for the Jannah collection revolves around a five-petal flower, something that was not chosen by chance. This motif in necklaces, earrings, bracelets, rings, head pieces and two watch models celebrates the historical connection of two wonderful cities, Abu Dhabi and Rome - a connection that dates back to time immemorial. The Jannah collection is therefore not just a magnificent line of precious stones, but the story of two influential families united by common values and respect for cultural heritage - it is also a dialogue between two civilizations.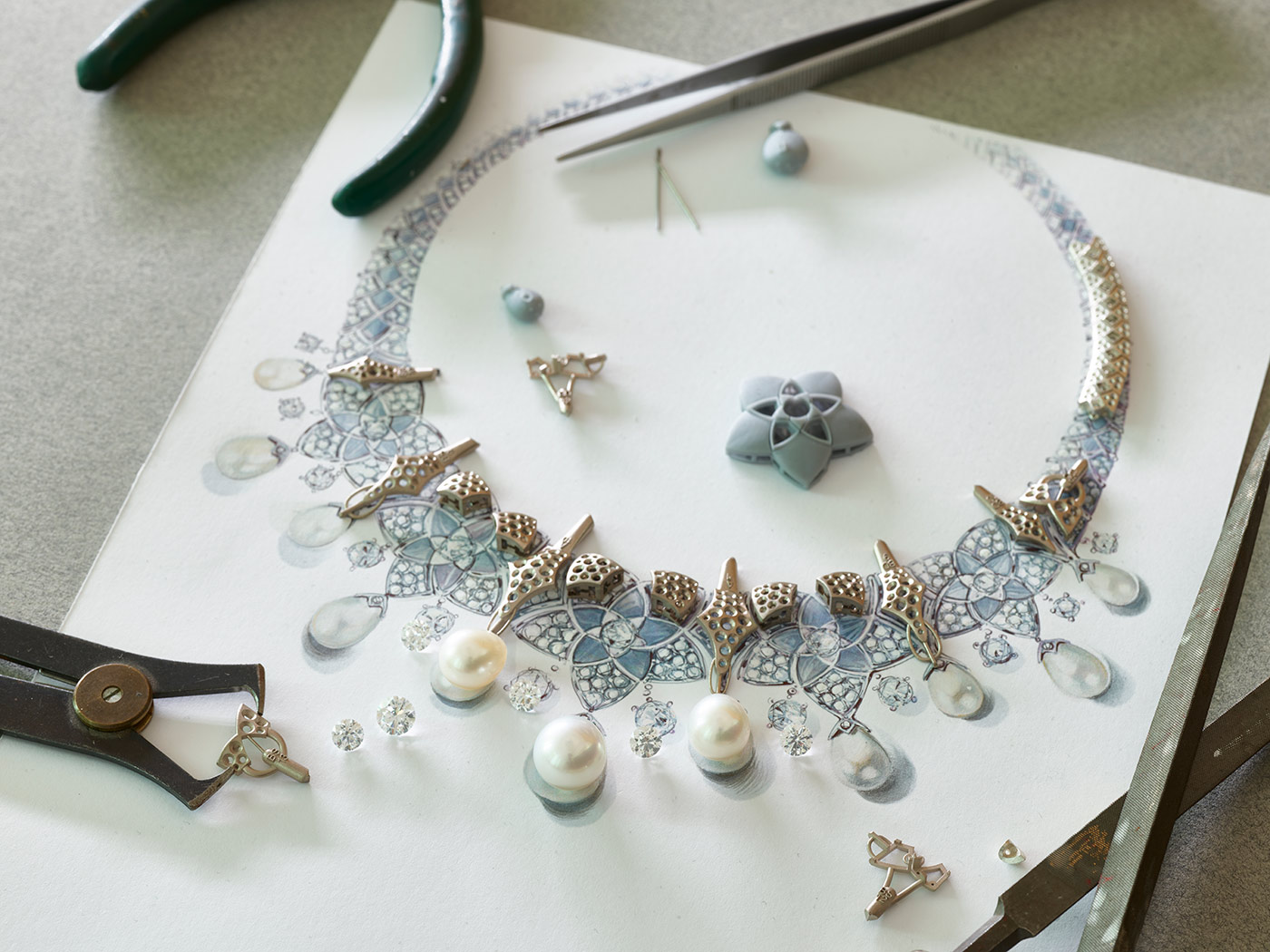 "There are many similarities between Italian and Middle Eastern women… warmth, generous hospitality and a sense of humour. Whether I am in Italy or the Middle East, I feel at home," says Lucia Silvestri.
The Creative Director of fine jewellery at Bvlgari spent a considerable number of hours with Her Highness Sheikha Fatima, listening to stories about her great ancestors and thoughts about the future. Despite the fact that they come from two different worlds, these women soon discovered a common love for beauty, for family and an inexhaustible interest in life. During her visits to Abu Dhabi, Bvlgari's Creative Director went to the Mosque of Sheikh Zayed, the grandfather of Her Highness Sheikha Fatima, several times. The ceilings of this snow-white masterpiece made of Carrara marble are decorated with five-leaf floral motifs, and it was this element of decor that inspired the two women to create the unique Jannah collection.
One of the very first works in the collection was a sautoir made with a 13.38 carat Colombian emerald that was re-cut to bring beauty out of it. Her Highness Sheikha Fatima dedicated it to her grandmother, and on the back of the pendant - as close to its heart as possible - asked the designers to engrave the name of the grandfather, Zayed, in Arabic.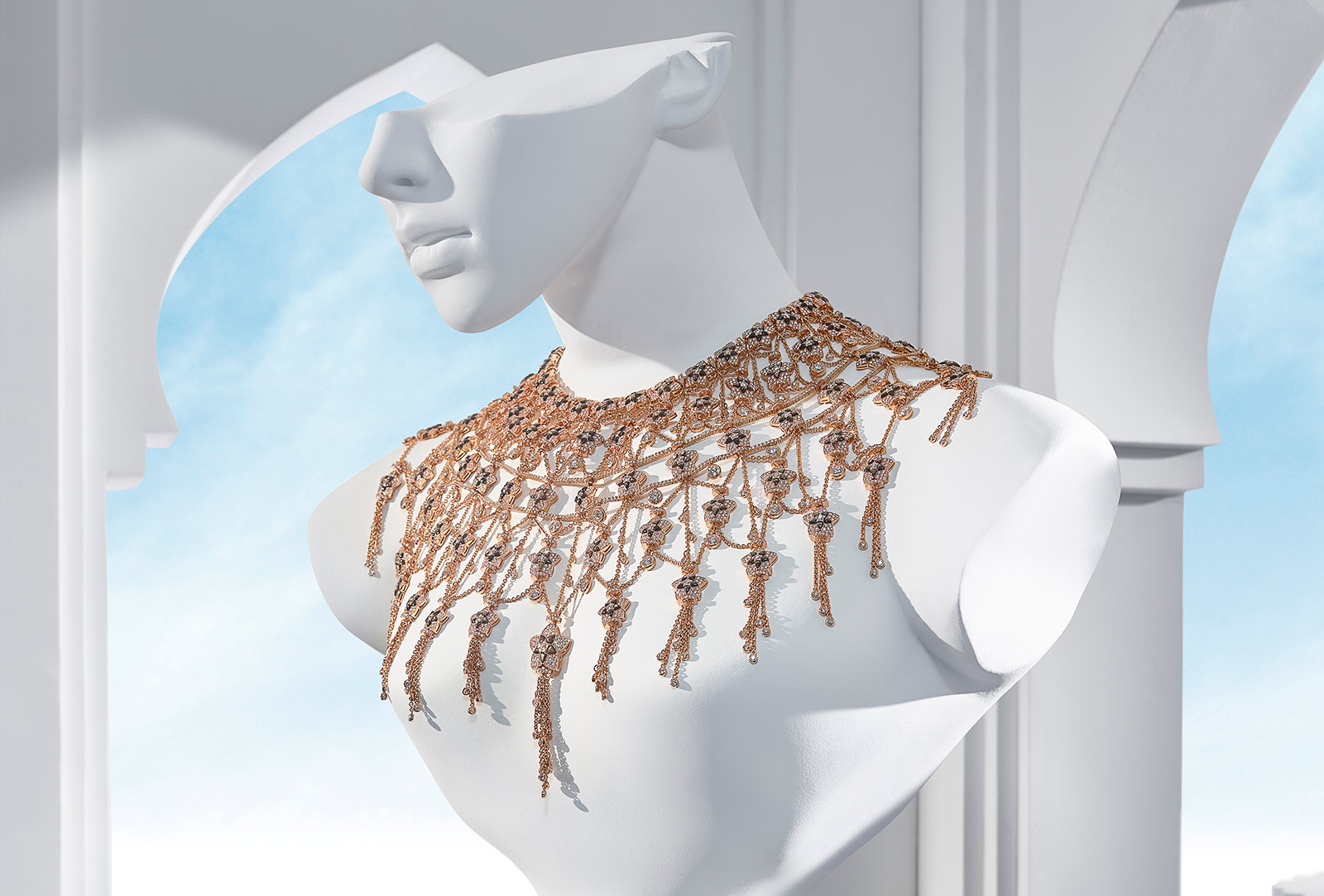 A true collection of emeralds was also gathered for the pearl choker necklace: 492 buff-top cut stones and 14 teardrop cut specimens set off the radiance of diamonds and Akoya pearls. Meanwhile, a poncho necklace boasts an equally impressive collection of 46 rubellites weighing 213.77 carats, that are set off against mother of pearl and 62 Akoya pearls, as well as emeralds and diamonds. This necklace shape - which completely covers the neckline and shoulders - was developed by Bvlgari in 2018. It is undoubtedly an outstanding and unique innovation (I am still impressed by the poncho from the Cinemagia collection), requiring 1,200 to 1,500 hours of work by a single artisan, with the support of a team of foundry workers and gem cutters.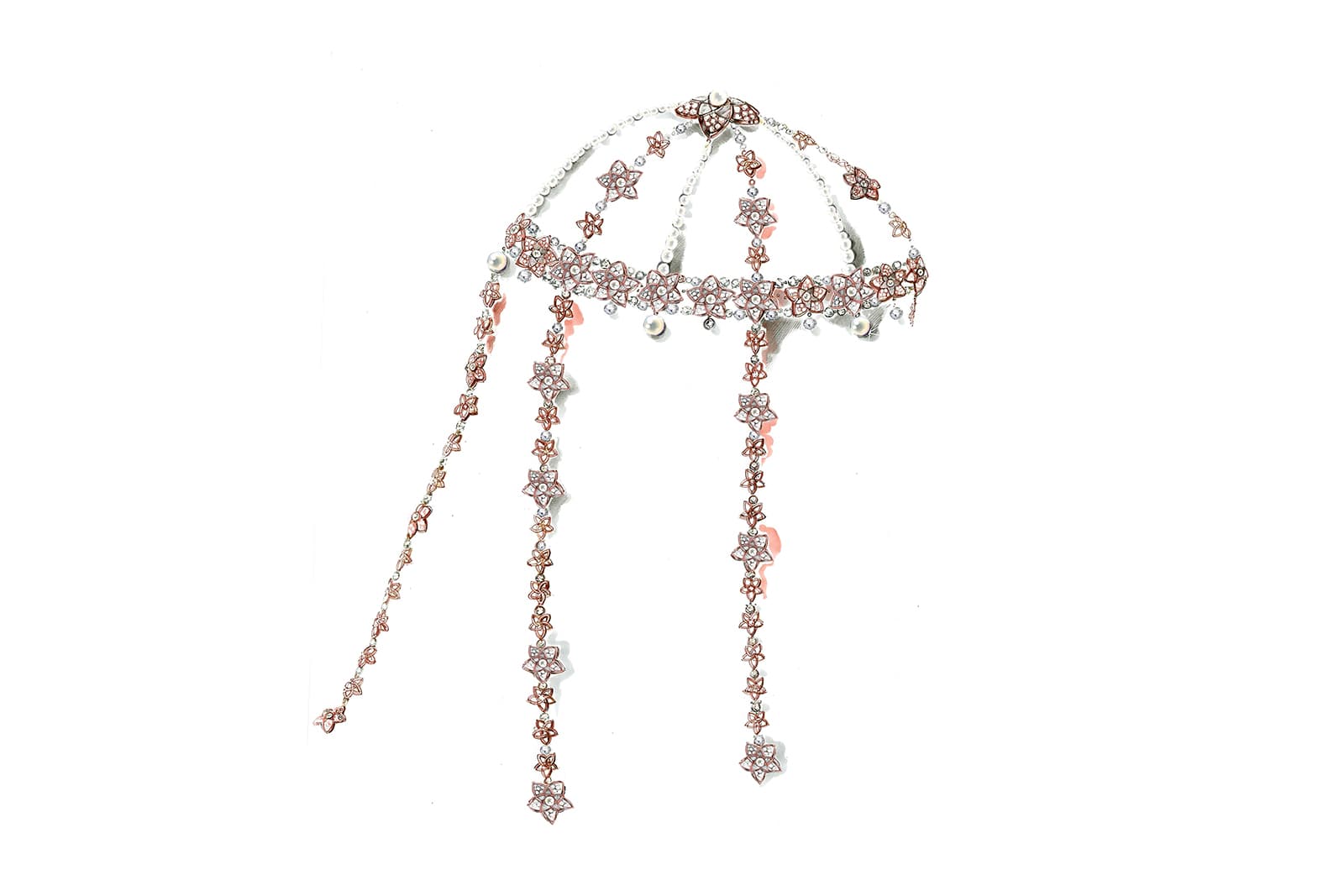 However, this is not the collection's only unique design that you've barely seen before: no less impressive is a pink gold tiara made with 129 Akoya pearls and 204 diamonds in the shape of an elegant and feminine hair-covering diadem, inspired by the princess herself. "Her Highness Sheikha Fatima has inspired me so much in the process of creating this jewel. As part of this fascinating cultural exchange, she provided me with fresh insight and the result was a very elegant, feminine and truly unexpected hair ornament," Lucia Silvestri explains.
As you can see, from this very interesting cross-cultural union, truly unique pieces of jewellery were born, some of which have already become part of the royal treasury, engraving the names of their creators into history.