Before we unveil our top picks of the jewellery watches displayed at the much anticipated Baselworld 2015 fair, we take a quick look at some of the most memorable and gorgeous secret watches from last year. It's time to let the secret out. We unveil our top picks…
Who doesn't love a secret watch concealed within a precious jewel, especially one by the House of Harry Winston? Their fascinating new fine jewellery timepieces – Ultimate Emerald Signature and Emerald Signature – capture attention and hearts with ease. This versatile design can be worn as an exquisite brooch, a sautoir necklace or a set on an elegant ribbon that wraps around the wrist. The brilliance of the diamonds shines through its white gold case that is shaped like an emerald-cut-diamond – the signature shape of the jeweller.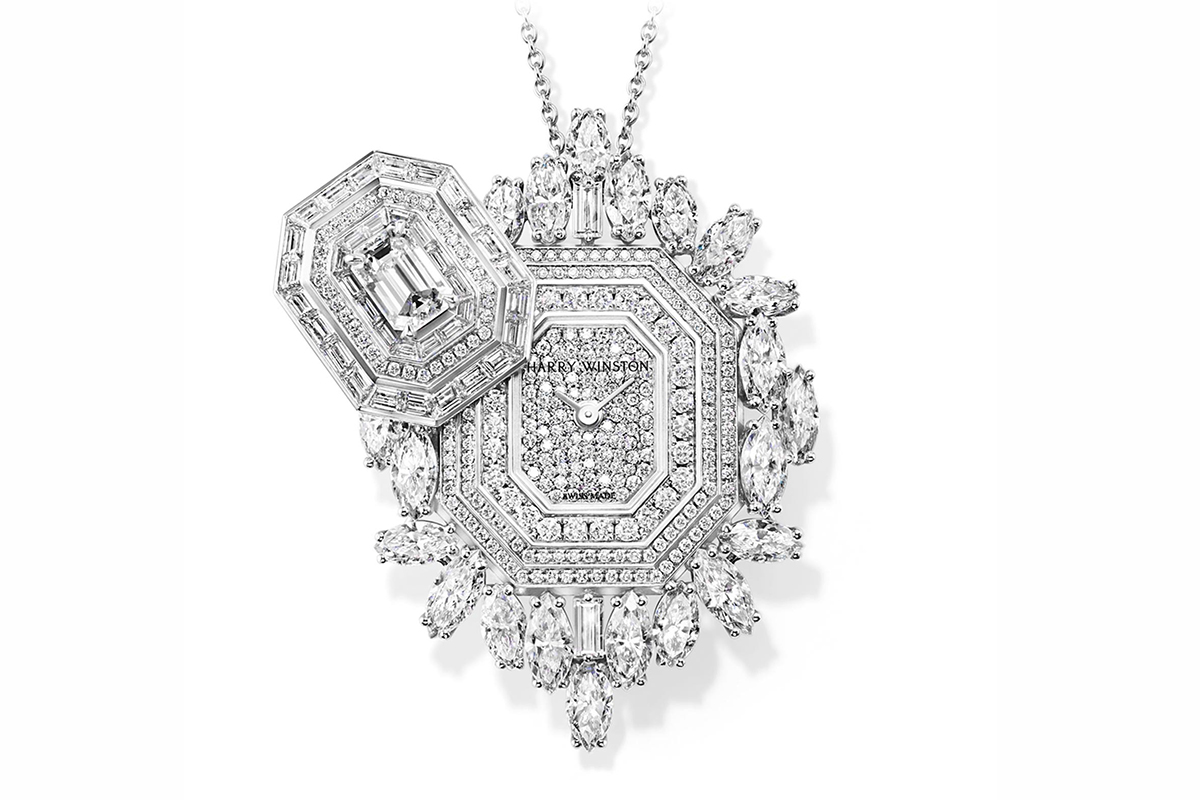 Does a tortoise make for an interesting muse? You may not think so, but Cartier does and exemplifies its craftsmanship through two very animated versions, part of its Les Heures de Cartier collection. Though both the timepieces are absolutely arresting, the emerald-eyed diamond-paved Tortue secrète de Cartier encased in rhodium-plated white gold won us over with its brilliant-cut diamonds and translucent lacquered and silvered flinqué dial.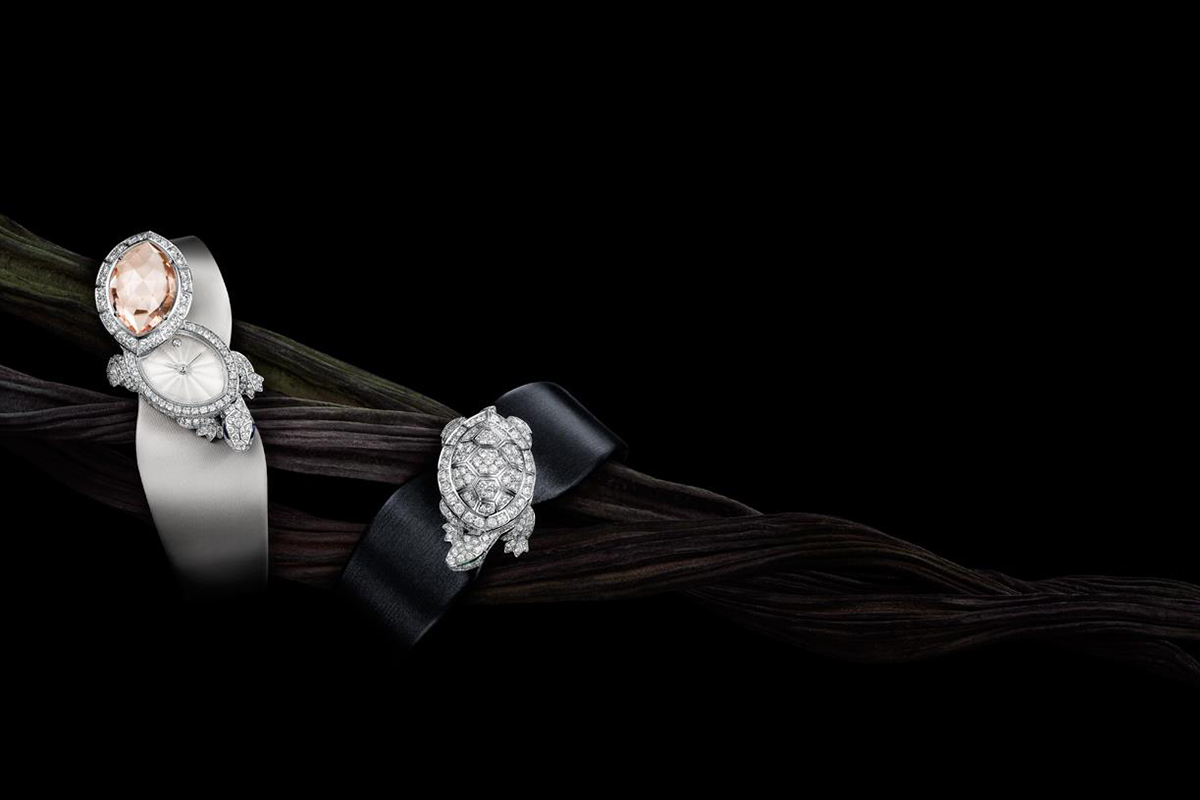 How about a snail? Hardly ever a choice for a jewellery or a timepiece. However, Chopard's Caroline Scheufele likes to focus her attention on all kinds of creatures in the animal kingdom and add a dollop of glamour to their existence: she embarks on a daring adventure in Haute Joaillerie by designing creative pieces that mimick the "Animal World". We discovered Chopard's dainty little snail which is adorable. Adorned in subtly graded hues of brown and cognac-coloured diamonds, the snail appears to be following a path on a precious leaf sprinkled with tsavorites and diamonds. The gem studded shell gently glides away to reveal the watchface. Though we don't quite fancy snails, this day forward, snails will have a special place in our hearts – especially gemstone encrusted ones.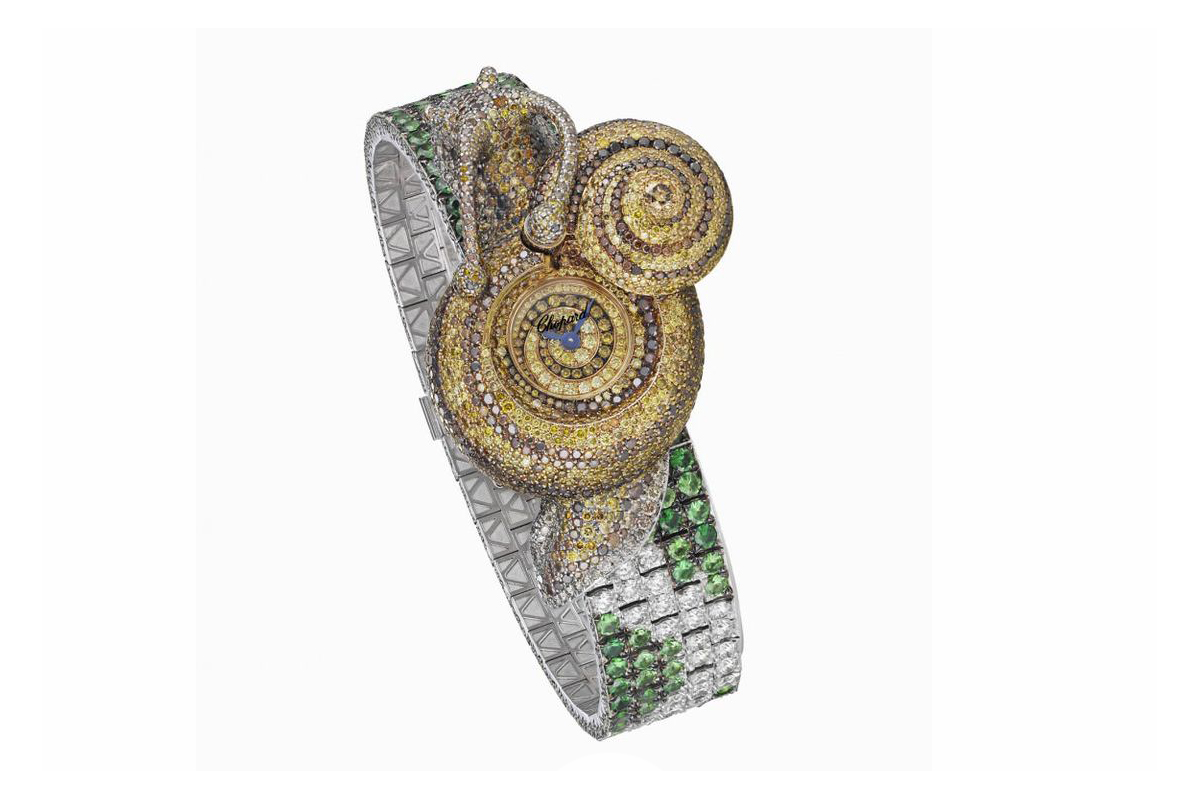 Graff's Secret Diamond Floral Watch resembles a joyous walk through a garden. The jeweller turns its attention to flowers and hand-picks diamonds to create a sparkling blossom that plays peek-a-boo with time. The exquisite Secret Diamond Floral Watch in chic contemporary style is embellished with round and pear-shaped diamonds. It is transformed from a jewelled bracelet into a secret watch with discreat settings and mechanisms. Ensconced beneath a sliding floral secret element, lies a pink mother of pearl dial.It's no secret; this timepiece is an absolute floral delight.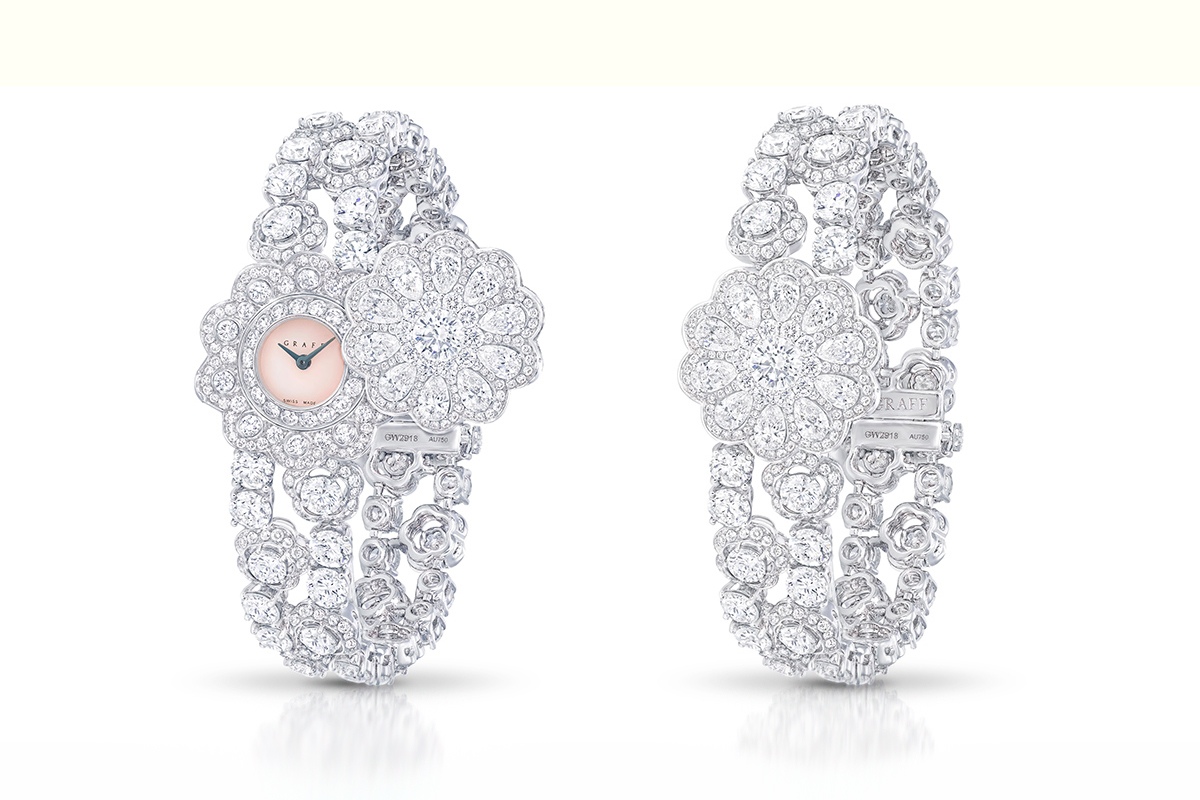 Piaget's bold and glamorous take on creativity has resulted in a series of cuff watches. The fascinating hand-engraved blue sapphire cuff watch, set in 18k white gold, has a fine sprinkling of 601 brilliant-cut diamonds and draws upon the filigree design.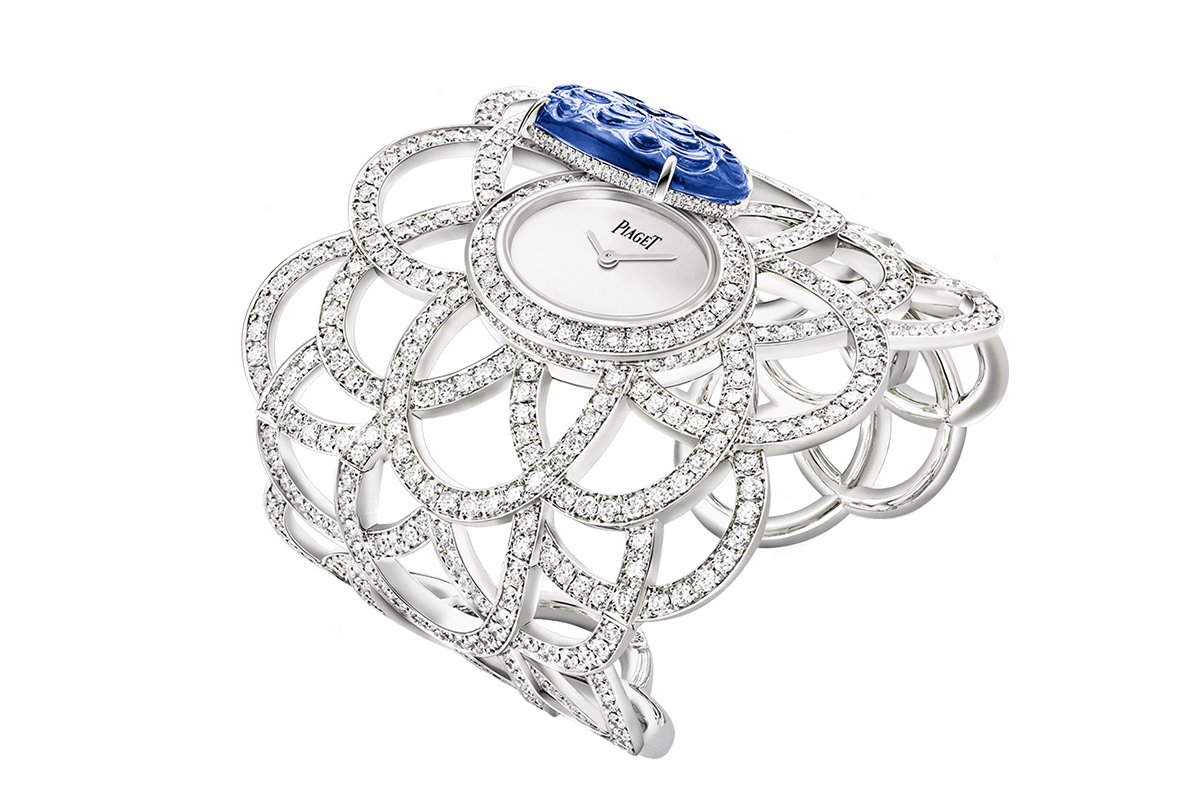 Chaumet's high-glamour Lumières d'Eau – Parures n°6 secret cuff timepiece shimmers with the beauty of brilliant-cut diamonds. Chaumet also celebrates the beauty of the hydrangea by creating an imaginary garden with its Hortensia secret watch. Set in pink gold, the floral timepiece is encrusted with diamonds, tourmalines and sapphire, while its white mother-of-pearl dial is set with four brilliant-cut diamonds. Gorgeous blossoms sculpted in pink gold, Angel Skin opals and pink opals adorn the case along. An artful mix of over 400 brilliant-cut diamonds and a tiny smatter of marquise, pear and brilliant-cut pink tourmalines complemented by a mother-of-pearl dial exemplifies Chaumet's design ethos.
David Morris creates a compelling ode to craftsmanship and inspired horology with a multi-coloured show stopper – a white rose-cut diamonds watch. Swathed in fancy-cut pink diamonds and white diamond rounds set in 18K red and white gold, the watch mirrors the fine jeweller's passion for sumptuous creations.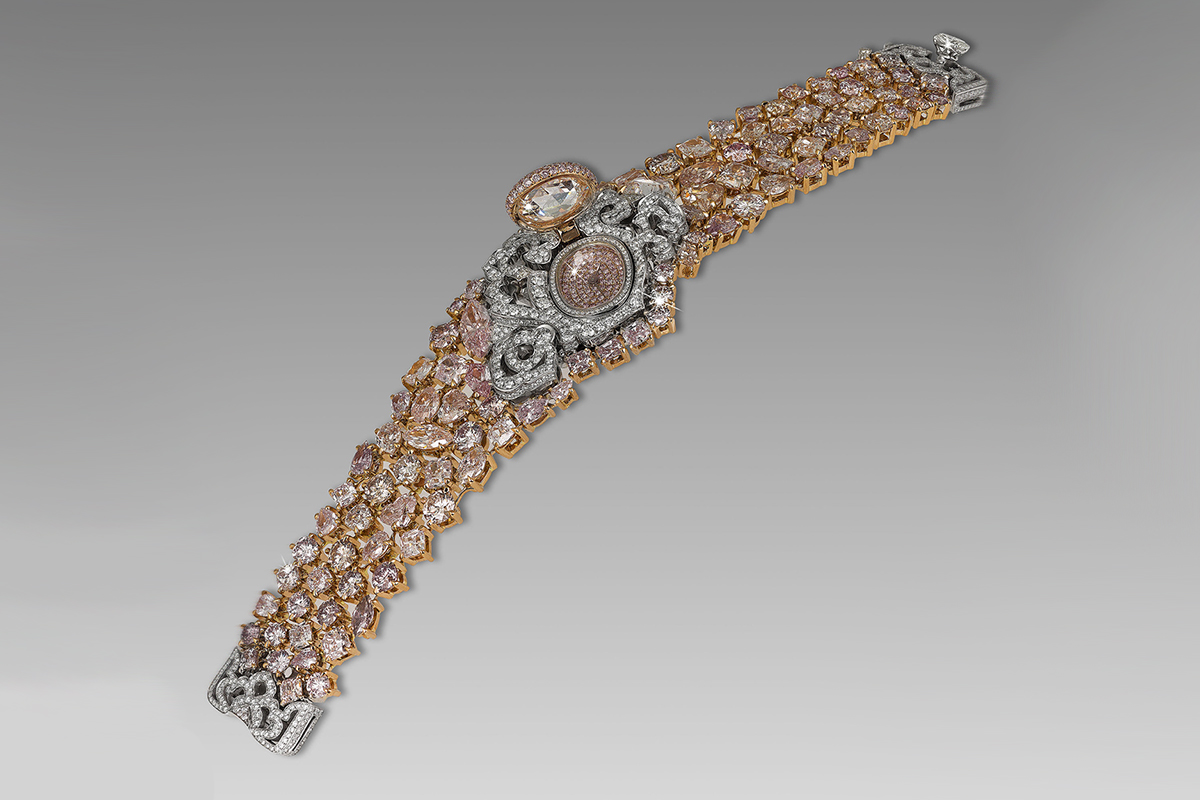 These are a few of our favourite watches. Which of these horological marvels would you choose to wear?