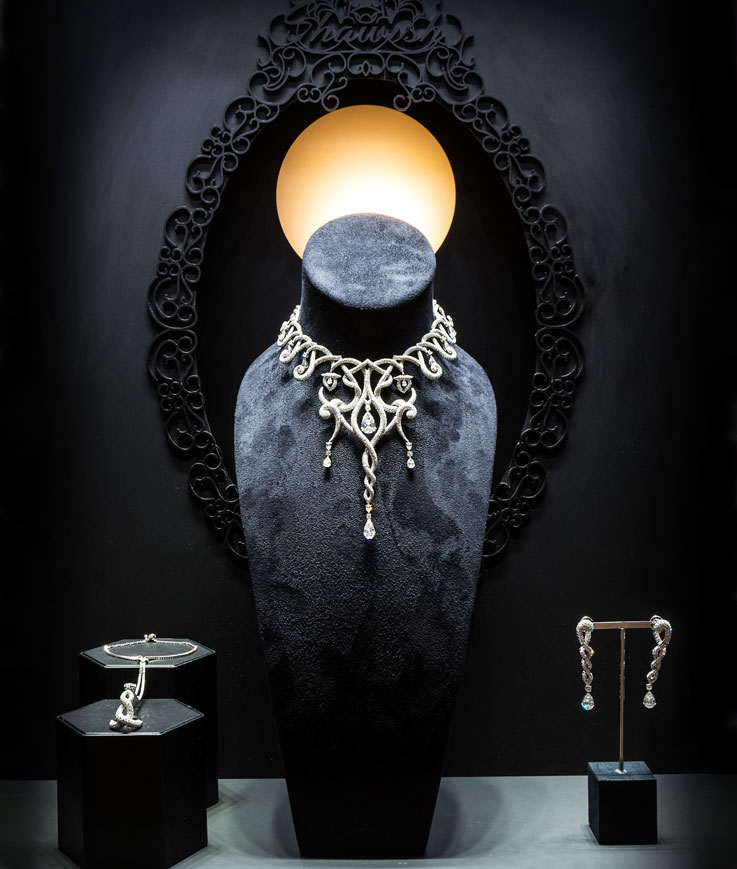 Shawish Moonlight collection jewellery paves with diamonds
On Thursday 16th October, Shawish Genève opened the doors of its very first flagship boutique in London and a sumptuous evening party was held for friends and clients. Whilst there, I managed to study the new store's luxurious interior decor, its attractive facade, the brand's most recent (and already famous) collections and also to talk with the brand's founder Shawish Mohamed Shawesh.
"We decided to open a boutique on the Fulham Road because Chelsea is our ideal locale: it is elite but at the same time it is not snobbish. There are also a lot of quirky shops in this part of town like ours," Mohamed comments. I could not agree more with the company's CEO: Shawish really does boast a range of unusual jewellery creations.
You have probably already heard of the 150 carat diamond ring that was cut out whole from a single diamond. This ring was then displayed in Basel in 2012 and this year Shawish stunned everyone with his remarkable octopus shaped diamond bracelet, the head of which was crowned with a large pearl. The intriguing thing is that inside the bracelet are cunningly constructed miniature multicoloured light bulbs that switch on and shine in the dark at the press of a button. This bracelet has been given its own display cabinet at the boutique and during the cocktail party the octopus was specially raised on its own pedestal to mark the occasion.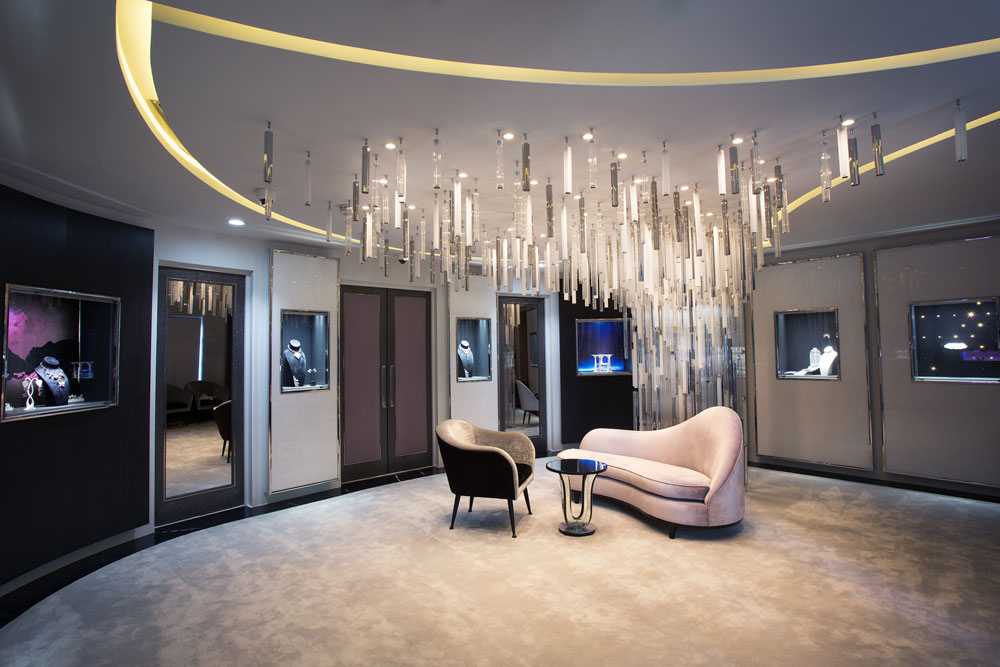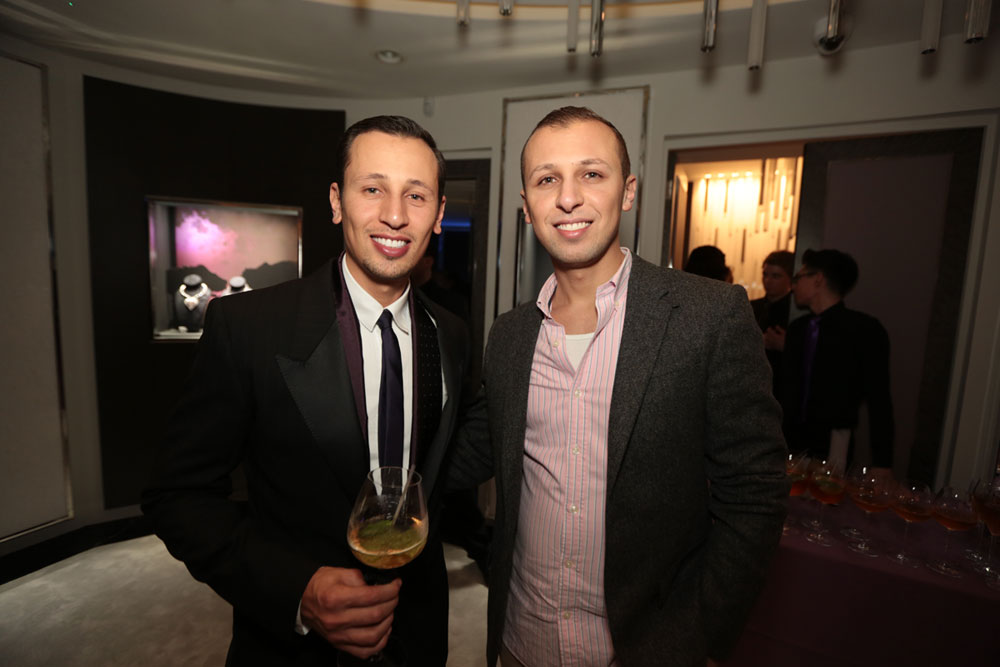 Mohamed and Majdy Shawesh at the flagship boutique opening night in London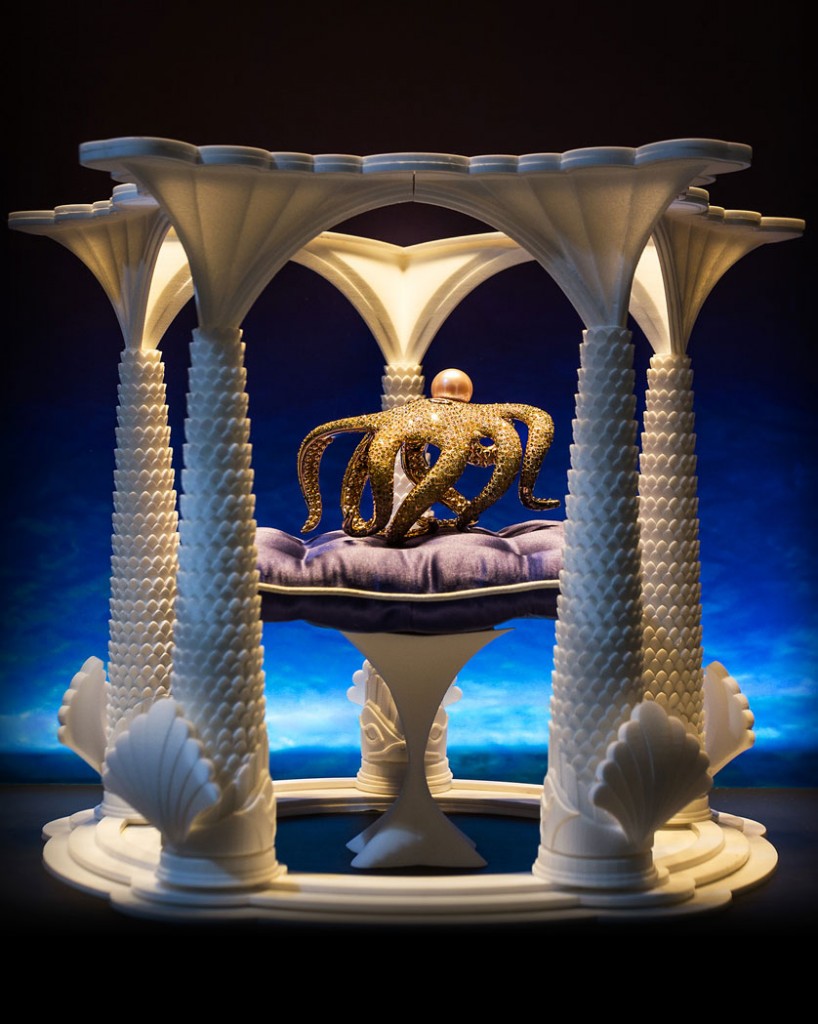 Shawish Octopus bracelet paved with diamonds and crowned with a pearl
The Shawish boutique is not simply your average jewellery shop. It has a character of its own. I think of it as a jewellery box of dreams where you fall into a new magical dream each time you pass from one display to another. One cabinet had mushroom pendants rotating on a mechanical carousel that took me back to my childhood; another had mermaids beckoning me to their enchanting underwater kingdom; a third had a bear cub sweetly sleeping on a cloud, dragging me into a wonderful world of daydreams. Not all of Shawish's pieces are playful though: I couldn't tear my eyes off the patterned "Moonlight" necklace with the large teardrop diamond at its heart and I stared for ages at the intricate work of the colourful "Orchid" series.
As I was working my way round all the displays, I noticed a chandelier that was hanging from the ceiling right down to the floor. It was made from dozens of crystal tubes that brightly sparkled in the light of the chandelier's bulbs, creating a northern lights effect.
It was also impossible to ignore the building's chic facade made from glossy black marble and covered with golden flakes that are like mermaids' tails gleaming in the moonlight. When you walk past the shop, it's as if you've just managed to catch a glimpse of these mythical creatures before they disappear back into the water.
After leaving the party, I saw that instead of jewellery in the windows there was a work of art on display: the famous Shawish diamond ring but about 50 times bigger than the original. The piece is made of glittering threads that, like a house of cards, work together to form a geometric outline of the ring's facets. This is the first jewellery shop I can recall where the windows do not display any jewellery pieces but despite that I did not doubt for a second that they were more than enough to make people want to go in and plunge into the fantasy world of Shawish. KP
Photos courtesy of Shawish.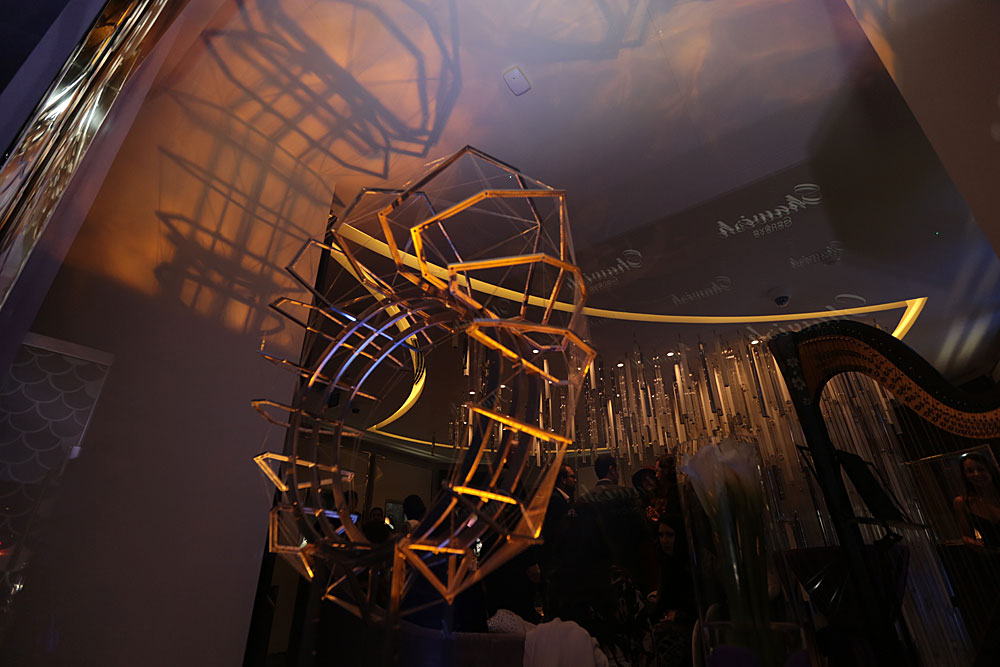 Shawish London boutique window with an art object shaped as the famous all diamond ring