The Bernard family have had opals on their minds ever since John's father, called John (Bernard) Benny, jumped a British Merchant Navy ship in Fremantle and set out for the Australian desert. An intrepid explorer, he stumbled upon opals in Coober Pedy while acting as a guide to a travelling filmmaker. Lured there by the possibility of discovering gold, nickel or other metals beneath the fiercely hot sun, he instead unearthed opals, sparking a life-long obsession with these rainbow gems. Determined that opals would be his destiny from now on, he moved his family to the dugouts of Coober Pedy before relocating them to the opal fields of Queensland.
With a similarly obsessive nature inherited from his father, today John oversees the running of Opal Minded's remote, artisanal, open pit mine in Jundah-Opalville. Conditions are harsh – it is impossible to procure basic supplies quickly and life is largely lived off the grid, with only sun-heated water in which to bathe – and with temperatures permanently hovering around scorching and the high risk of monsoon floods, the opal mining season is necessarily short – at the most six months of the year. But John wouldn't have it any other way. He and his brother live for mining opals and those rare occasions when they break open a piece of boulder rock to discover precious pockets of shimmering opal hidden inside. Working with just two bulldozers, one excavator, one loader and a drill, it's a tough job, but one that is handsomely rewarded every time they catch a glimpse of rainbow gemstone.
When the rough material has been transported back to camp, it is then approximately shaped, after which Opal Minded's master-cutters can begin the nuanced, highly skilled task of fashioning the opal rough into gems. I asked Renata, who will soon be designing with these polished gems, how an artisan goes about shaping an opal. "It's about finding the best brightness and excitement in the colour," she explains. "That quality is sacrosanct in opals. It is always about chasing the best play of colour, a characteristic unique to opals."
As an entirely family run operation, John and Renata oversee every stage in the jewellery-making process, from the initial extraction of the opals from the earth to their shaping and polishing and, finally, setting in their Sydney atelier. There are three fundamental reasons why the couple have chosen to keep complete control over all aspects of their business. There is John's love of opal mining, of course, but another important factor is that it allows the Bernard family to have complete control over the quality of what they create, and the freedom to choose which opals to keep from one of the most prolific opal mines in Australia. The Jundah-Opalville region of Queensland is famous for producing every type of opal ever discovered in Australia, including light opals, black opals, boulder opals and the unforgettable 'Jundah-blue' pipe opals that are unique to this region, of a quality found nowhere else in the world. That is why Jundah opals are regarded as among the best and most brilliantly coloured on the market.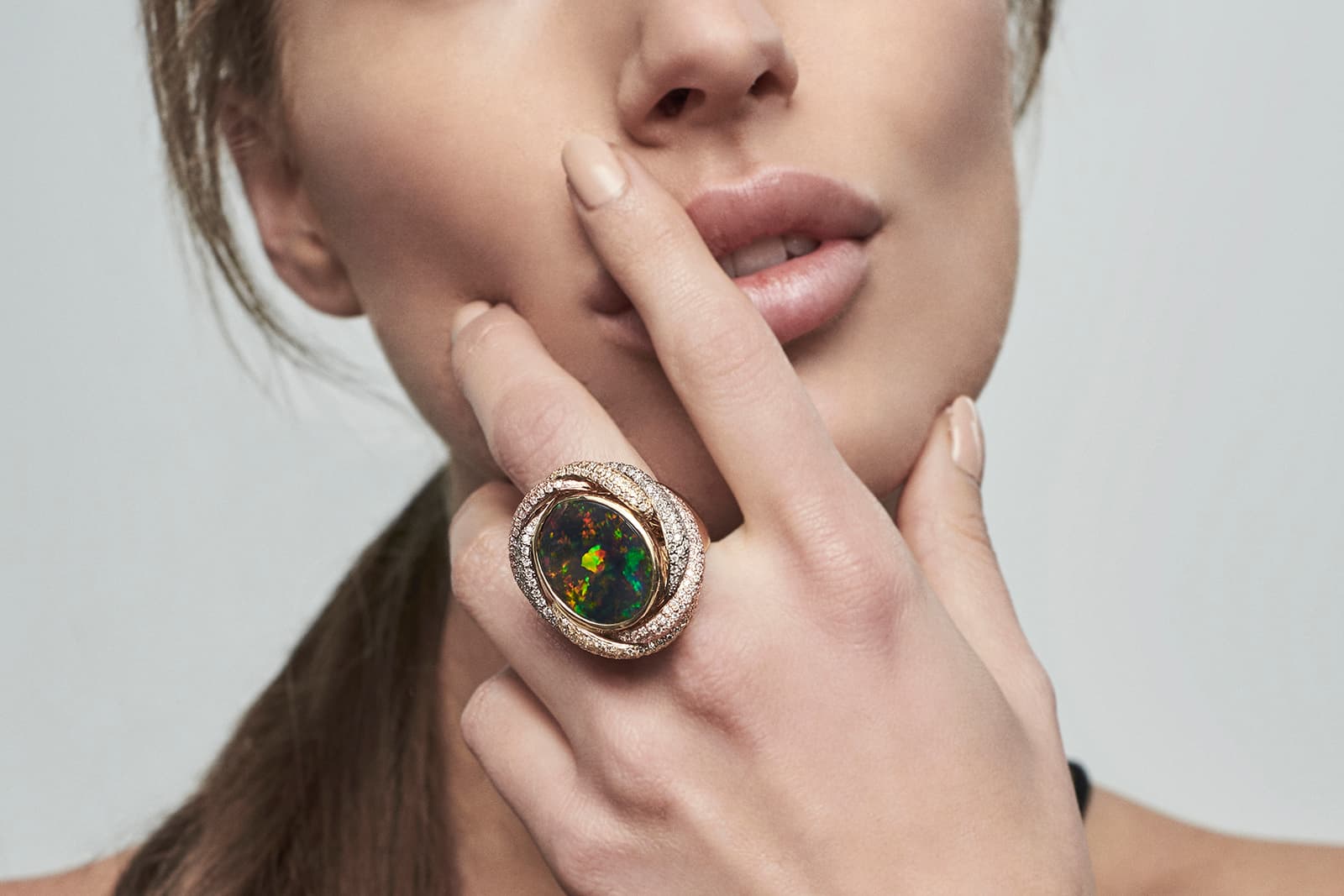 Of course, a polished opal, however mesmerising it may be, must first be set into a jewel before its beauty can be fully appreciated, which brings us on to the other reason why Opal Minded has chosen to keep everything in-house. It enables John, Renata and their team to have total creative control over their decisions, including which part of the mine to pursue, how the gems will be cut and polished and which design will best enhance an opal, which is Renata's main focus. What guides her designs, I asked? She admits that inspiration can be a fickle creature. "Sometimes she refuses to appear for hoursdays if not weeks, sometimes it come unexpectedly like a scene from a Marcel Proust's novel," she laughs. "But it really comes down to two important factors: the beauty of the gemstone and the vision of the happiness it will bring to its wearer. That's what drives me."
Looking into an opal often feels like you are peering into a fantasy world or gazing at an abstract painting comprised of shimmering patterns and glittering neon streaks. Opals from Jundah-Opalville possess all the colours of the rainbow – what is it like working with such visually complicated gems? "Focusing on just one gem is a balancing act," says Renata, the challenge being to enrich and enhance these iridescent spectacles whilst being careful to avoid the sensory overload that can often occur with opals. "I absolutely love the challenge," she continues. "I live for that 'aha' moment when I finish a piece."
With so many different varieties of opal available at Opal Minded, I know I would find it very difficult to choose a favourite. Renata's advice when shopping for an opal jewel is to follow your heart. "We can quantify an opal's body-tone, determine the rarity of its hues and colour pattern, and assess its clarity or cut, yet opals are much more than the sum of these parts," she says. "The only important factor is whether you are captivated to the point of falling in love. The right opal will choose you – like a charming puppy!"
Asked about the most spectacular opal discovered at the Opal Minded mine, Renata doesn't hesitate. "It was a 2,700 carat 'Galaxy' boulder opal discovered in 1989, before we bought the mine. It is the most spectacular fine boulder opal with the most amazing rainbow colour play. I last held it in 2005," she recalls. With a value close to $2 million dollars, the thought that there must be other opal treasures hidden beneath the ground, waiting for John to find them, must be a tantalising prospect. "The more opal gems I handle, the more I understand how remarkable 'Galaxy' is," continues Renata. "I am still expecting one day for John to call me from Jundah and tell me that he has found the sister of 'Galaxy'."
When this moment comes, the world will quickly know about it. In the meantime, if you are keen to discover Opal Minded's outstanding gems for yourself, I can highly recommend spending an afternoon among the many unfathomably beautiful opals at the Sydney boutique, each of which is sold with a certificate of authenticity. Spend an hour or two in their company and I promise that you will have a newfound appreciation for this most intriguing of gems.