Giving designers access to exceptional gemstones and then asking them to create what their heart's desire is akin to giving a child unlimited access to a candy store. With such vibrant raw materials, in this case sensational green emeralds mined by Muzo Emerald Colombia, the 10 female-led jewellery brands chosen for this collaboration were simply told to incorporate the stones into a capsule collection that demonstrates their brand DNA.
The results are a riot of colour, life and energy; a collision of unusual materials like bamboo, turquoise beaded tassels, rock crystal and Akoya pearls; and cool colour clashes thanks to onyx inlay, malachite and lavender enamel. The 34-piece collaboration expands Muzo's repertoire and marks the first time the company has provided its contemporary design partners with faceted gemstones; previous palettes included only raw emerald slices and beads. There's also a smattering of cabochon and tumbled emeralds in this collection, which provide an organic accompaniment to the more precise emerald, pear, round and oval-cut emeralds that radiate elsewhere.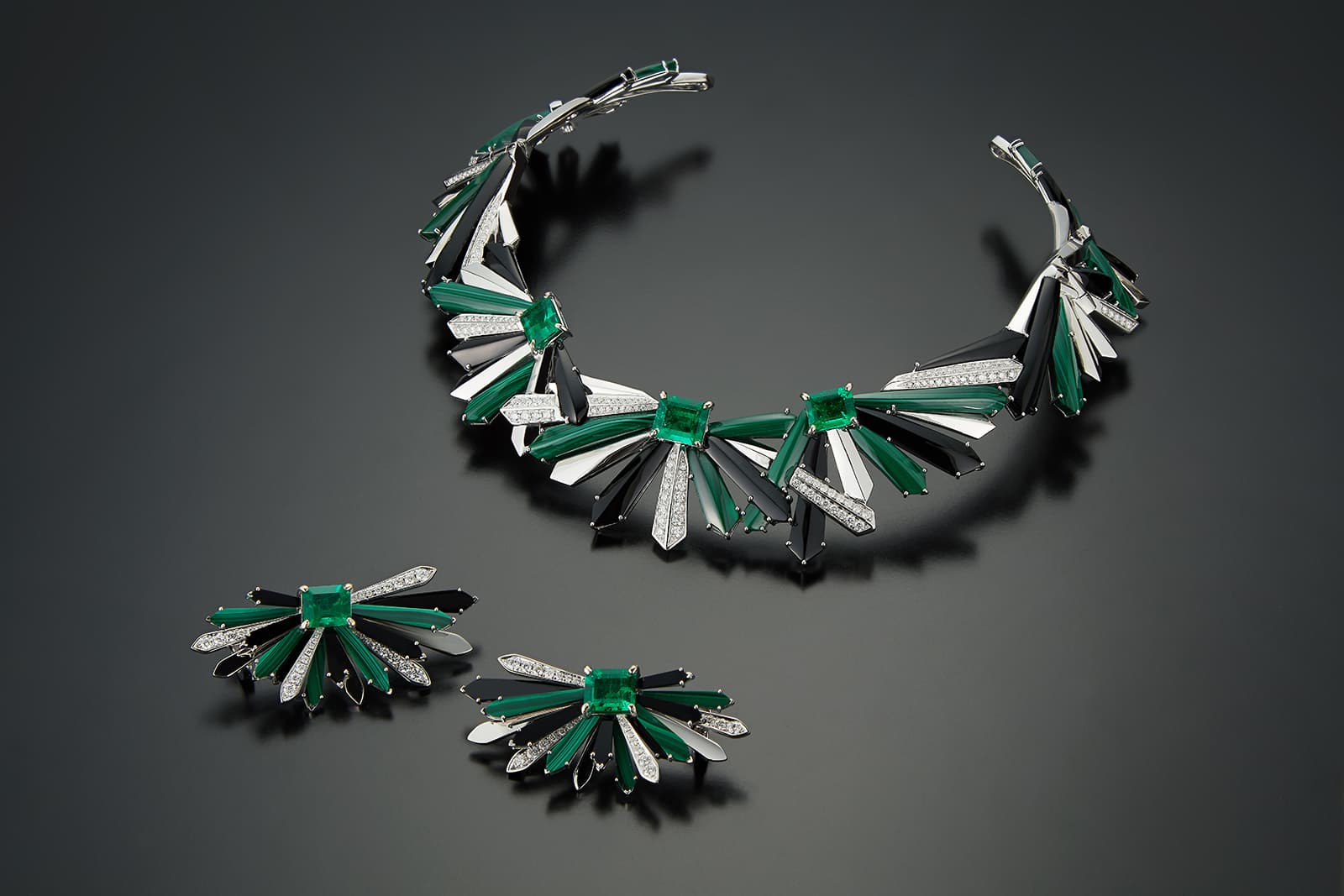 This may be a celebration of emeralds, but it's also a platform for 10 designers (or female-led designer brands) to shout about who they really are and what they can achieve. The artists and brands chosen include Colette, Harwell Godfrey, Katherine Jetter, Jenna Blake, Loren Nicole, Michelle Fantaci, Nina Runsdorf, Robinson Pelham, Silvia Furmanovich and Sorellina.
I am especially drawn to the Penacho necklace by Colette Steckel, the eponymous designer behind Colette Jewelry. Her decision to blend 6.48 carats of Muzo emeralds with 5.70 carats of malachite somehow seems to change the character of the emerald, making it more mysterious and, perhaps, a touch futuristic. According to the Mexican designer, the Penacho design is inspired by the feather headdresses worn by ancient Aztec warriors.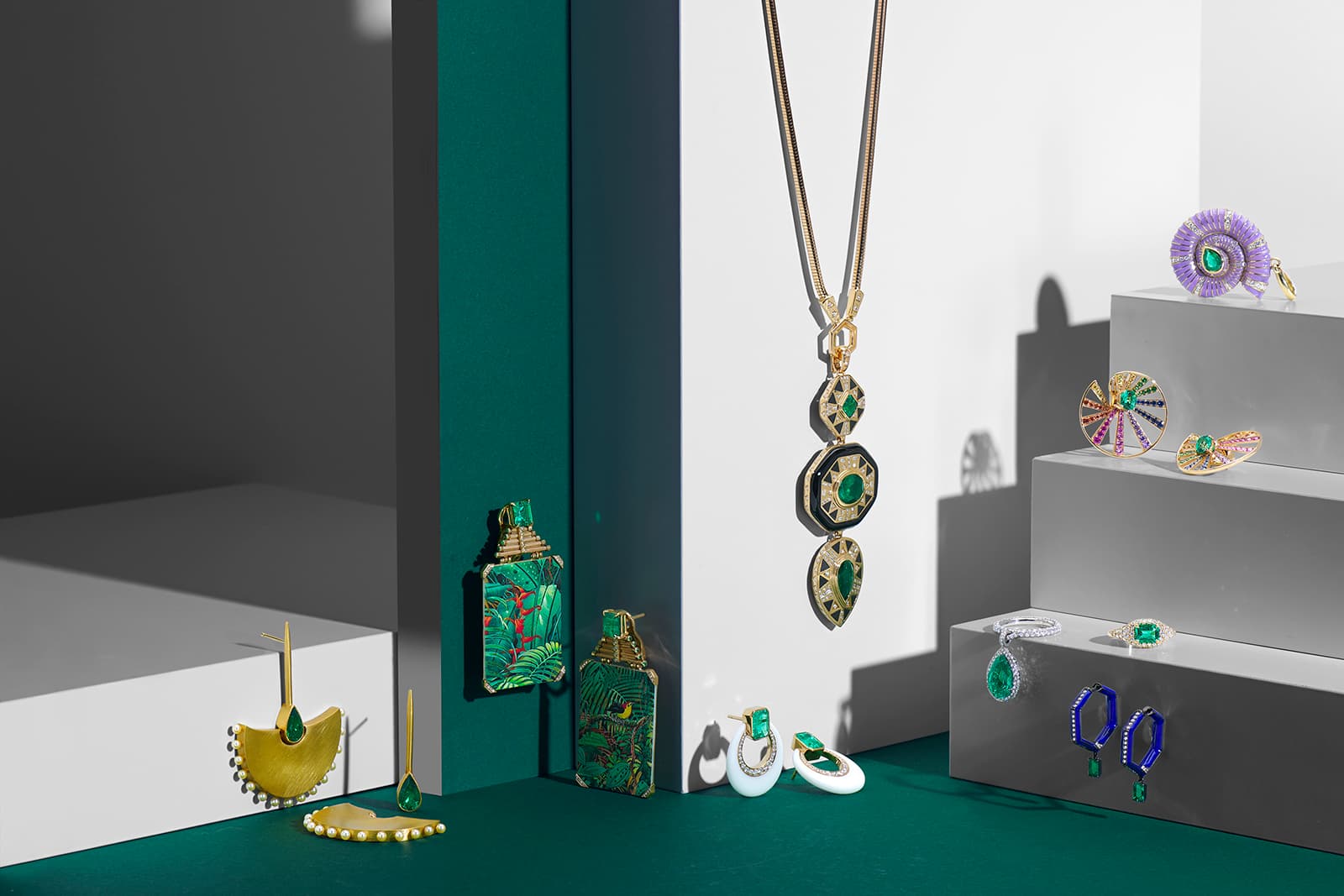 Elsewhere, Los Angeles-based Jenna Blake caught my eye with her use of lavender enamel in a shell pendant charm, crafted in 18k yellow gold with diamonds and a 2-carat pear-shaped Muzo emerald at its centre. An equally playful snake-inspired ring and a star pendant charm complete her trilogy of pieces. Then there's the Stralle earrings by Robinson Pelham, led by London-based designers Vanessa Chilton, Zoe Benyon and Kate Pelham Burn, which are designed to look like an all-seeing eye, albeit with a rainbow makeover. The earrings are crafted in 18k yellow gold, with 1.74 carats of Muzo emeralds, yellow, orange, pink, blue and purple sapphires, and tsavorites.
The hexagonal hoop earrings presented by American designer Katherine Jetter are so enticing thanks to the combination of blackened 18k wite gold, brilliant blue enamel inlay, diamonds and two Muzo emerald drops, totalling 0.89 carats. Her second pair of earrings, featuring talon claw-set tumbled emeralds with black enamel, spotlight the internal world (or "jardin" as French speakers would say) of Muzo emeralds so beautifully it's hard to believe there's not a light shining from underneath them.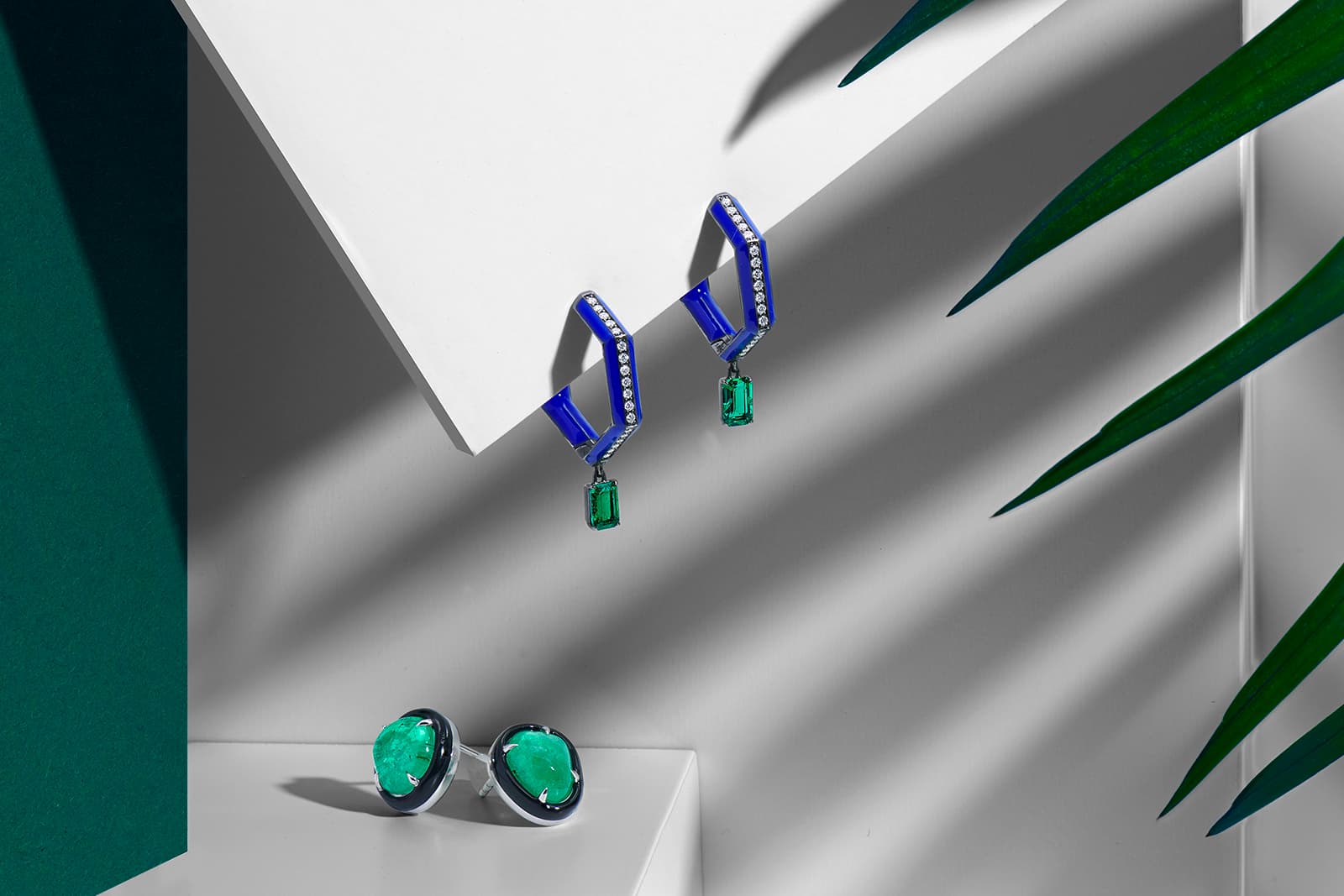 Brazilian designer, Silvia Furmanovich, is known for her innovative use of unusual materials, like wood marquetry, ebony, oxidised copper, lacquer, shells and woven bamboo, and this can be clearly seen in her collaborative capsule range with Muzo. There's a pair of deep red bamboo earrings set with 34.97 carats of Muzo emerald cabochons; a tropical pair of miniature painting earrings; an unusual Bamboo necklace set with an emerald cabochon, light brown diamonds and with tumbled emeralds accents in the chain; and a final statement ring crafted ingeniously in deep-red and brownish orange shades of woven bamboo, light brown diamonds and a 4.94 carat Muzo emerald centre stone.
This is the fourth collaborations between Muzo Emerald Colombia and contemporary designers. Gabbi Harvey, Head of Business Development for Muzo, explains in a press release: "This collaboration marks the first time that consumers will have the opportunity to purchase a range of unique jewellery from 10 of the most sought-after contemporary designers in our industry. Through our partnerships, we can continue to educate and spread awareness of our commitment to responsible sourcing, while showcasing the beauty, rarity and versatility of Colombian emeralds."
The complete 2020 collaborative collection featuring all the designers' works is now available on Moda Operandi.