Cartier, who are mostly famed for their jewellery, created its first documented precious handbag in 1906. It featured a sculptured owl head over gold mesh, which looked gorgeous then. However, the modern fashionista will probably gravitate towards the 'Cactus de Cartier' - a box bag with a strap and gemstones which crown the clasp. Emeralds, carnelians and diamonds in the form of a cactus are alternately combined with either red, green or gold alligator leather.
The starting point for the first jewelled bag trend was the minaudière, which rose to popularity in the 1930s. The name minaudière refers to a small, hard sided evening bag which initially contained various compartments for necessary items. This style of such bag was named as a tribute to Estelle, the wife of Alfred Van Cleef, whose eccentric mannerisms – or 'minaudières' – delighted those she met. Eventually the word was patented by Van Cleef & Arpels, but later became a term used to describe this bag style from other brands, indicating that the bag is a gem-set objet d'art comprised of precious metal.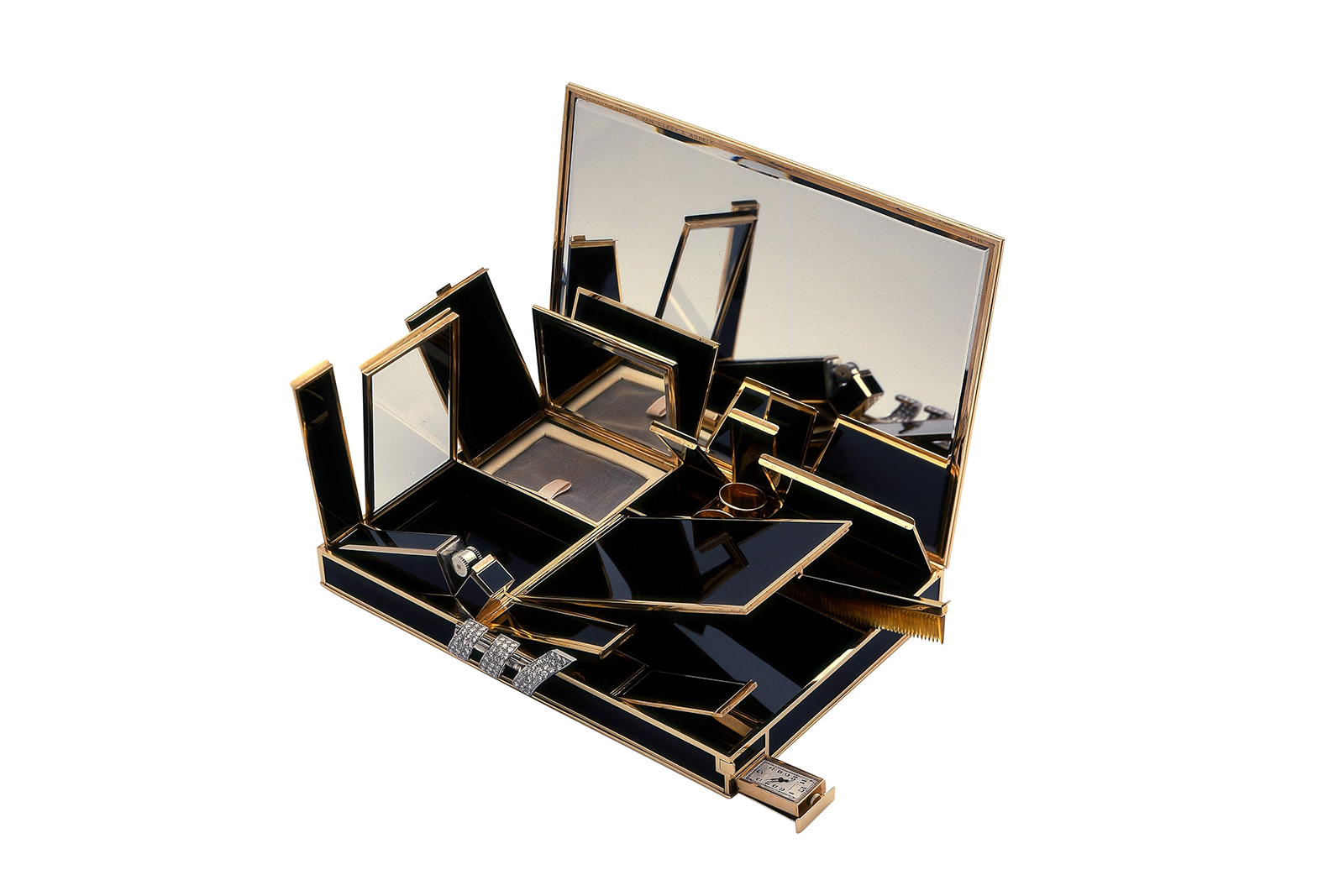 While celebrating the 20th anniversary of the 'Calla' collection this year, Vhernier introduced their new 'Calla Anniversario' pieces, including a selection of crocodile handbags. Each of them - whether in a trapezoid or an elongated baguette shape - is decorated with 10 elements of the Calla motif shaped to form the detachable and interchangeable handle. The handles have been crafted in precious materials such as cacholong, ebony, lapis and titanium - the latter of which has been illuminated by diamonds!
Collaborations are another way in which precious bags are manifested. For example, a direct meeting of creative minds occurred when Singaporean handbag designer Ethan Koh combined his signature 'Alla' carrier with a piece of jewellery he loved: the 'Giardino' brooch from the 'Isola Madre' high jewellery collection, designed by Laure-Isabelle Mellerio of Mellerio dits Meller. The brooch is attached to the fastening of the handbag and features tourmaline, tsavorite, pink sapphire, spessartite garnets, diamonds and green enamel - matching perfectly with the vivid green of the crocodile leather.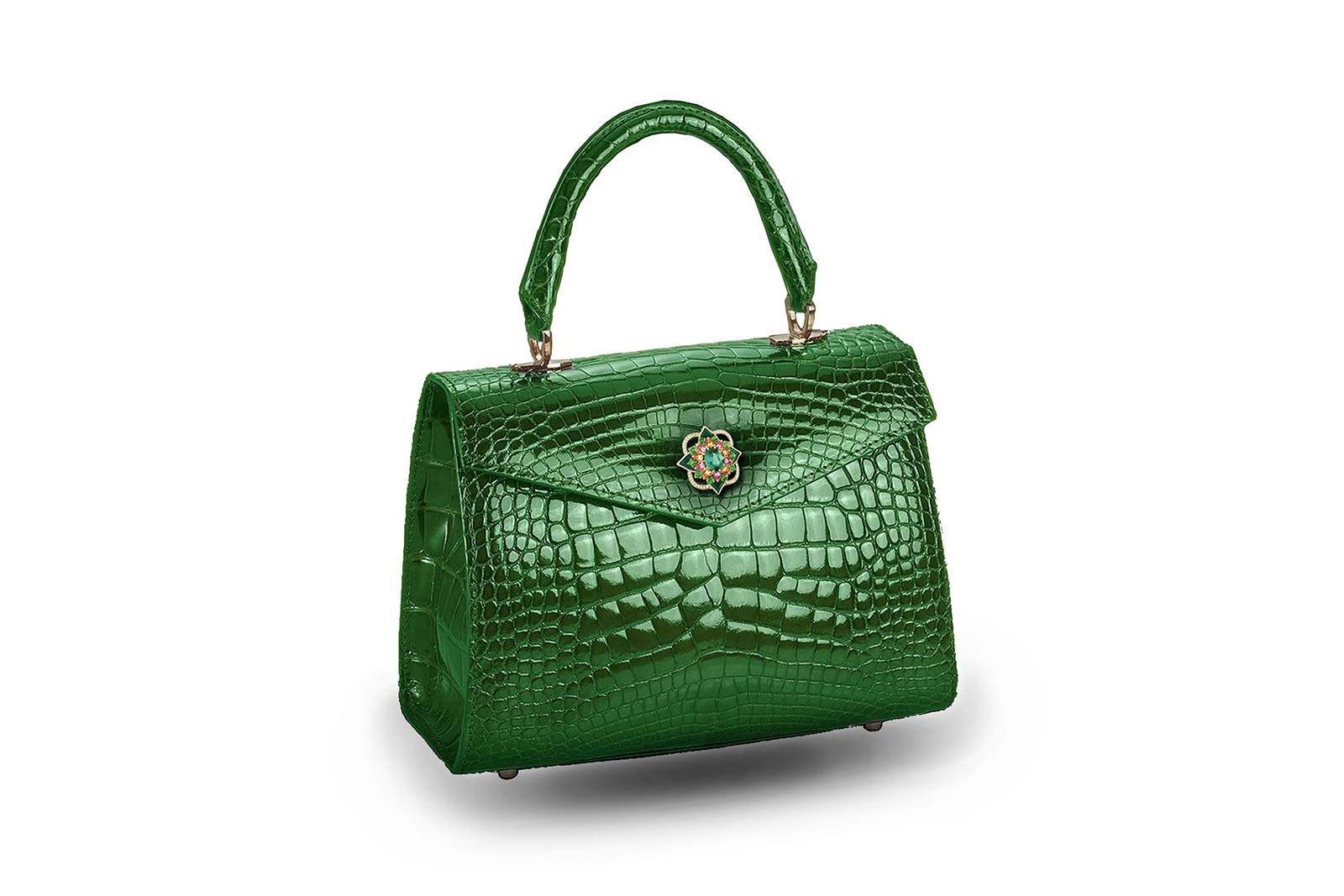 From luxury jewellers who have segued into handbags and jewellery collaborations, we move onto handbag designers who add jewellery components to their creations - Gage and Porter are one such bag brand. They produce their 'Cyprus Quill' ostrich skin clutch bags with a selection of different cabochon gemstones crowning the fastening. Gage and Porter's current models are available in amethyst, onyx and pearls with pink sapphires and diamonds, complimenting the various colours of ostrich skin.
Another bag designer who utilises precious elements in her pieces is Nouf Aleshaker. Her brand Noof is heavily influenced by jewellery: the facets of jewels are emulated in gold-plated brass hardware on many of her designs. However, the 'Zain' envelope handbag in a selection of colours of crocodile leather is available in a collector's edition, which features a magnetic fold-over envelope front flap, embellished with a gemstone or mineral of your choice.
It could be argued that the absolute pinnacle of jewelled bags is the 'Kleodora Queen Bee' clutch from L'Aquart. The brand's founder Luis Alberto Quispe creates works which are formed through his extraordinary lapidary skill and obsession with the art form. The development and creation of his series of 'Kleodora' bags took Luis Alberto nearly 3 years, and each piece required 500 working hours to produce. Unbelievably, there are 6 variations of the precious clutch - Tanzanian ruby, lapis lazuli, white quartz, amethyst, jade and tiger's eye – each of which is framed by gold vermeil.
For those who are looking for a bag which delivers serious glamour without a brand logo, bejewelled bags are a wonderful accessory that can be worn anywhere, at any time, and are sure to attract attention from bag lovers and jewellery admirers alike!