Pocket watches are steeped in tradition, although you wouldn't guess it from Hermès' new Arceau Pocket Aaaaargh! Surely the first of its kind to feature a long-extinct dinosaur, this latest addition to the French fashion house's exclusive collection of pièce unique pocket watches features a close-up of a Tyrannosaurus Rex on its cover. Designed by the English artist Alice Shirley, who has been collaborating with Hermès since 2012, the Arceau Pocket Aaaaargh! is the third time her artwork – more often seen on silk scarves – has appeared on an Hermès timepiece.
With the T-Rex's beady eye peering out at us from behind a porthole, the endearingly named Arceau Pocket Aaaaargh! follows on from the Slim d' Hermès Grrrrr! timepiece, featuring a wild bear on the dial, and the Arceau Awooooo, which depicts a wolf howling at the moon. Both were original designs created by Alice Shirley that first appeared on silk scarves before migrating onto watch dials, but of this onomatopoeic trio of timekeepers, the Arceau Pocket Aaaaargh! is the cutest by far. With the gnarly scales and razor-sharp teeth "painted" in leather mosaic and leather marquetry, each of the miniature tesserae was hand cut to fit the design. Completing this prehistoric portrait, the dino's domed cabochon eye is made of Grand Feu enamel.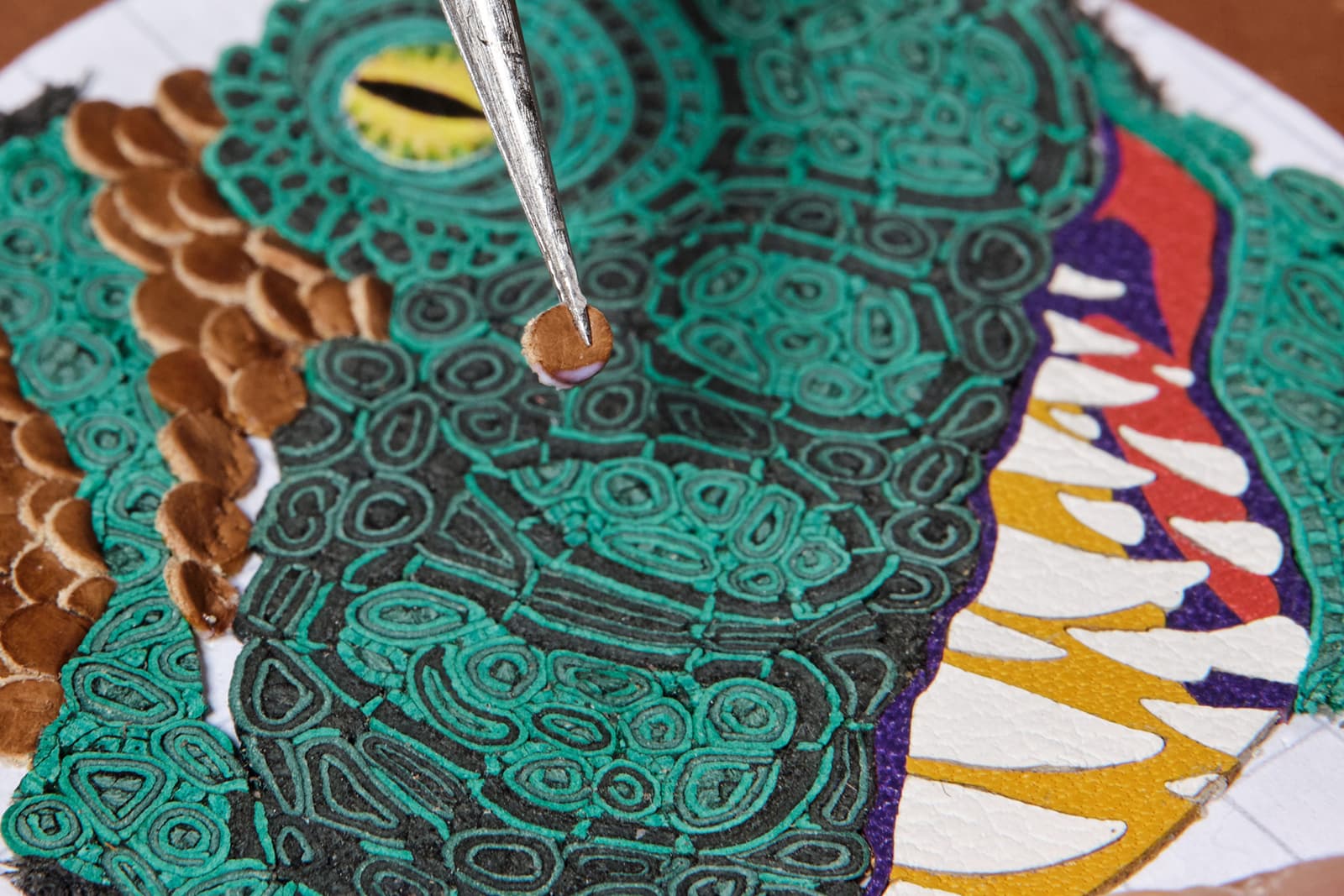 Open the cover of the Arceau Pocket Aaaaargh! and what lays beneath is reassuringly familiar, with a classic Arceau white enamel dial and distinctive sloping, swirling numerals. In place of six o'clock, however, is where Hermès flexes its haute horlogerie muscles. The beating heart of this pocket watch is a high-complication Manufacture Hermès H1924 automatic tourbillon minute repeater movement. Arguably the most complex of all the watch complications, if the T-Rex cover hasn't attracted quite enough attention, the minute repeater enables the Arceau Pocket Aaaaargh! to chime the hours and minutes, on-demand.
The Arceau Pocket Aaaaargh! is the latest, utterly charming addition to Hermès' very limited collection of Arceau pocket watches, each of which showcases a very different artistic discipline on the dial or the cover. These include the wonderful Arceau Pocket Millefiori pocket watches – an homage to the 19th-century paperweights created by the historic glassmaking company Cristalleries Royales de Saint-Louis, which has been owned by the Hermès group since 1995. Other designs, meanwhile, are more classical, with the covers decorated with ornate gold work, like the Arceau Pocket Vagues et Coquillages and Volutes models.
It's impossible not to fall in love with the Arceau Pocket Aaaaargh! The only thing you can guarantee with Hermès is to expect the unexpected, which is what makes this French fashion house's adventures in watchmaking so exciting.