Considered one of nature's most precious creations, diamonds are mined in all four corners of the globe. Botswana, Canada, Russia and Australia are but a few places with important diamond mining communities, where the rule of thumb is 'the larger the carat weight the rarer the stone'. These impressive gems will often be purchased by major jewellery maisons to be included in their high jewellery collections. Below is a selection of five one-of-a-kind high jewellery pieces from world-class brands, each one featuring an important or even record-breaking diamond. Let's take a closer look…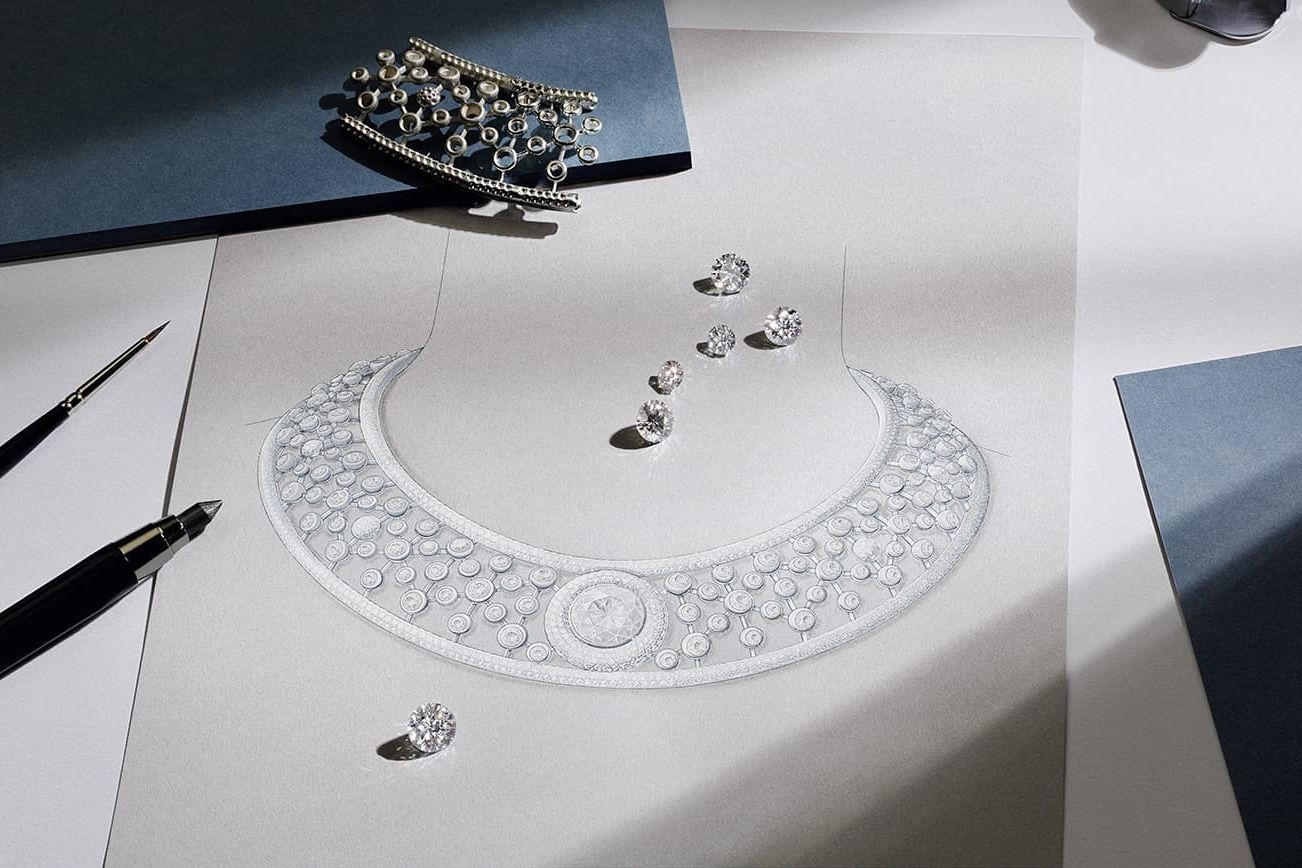 Graff Infinity Tiara
To celebrate the opening of the Graff's flagship store in Tokyo's fashion-forward district of Ginza, the maison revealed the extraordinary Infinity Tiara. Named after the Graff family's infinite love for diamonds, this high jewellery creation is set with a 157.80-carat heart-shaped diamond - one of the largest hearts the world has ever seen. This diamond was classified by the GIA as being a top D colour and of VVS1 clarity and was confirmed as belonging to an elite group of large and exceptionally rare diamonds that are created three times deeper in the earth's mantle than most other diamonds. Cut from a rough of 373 carats, the Infinity diamond is just the latest in the maison's acquisition of important diamonds and was in fact once part of the Lesedi La Rona diamond, an even larger stone from the same mine. When placed side-by-side with this famous 1,109-carat diamond, the two fit together perfectly.


Chanel 55.55ct High Jewellery Necklace
As a remarkable ode to Chanel N°5, creative director Patrice Leguéreau took inspiration from the maison's infamous scent to create the first High Jewellery collection ever to be dedicated to perfume. The star of this ensemble, a one-of-a-kind creation, is the extraordinary 55.55 necklace, which holds at its centre a perfect octagonal 55.55-carat custom-cut diamond. The rough from which this emerald-cut gem was fashioned was discovered at the Lesotho mine in Southern Africa, resulting in a D colour, flawless, Type IIA stone that represents just 0.01% of stones in existence. To honour the importance of this gem, Chanel has chosen to keep the piece in its patrimonies, thus ensuring that it will forever stay a part of its history on Place Vendôme.


Chopard Precious Lace Necklace
With just one in ten thousand diamonds considered to be of true fancy colour, the unique 32.26 carat yellow diamond in the Chopard Precious Lace High Jewellery necklace is a sought-after find amongst jewellers. Representing only a small portion of overall diamond production, the beauty and saturation of a vivid yellow diamond offer jewellers a unique opportunity to introduce colour into full diamond high jewellery pieces. Led by co-president and artistic director, Caroline Scheufele, this light, lyrical and feminine piece uses an all-diamond canvas with the addition of a splash of yellow at its epicentre.
De Beers The Alchemist of Light Atomique Collar
The De Beers brand has been on the pulse of uniquely rare diamonds for decades. Inspired by the gem itself as well as the places they are found, De Beers takes creative direction from each stone it mines, allowing the diamond to dictate the design and spirit of each high jewellery piece. Inspired by the natural and magical element of light and how it interacts with diamonds, the De Beers Atomique collar necklace is the highlight of the Alchemist of Light High Jewellery collection. The focal point of this piece is a removable 18.57 round brilliant, internally flawless diamond, which is set using a special technique to achieve a bubbled dome effect that mimics the molecular shape of carbon atoms.
Van Cleef & Arpels Alleanza Necklace
The story behind the Alleanza necklace begins "in fair Verona", where William Shakespeare's tale of two star-crossed lovers inspired Van Cleef & Arpels' 2019 high jewellery collection: Romeo and Juliet. The Alleanza transformable necklace, estimated at over six million dollars, is a true labour of love, featuring 321 Burmese ruby beads. This stellar piece can be worn with or without its detachable diamond and ruby pendant, which is set with a perfect 15.53 carat pear-shaped diamond at its centre. As this needs to be the perfect blend of round and marquise diamond shapes, achieving symmetry in a pear-shaped diamond is quite a feat, especially in one of such a heavy weight.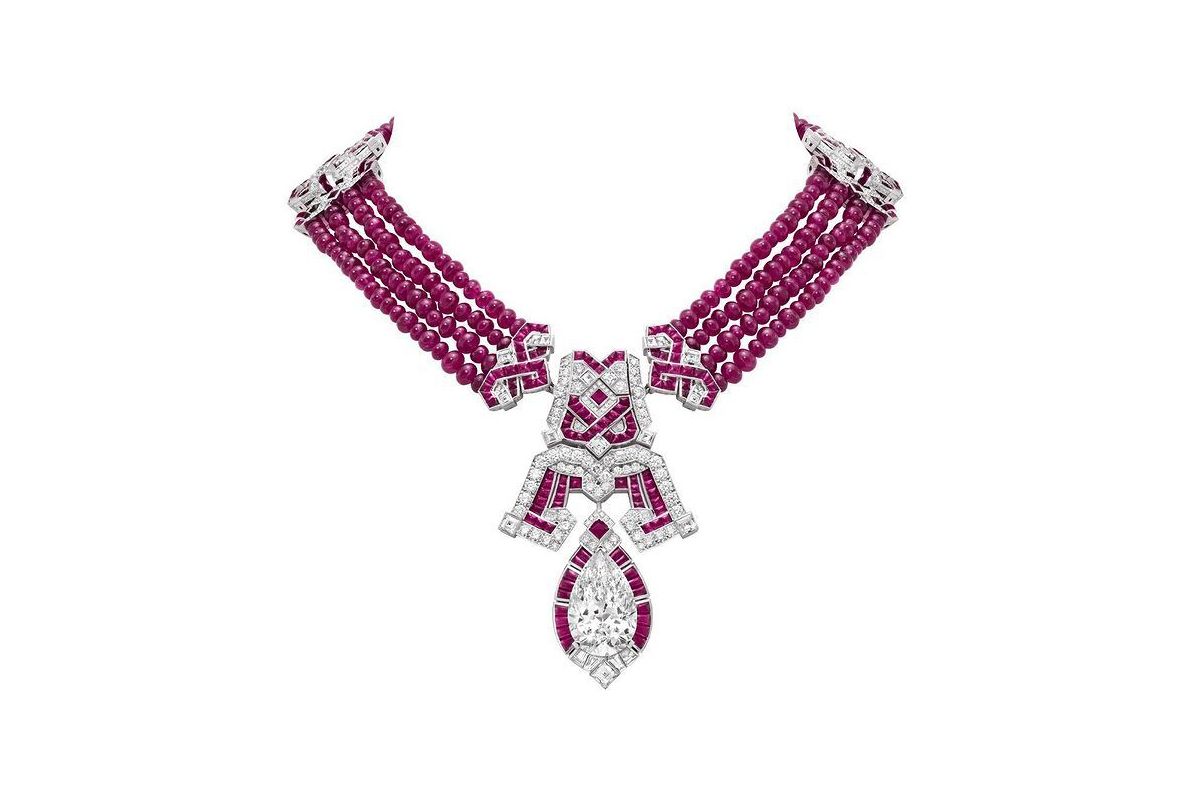 What a joy it is to see such established high jewellery brands working with large single cut stones in this inventive and cutting-edge manner. From transformable pieces to ballroom tiaras, brands aren't afraid to play with nature's most knockout diamonds and find stop-and-stare ways to present them.