The symbolism which is drawn from birds in general is simple. They often represent freedom - such as the American Eagle, which is still the USA's national mascot to this day - and exoticism, which was frequently the focus of jewellery designers.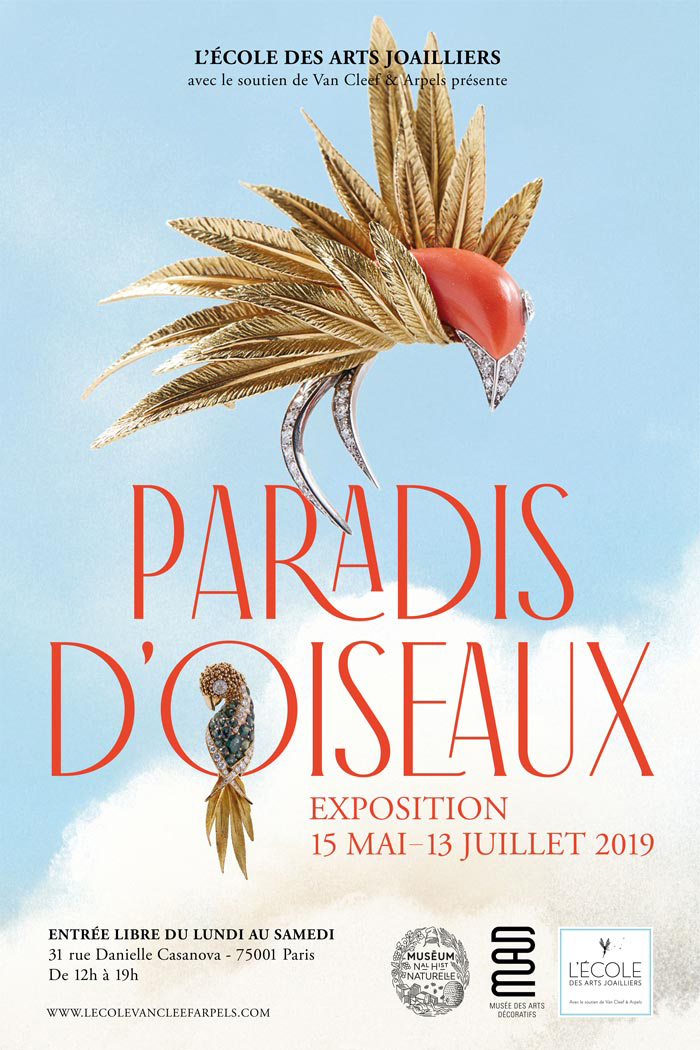 They used a variety of gemstones and metals, implemented many a jewellery technique to recreate flying creatures in precious materials to be cherished by generations. Now it is our time to appreciate the beauty created by some key jewellers of the 19th century.
This debut exhibition showcased a selection of iconic brooches coming from two private collections and the Heritage Collection of the Maison Van Cleef & Arpels. The exhibit also featured jewels which were on special loan from the Muséum National d'Histoire Naturelle, the Musée des Arts Décoratifs and the Musée National de Céramique de Sèvres. The curators of 'Birds in Paradise' were Joëlle Garcia, also responsible for the Cultural Diffusion and Mediation Service for the Libraries of the Muséum National d'Histoire Naturelle, and Marion Schaack-Millet, Scientific Coordinator for the City of Versailles.
From the late 19th century onwards, decorative naturalism became a highly popular theme in interior decoration for the upper and ruling classes. A desire to own and display birds - particularly those with brightly coloured plumage - began with scientific drawings and the cataloguing of the natural world in the age of enlightenment. This then developed into a vogue for cabinets of curiosities, artificial songbirds designed and used in gardens and salons, as well as aviaries full of aged birds. Each was considered a symbol of wealth, perversely seen as an appreciation of natural beauty, and implied that the owner was of high status and well-travelled.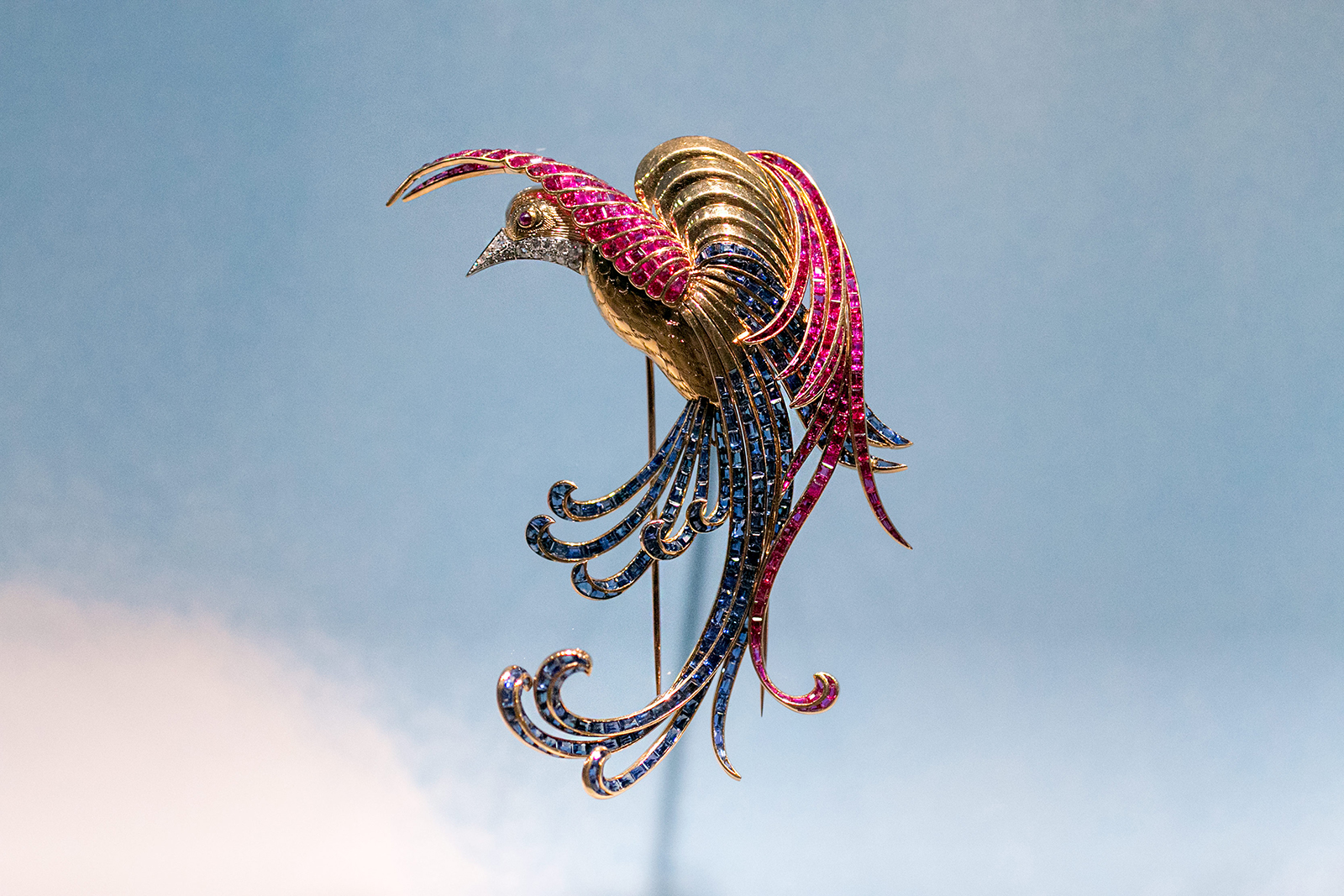 The exhibition initially focuses on the evolution of the representation of birds in jewellery between 1850 and 1960; featuring a selection of brooches from a host of jewellery houses just as you enter the room in L'Ecole Van Cleef & Arpels. Then, the remainder of the exhibit is divided into a few categories: 'Land bird', 'Bird on a branch', and 'Flying', through the media of jewellery as well as painting, drawing, engraving and ceramics.
Amongst the creations on display were pieces such as a Mellerio dits Meller peacock brooch circa 1910, a Van Cleef & Arpels exotic bird brooch in diamonds, emeralds, sapphires, rubies, onyx and platinum from 1924, and a Cartier peacock brooch circa 1947 with diamonds, sapphires, rubies, emeralds in platinum and yellow gold.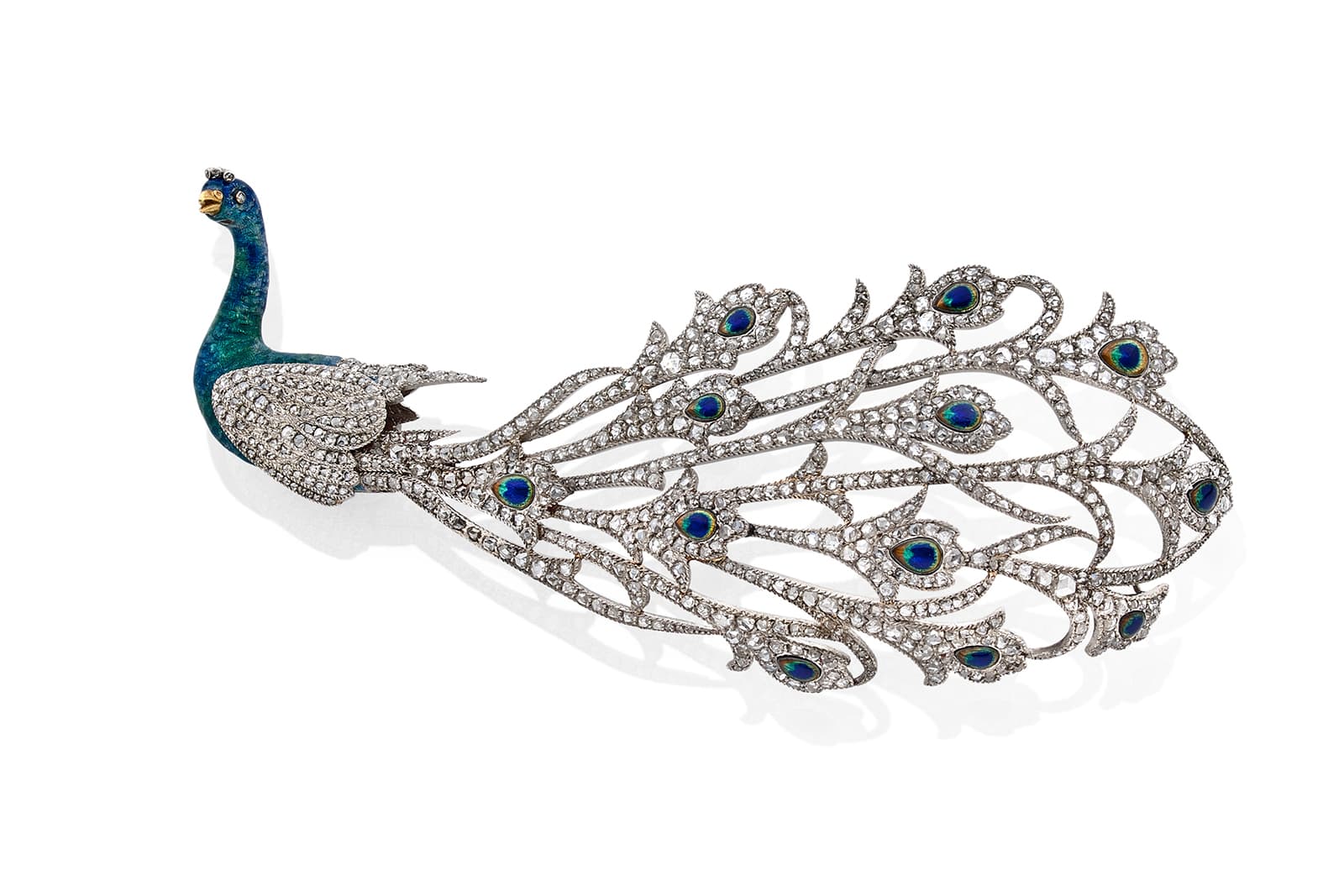 What left a lasting impression is seeing one of the most recognised bird brooches of all times on display just in front of me - the re-creation of Cartier's famous 'Flamingo' brooch. Initially it was a bespoke piece commissioned by the Duke of Windsor and frequently worn by the Duchess of Windsor. Designed circa 1940, it was made under the supervision of Jeanne Toussaint, then re-created in 1987. The emerald, sapphire, ruby and yellow gold plumage is - in spite of its similarity in materials to almost all other bird brooches in this 90-year period - a standout piece due to the audacity and humour which has been integrated in this elegant design.
Another design from this exhibit which conveys a powerful sentiment is the 'Bird Clip' by Van Cleef & Arpels from 1940 depicting a family of four birds sitting on a brand and all gazing at one another. Though the rendering of the birds' form in cabochon rubies, diamonds, platinum and yellow gold is undoubtedly where the financial value of this piece lies - the familial love which is conveyed through this design is certainly where you will find its intrinsic importance.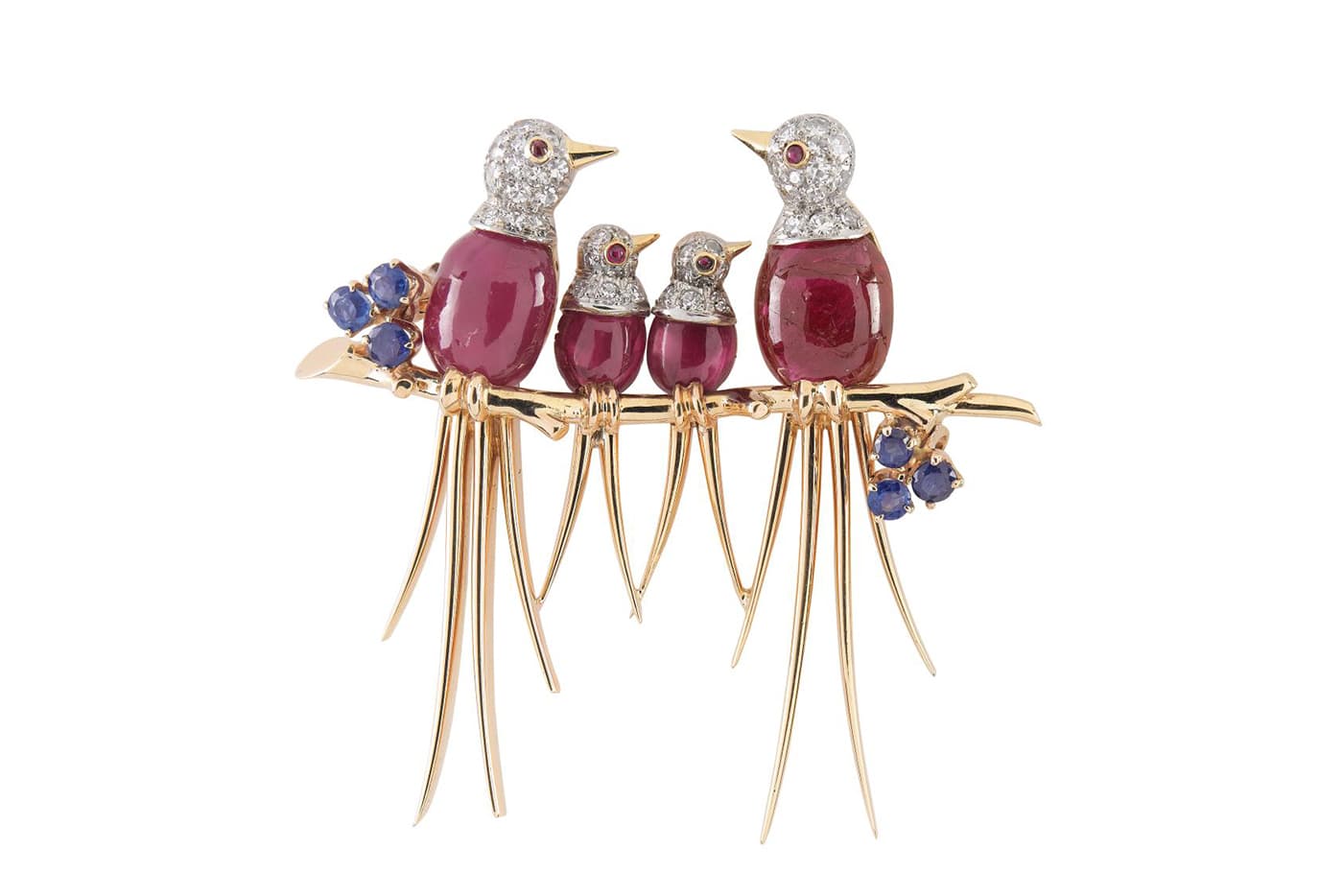 Some of the most prolific avian jewellery designers of the featured period are profiled throughout this exhibit, such as Mauboussin and Marchak. Among them is Pierre Sterlé, who worked for Boucheron, Van Cleef&Arpels and later for Chaumet as Artistic Director until his death in 1978. His work was distinguishable by several unique factors: a dedication to portraying exotic species of birds; incorporating unusual gemstones and minerals such as green sapphires, coral, turquoise, labradorite, topaz, rubellite and more; and his use of 'knitted gold.' This technique of twisting or braiding gold wire allowed the creator to emulate the plumage of birds in a far more tactile and dynamic way.
I can talk about the exhibition for hours (or should I say in 'many more words'). However, to draw the line I would like to say how wonderful it is that with the support of Van Cleef & Arpels a wealth of richly drawn historical facts and artworks could have been displayed for the world to see.