Avakian Riviera collection Earrings set with detachable Blue Sapphire charms and Diamonds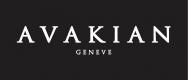 After lighting up the steps of the Croisette at this year's Cannes Film Festival by adorning celebrities such Ornella Muti, Dita Von Teese, Olivia Palermo, Alessandra Ambrosio and Paris Hilton with its unique creations – the prestigious Swiss jeweller is returning to the Mediterranean shores to present his latest striking designs.
Renowned in the world of fine jewellery, AVAKIAN is going to showcase some of its breathtaking creations on display from July 31st till August 18th at the Métropole Hotel in Monte-Carlo.
The very privileged visitors of the exhibition will discover the brand's signature collections, showcasing some magnificent cuff bracelets and earrings, amongst others, set with an array of colourful diamonds and gems. A selection of unique timepieces will also be presented – a revelation of exquisite masterpieces and exceptional watch-making developed by the most gifted craftsmen in Switzerland.
As a little teaser, I have selected a few very special jewels for you to indulge in before you set off for Monte Carlo. One of them, the dazzling necklace with the exceptional heart-shaped emerald, captivated me during the Cannes Festival and I am still under its spell.
From 31 July until  18 August 2013
The daily opening hours are 11am to 10pm