Imagine the magnificent Palazzo del Cinema on the Lungomare Marconi in Venice; a relic of a grander time lined with a red carpet, packed with photographers, buzzing support staff, celebrities, and members of the public jostling to see the latest movies. Now spare a thought for me, excited (and a little bit nervous of course) waiting for my time on the red carpet as a guest! The 79th Annual Venice International Film Festival, much like the Cannes Film Festival, which I also attended, operates on an invite-only basis for the red carpet. Fortunately, Aydin Hassanzadeh, the founder of Hassanzadeh Jewellers, is responsible for adorning many guests with fine diamonds and, therefore, he was able to bring me into this Venetian world for a few days.
Of course, getting dressed in formal wear is exciting, but that's not the only reason I took the trip from Paris to Venice for the occasion. Individuals from the film, entertainment, fashion, beauty and other industries are regular fixtures on the red carpet. Even YouTube stars, fashion bloggers and influencers have found a home there. However, I feel that the people who are passionate about jewellery and represent high jewellery's craftsmanship are often missing. As someone who belongs wholeheartedly to this art form, I felt that it wasn't simply a personal 'Cinderella moment', but a chance to represent our combined talents on the international stage. Naturally, if I have the chance to fly the flag for jewellery, I will do it!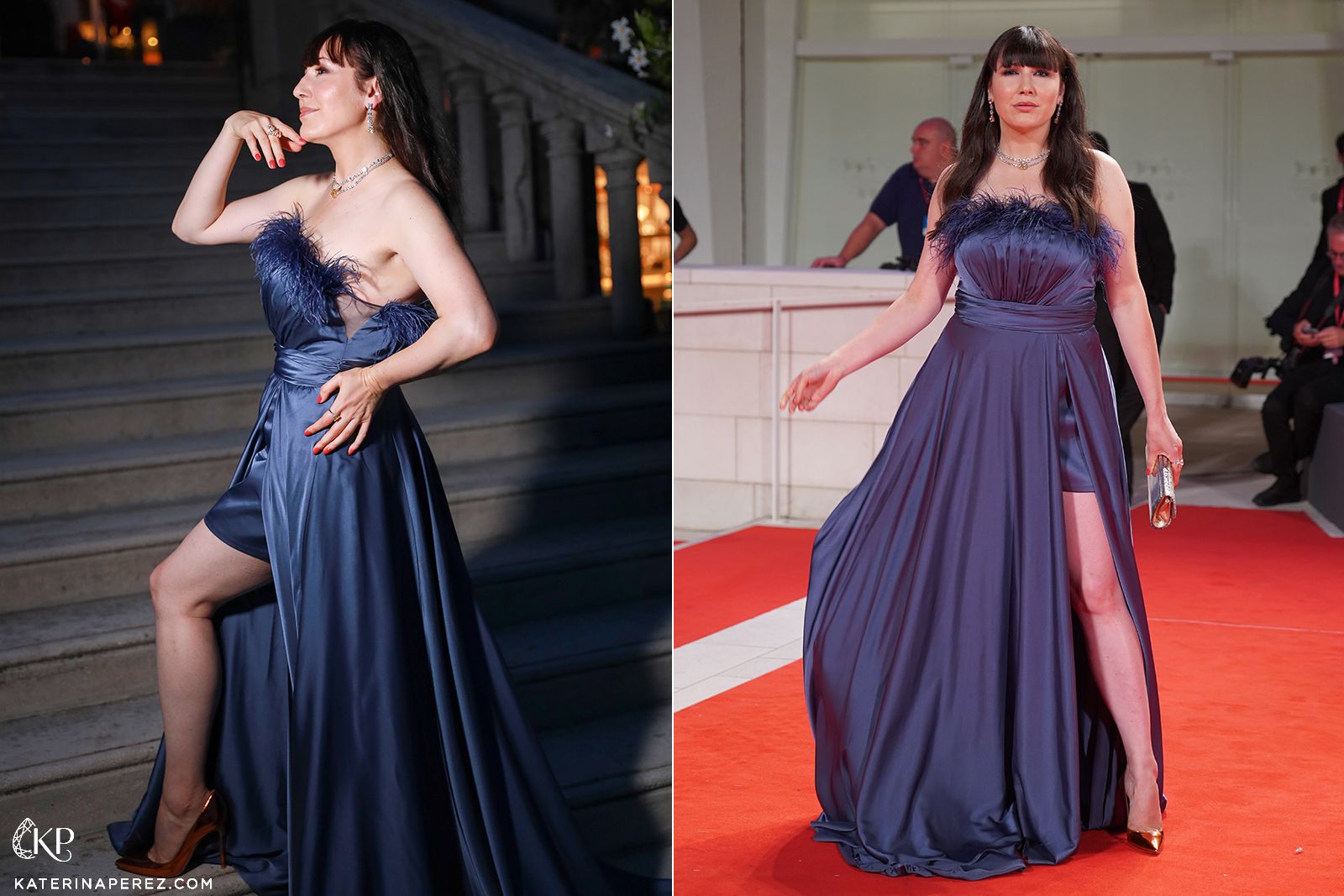 My Venice Film Festival experience started long before I touched down in Italy. First, I had to organise a beautiful gown, accessories with my stylist as well as arrange a make-up artist and hairstylist who could make me look the part. I have always felt that formal occasions such as this should be the epitome of elegance rather than an occasion for making a fashion statement. There are many ways to grab the attention of photographers. Still, I prefer to reminisce on the golden age of red carpet dressing and choose clothes that focus on silhouette and sophistication. So, the deep blue gown with a statement split and feathered neckline from Sima Couture Paris was a perfect choice, supported by celebrity make-up artist Massimo Serini and his assistant who were a reliable "glam squad".
Now, on to the jewellery. Hassanzadeh Jewellers sent me a catalogue of pieces to choose from and once I had decided upon the silhouette and colourway of my dress, my mind immediately turned to yellow diamonds. The first thing that caught my attention was a necklace with two strands of fancy-cut colourless diamonds centred on a cushion-cut yellow diamond. This gave me the idea to focus my look on yellow cushion-cut diamonds and use these precious gems as the link between pieces, even if they weren't from a matching set. I feel this is a contemporary way of combining jewels to ensure we aren't limited to matching suites and can instead experiment to suit our tastes.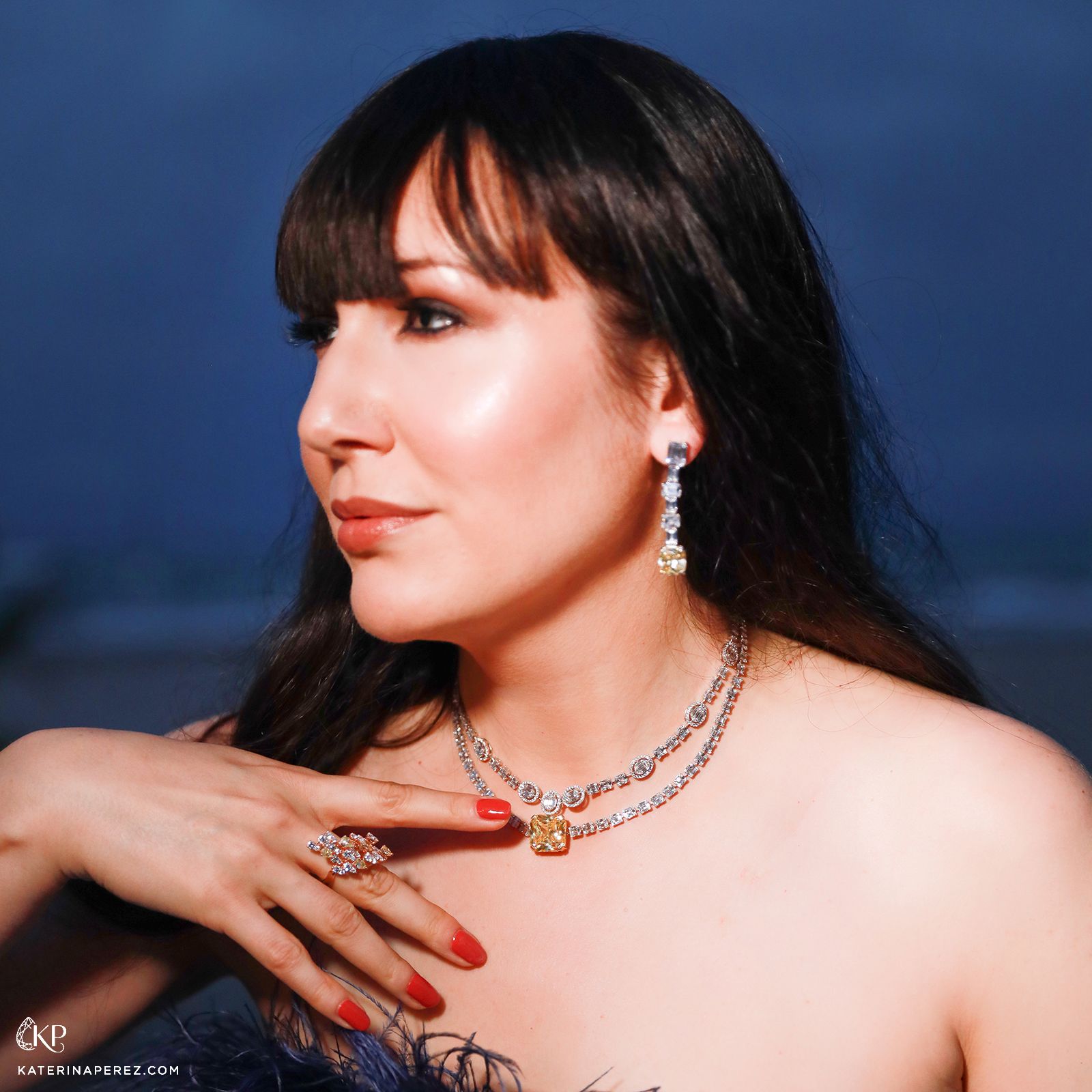 I must tell you about the event itself. I won't pretend it is all glamorous; Venice is a tricky place to navigate, so I spent lots of time in water taxis and huddling under umbrellas to ensure the rain did not ruin my dress and hair (why did it have to rain on the 8th of September!). During one of these moments, when I was hiding from the weather, a photographer did a double take… he thought for a second that I looked like Monica Bellucci, the Italian actress who was attending the same red carpet event as me. In fact, she was one of the stars of the Siccita movie screening that I attended. I was beyond flattered as Monica Bellucci is someone I have long admired for her poise, sense of style and sophistication. This moment put a smile on my face!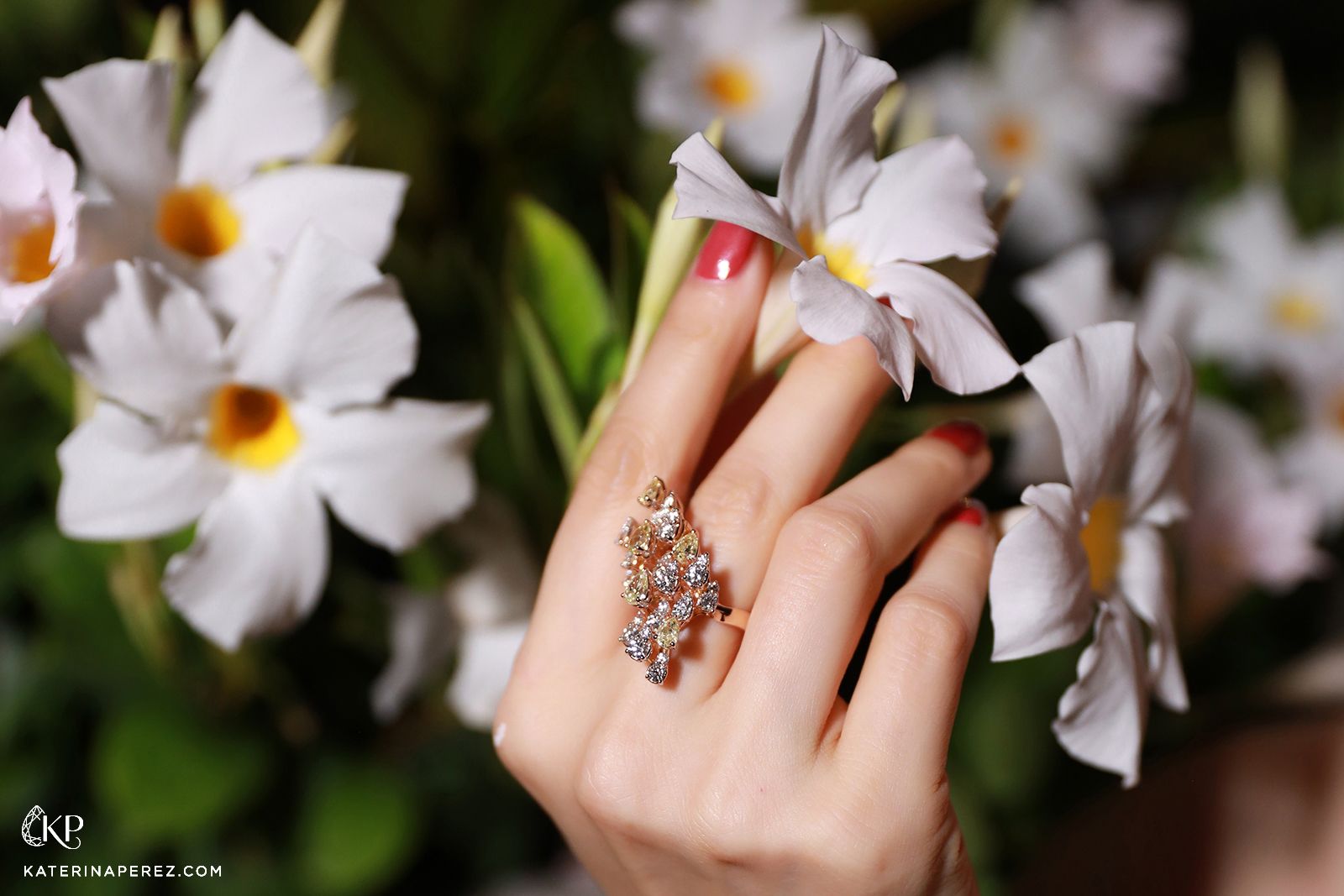 Once it stopped raining, the clock showed 9.15 pm, which was my turn to go on the red carpet. Having several slots to enter the area by Palazzo del Cinema ensures that each guest has time to smile and pose for the camera. I had a dedicated photographer waiting for me among several dozens of other official photographers and cameramen who filmed the red carpet. It was a far less stressful experience than in Cannes as no one walks behind you to get to the Cinema Palace while you are working the camera, and no one would accidentally push you or step on your dress. When we see the photos of A-listers on the empty red carpet, it is not the experience of all other attendees who must go inside faster and pose within a few minutes.
My journey from the beginning to the end of the red carpet took probably seven to 10 minutes of waiting and posing, then I went inside to watch the film. I had to wait for 30 minutes for the start of the screening, and it turned out that many other people who didn't walk the red carpet were waiting on the other side of the Palazzo del Cinema. They are let inside first before the main film cast walk inside the screening hall, take their seats and watch the film. That was a truly magical feeling knowing that the film actors are right there with you!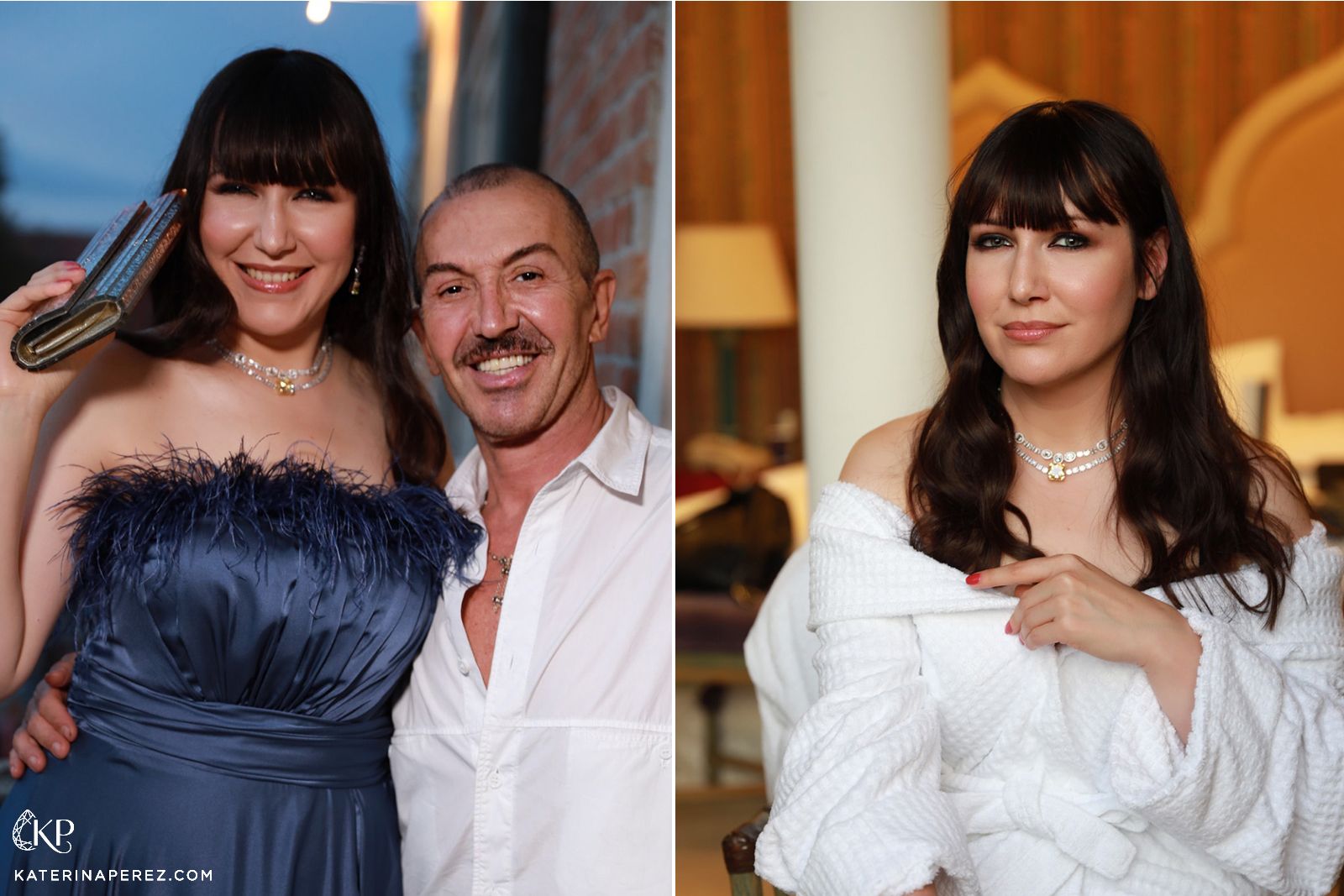 Despite the logistics, the weather, and the madness of being involved in such an international affair, I am thrilled I had the chance to attend the Venice Film Festival 2022. To represent the jewellery industry wearing Hassanzadeh diamonds was a personal treat for me but also an important milestone in my professional mission to make more women fall in love with jewellery. I hope you think I did jewellery proud on the night.