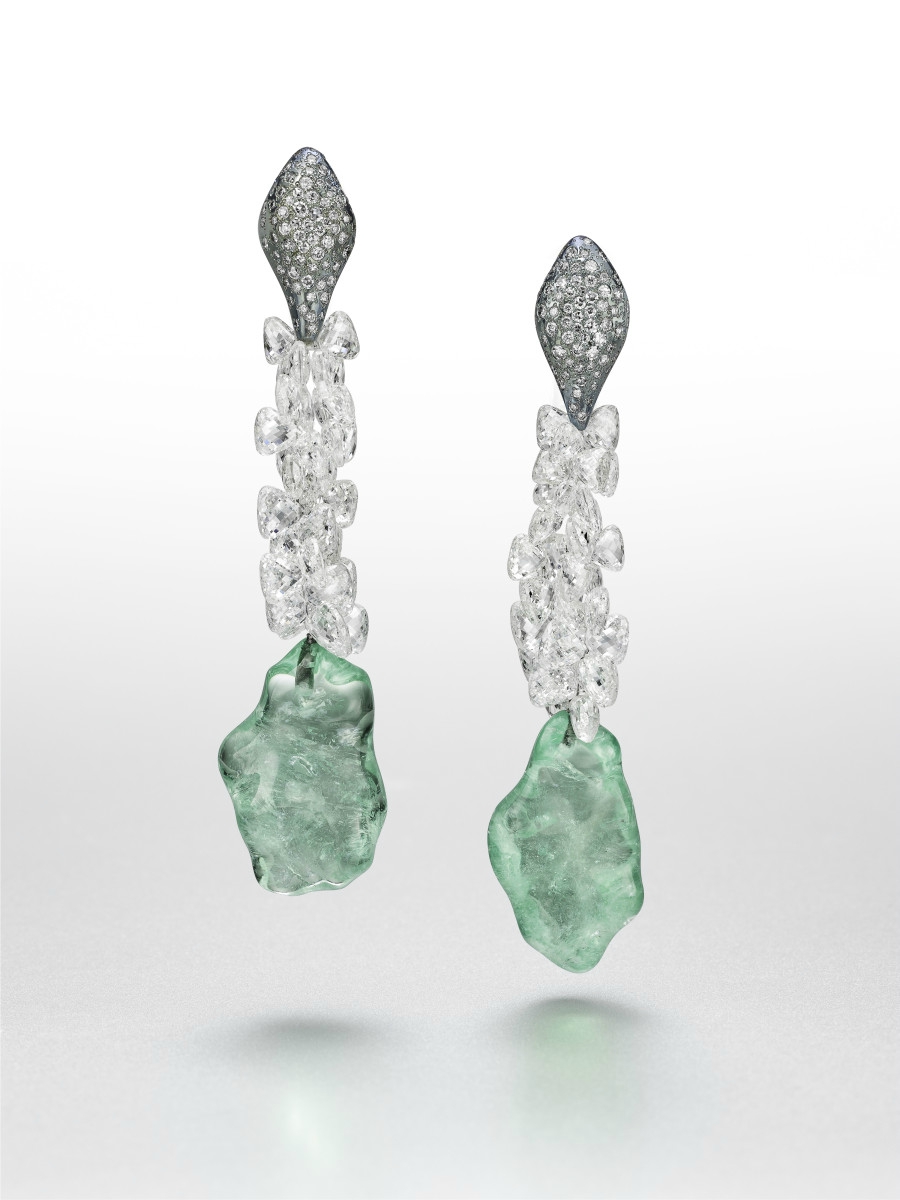 "It's Raining Dream" titanium earrings with diamonds and paraiba tourmalines
As it has turned out the interviews is the most popular section on this website. This indicates the fact that it is not only myself who desires to look behind the scenes and discover what inspires designers and creative directors to fashion jewellery, all of us want to know a jewellery style is formed, what sets designers and brands apart and who they create their pieces for. There might be as many questions as readers of katerinaperez.com – thousands!
For my next interview, I decided to choose a designer who has undergone a professional education. I believe that self-taught designers often create the most memorable jewels, works that bend the rules of traditional jewellery making. This is how I would describe what Suzanne Syz, a designer from Switzerland, creates. Her pieces are endowed with subtle humour and colourful expression.
I didn't feel like following my usual approach to interviews when I met Suzanne at Masterpiece in June so we came up with a new concept: why don't you, readers, step into Katerina Perez's shoes and come up with questions yourself? To make you feel a little bit more motivated, you have the chance to win an Assouline coffee-table book "SUZANNE SYZ Art Jewels" with the designer's autograph.
Please email your question to info@katerinaperez.com before the 25th of August and Suzanne will then select the one that interests her most. Whoever comes up with the question that she selects will receive the book.
For those who are not familiar with Suzanne Syz's work, I include the prologue of the book below in which the designer speaks about her work.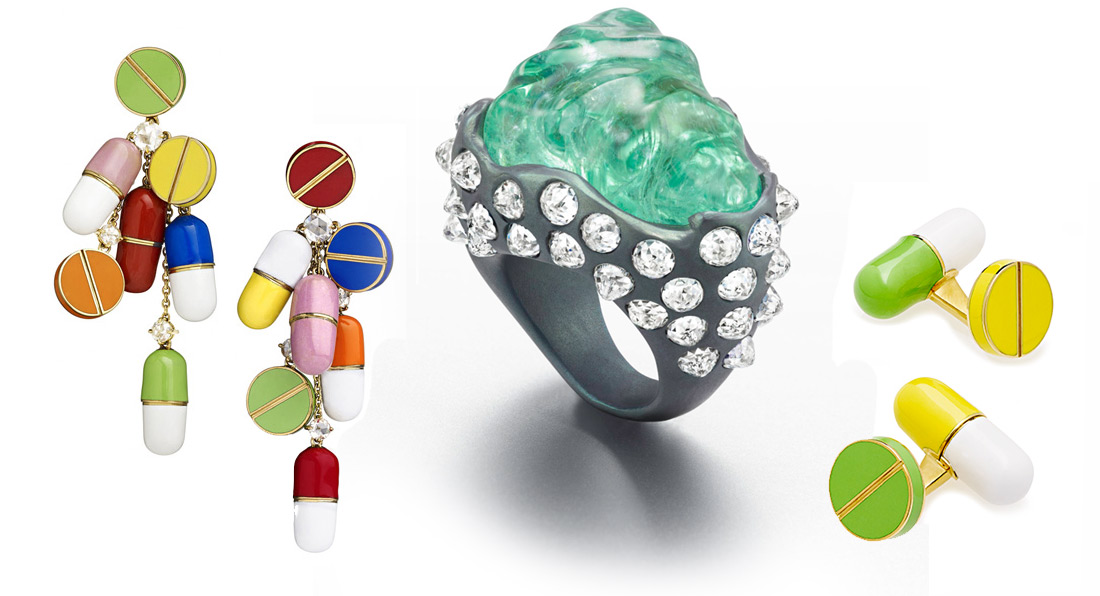 From left to right: "Take It Or Leave It" earrings in yellow gold and enamel, "Ali Baba's Trove" titanium ring with a paraiba tourmaline, gold "Adrenaline" cufflinks with enamel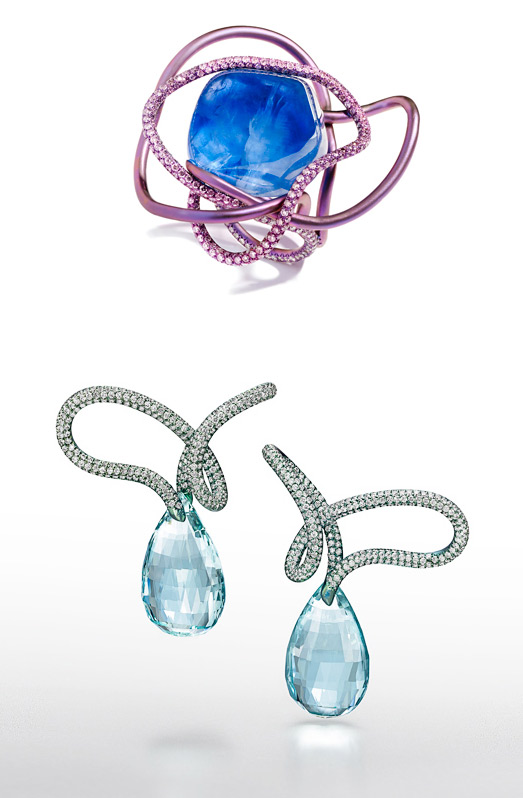 Above: "Sugar Baby Love" titanium ring with a sapphire and "Tie That Knot" earrings with diamonds and beryls
I began creating my own jewelry because I could never find what I wanted. I was looking for jewelry that was whimsical and funky, but the pieces I found were seriously dull – not playful, and the stones were just showing off their carats! I wished for something more understated and fun. I wanted to take the seriousness out of Jewelry while using the best quality of stones. My first piece was The Frog, the famous "kiss from the frog": a little frog sitting inside a large crown with a prince charming inspired by Grimm's fairy tale. It was the first of thirty-piece collection completed after four years of work, research, and technical training. I have actually been making jewelry for 15 years, but only showing my work for the past 10. It took 5 years to perfect my craft; accumulate stones; find the best workshops; and learn the different aspect of the jewelry business. That's the perfectionist in me! BeforeThe Frog, I made a pair of earrings for myself called The Sun and the Moon. They were immediately feature in W magazine. From the very beginning, I decided to only create one-of-a-kind pieces that are fanciful, youthful, and timeless. I had found my style. Today, women don't want "in your face" jewelry: They want unique, original designs of the highest quality. And I like to make pieces that defy the ordinary, otherwise it's no fun. I want my creations to be outstanding and witty – that's my signature. The Life Savers, Smileys, and Smarties, reflect that attitude as well as the influence of pop art. But creative freedom stipulates impeccable technical expertise and the finest materials. Clients are demanding and expect the best. Each piece of Jewelry must be crafted to perfection. My jewelry is only produced in Switzerland and the "Made in Switzerland" label is very important. I visited many ateliers and it was only in Geneva that I found the savoir-faire and level of craftsmanship I was seeking. The Swiss's extraordinary expertise with settings is related to the art of watchmaking; no other country can match their standards of exacting precision. The masters of these ateliers are true artists. When I started out, some people's reactions were patronizing – as if I were just a banker's wife with a hobby. It took some time for individuals in the field to understand that I took my work very seriously. Now, my greatest reward is when artisans tell me: "We are so proud to work for you because it's always a challenge".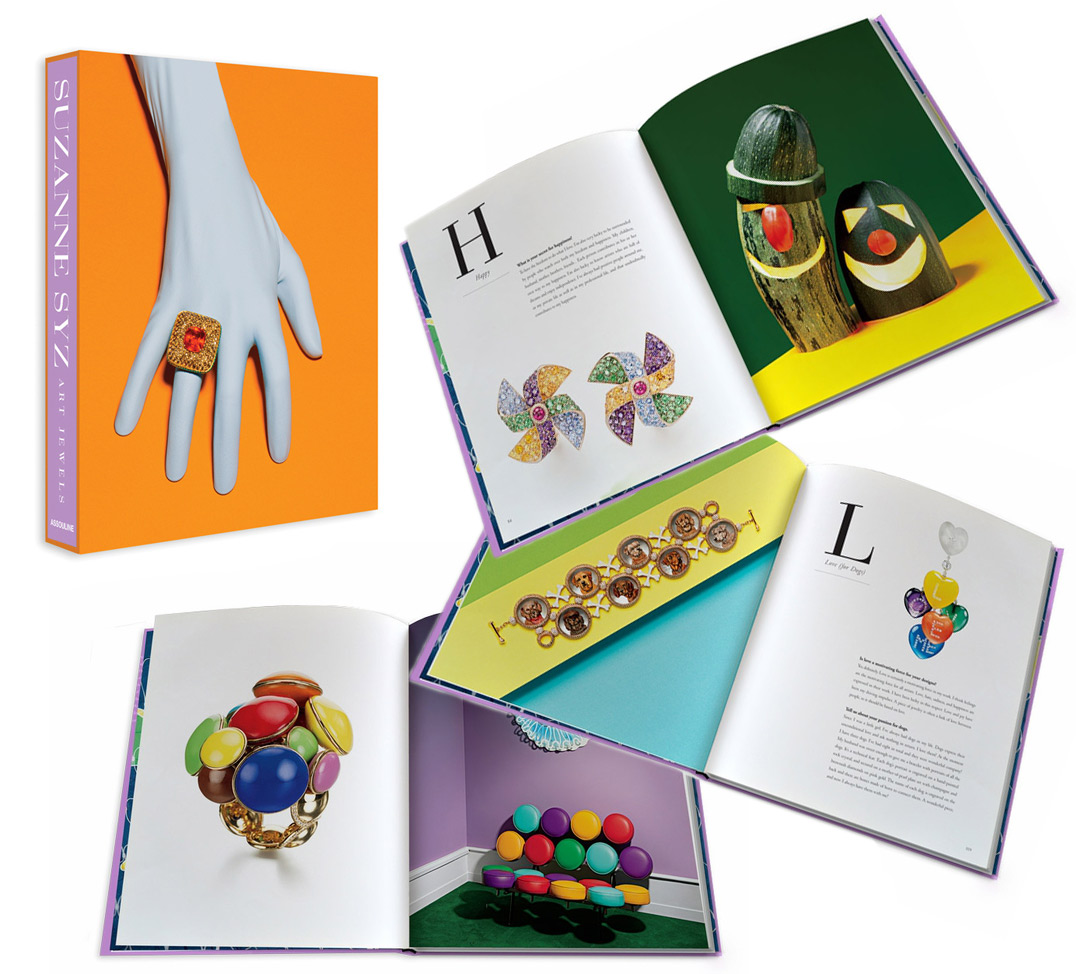 Special thank you to Saira MacLeod, the photographer who took the photo of me with Suzanne Syz.