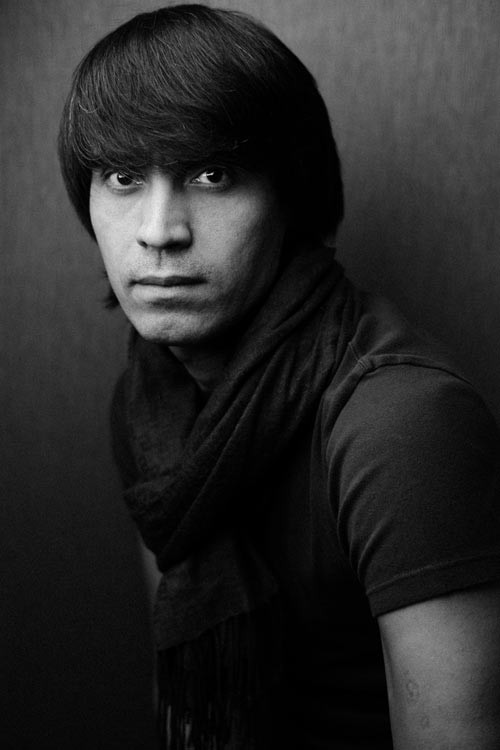 I met with Ilgiz Fazulzyanov, the jeweller and designer behind Ilgiz F. brand at his Moscow studio in Merzlyakovsky Pereulok. His jewellery crafted from gold, gemstones and enamel is sophisticated, technically complex and extremely captivating, so I was eager to learn more about it. Ilgiz F. is well known among fine jewellery connoisseurs, antique dealers and Art-Nouveau fans. Now, you also have a chance to find out more about this outstanding jeweller.
K.P.: How did you discover fine jewellery?
I.F.: I used to do traditional arts like canvas painting and silk painting. However, upon reaching a certain level I realised that there was no longer a way for me to develop further. So I started looking for some other types of art to express myself and found fine jewellery. I believe I can really develop and grow in this industry year after year, after year.
K.P.: One can see from your collections that your art is developing. Your jewellery pieces are so varied and you constantly aim to bend technical boundaries. What inspires you to keep creating?
I.F.: It is difficult to say. Most likely the inspiration comes upon me when I reach the point of complete happiness…
K.P.: What do you do when you loose inspiration?
I.F.: It is a rather difficult situation and I can only thank my wife Dina, who has to deal with these certain situations. To overcome this kind of depression I look for new music to listen to, new films to see. I need to ensure that my brain gets as much positive vibes as possible. Sometimes I look for new acquaintances. I am not sure what helps exactly, but you always have to look for something exciting.

Bullfinch pendant painted with enamel and encrusted with diamonds
K.P: What helps you to generate new design ideas?
I..F.: Well, there is this this 5-minute exercise that I do; I watch a fashion show and have to think of a piece of jewellery for every model within those few minutes they go down the catwalk. I do it for a reason as every person holds something unique, which can help generate new ideas.
K.P.: Does jewellery from some other designers inspire you?
I.F.: I would not really say that some modern jewellery designs inspire me, but some jewellers do. JAR has an interesting view on things and the techniques he uses are fascinating. I also find Wallace Chan's designs unusual.
K.P.: Looking at your creations, I noticed that there is a lot of jewellery with poppy flowers.
I.F.: Yes, I like this flower, but I also use irises, burs and milfoils. I choose the flowers that are not very widely used in jewellery nowadays, which are very complex and can be worked with in different way. For example, the irises can be put together in stunning compositions – they evoke a wide field of ideas. Year after year I look for new ways to show every little detail of irises' petals, to portray their fragility.
K.P.: You use enamel in almost all of your jewellery. This material is not easy to work with. What made you start using it?
I.F.: I started working with enamel in January 1997. At that time I was invited to take part in an exhibition that was meant to take place in France in May of the same year. I re-worked my entire collection especially for the exhibition and launched a new one using enamel. As a matter of fact, I had never worked with enamel before, but the jewellery turned out to be very successful.
K.P.: And how about the furore you made in Geneva?
I.F.: In November 2012 there was an article in La Tribune, which stated that the King of Enamel arrived in Geneva. Swiss enamel masters who saw my work then visited my salon to see my creations and could not believe that they were made by a Russian jeweller, they had never seen anything like that before.
K.P.: Vitrage style enamelling is something I have never seen before especially when on a curve as displayed on your 'Bee ring'. How did you manage to do it and how long did it take?
I.F.: The time it takes depends only on your skills. Nowadays this ring is unique because, as you mentioned, the enamel is on the curve, which is almost impossible to do. I had to implement some laws of maths and physics.
K.P.: It is amazing how highly skilled you are, especially considering that you have learnt everything by yourself.
I.F.: Thank you. Sometimes a piece of jewellery looks like it is not technically complex, when it is, and before making a piece of jewellery I occasionally have to do some kind of calculations. In the past, my enamel cracked, did not stay in place and I would have to re-do everything.
K.P.: Would you say that your skills are what brought you success?
I.F.: Yes and no. If we take a look at the beginning of the 20th century, there were Didier, Fouquet, Lalique who had their individual style and created masterpieces. At the beginning of the 21st century however, there is no one in particular who is outstanding. The clients and antique dealers now understand that the 21st century is dominated by computers and there are hardly any jewellery pieces made entirely by hand and not a machine. KP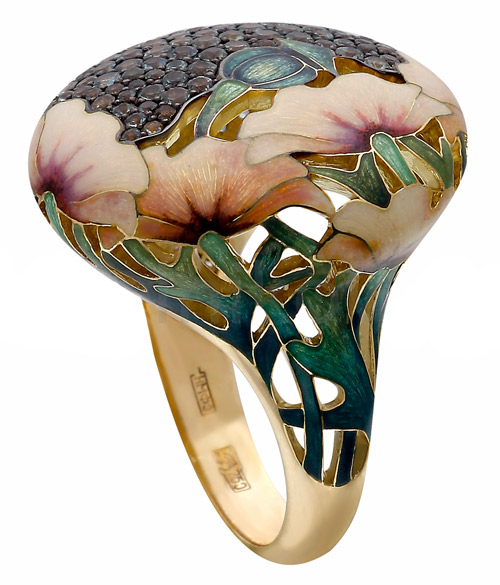 Yellow Gold Poppy ring with Alexandrites and enamel painted poppy flowers