The hotel's extensive size shocked me a little to start with; inside, the Wynn feels a bit like a miniature city. My instinct told me that I should be better off finding myself a hotel map so as not to waste any time getting lost in all the winding corridors and passages.
So on day one I woke up early, breakfasted and had my first meeting at 9am. I pre – registered so getting a badge took no more than a few minutes (which I'm hugely grateful to the organisers for). Using the map of the exhibition, I started to look for the location of my first meeting. To find it somewhere amongst the two grand halls (Lafeite and Latour), eighteen villas and separates smaller units wasn't that easy. Note to self: whenever at an exhibition for the first time, it is useful to mark all meetings on a map beforehand.
The aim of my visit was to see the work of American jewellers for myself and to form my own impression of the pieces which I had only seen in photographs. If only I knew that I would see not only those but also a huge number of other powerful creations! An inner voice reminded me that after my experience in Basel I'd promised myself not to plan anything for the last day of my visit except to walk around the exhibition halls and to become fully acquainted with new designers and brands. My intentions failed to realise themselves unfortunately; every minute I spent there was timetabled right until the end of my stay.
First up was Alessio Boschi. This Italian designer is nothing less than a jewellery magician. In his hands, a pearl sautoir with a flower transforms into a small choker and a pearl bracelet whilst the flower itself becomes a separate broach. The bracelet (a ring covered with wonderful orchids linked by a pearl studded chain) comes apart into several separate elements. I still remember those charming rings with a surprise made in the form of miniature gift boxes out of which, when opened, popped up gold 'I love u'. Incidentally, Alessio was previously the creative director of the Australian company Autore whose speciality was pearls. The designer appreciates them and took out his special pearl choker, each bead of which was of a size just smaller than a quail's egg.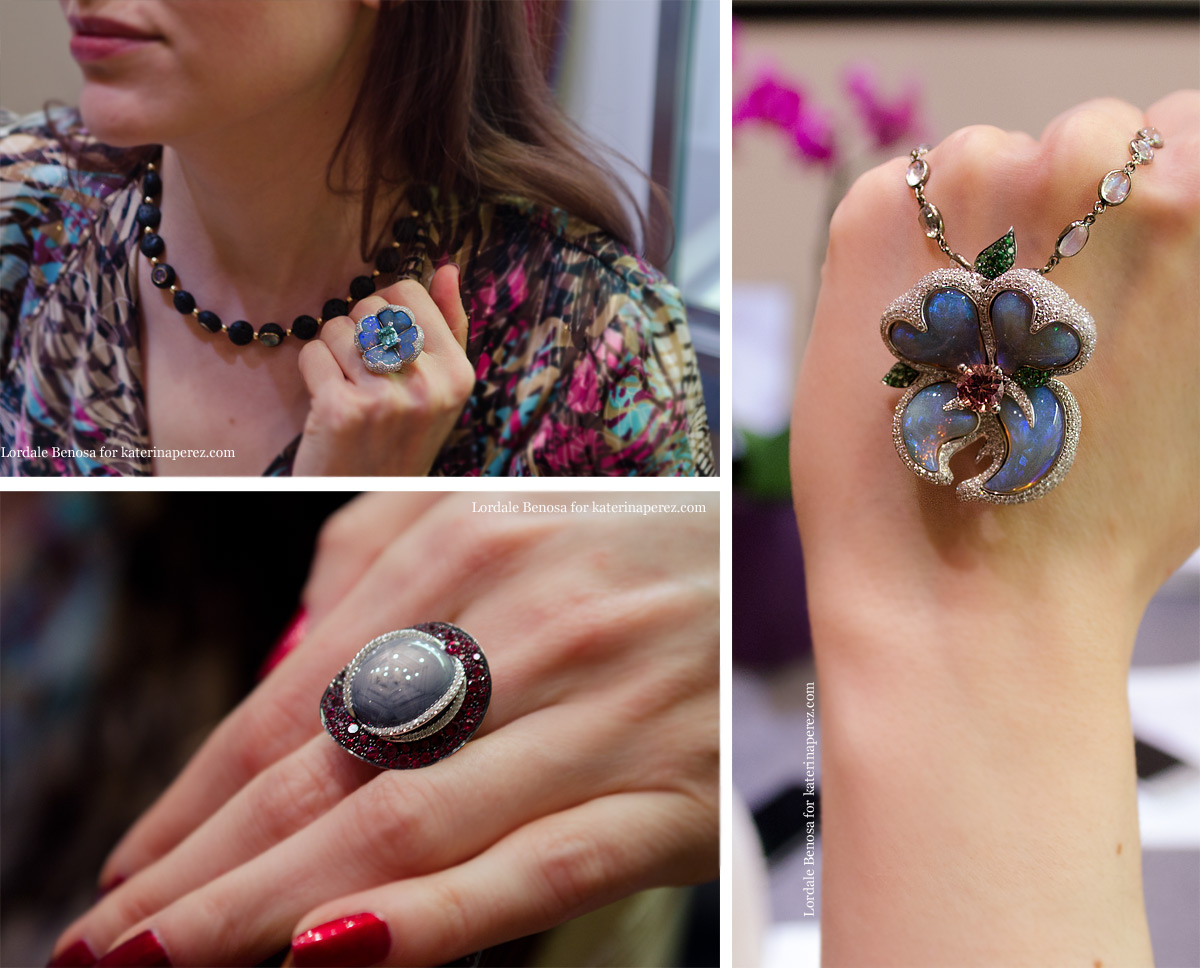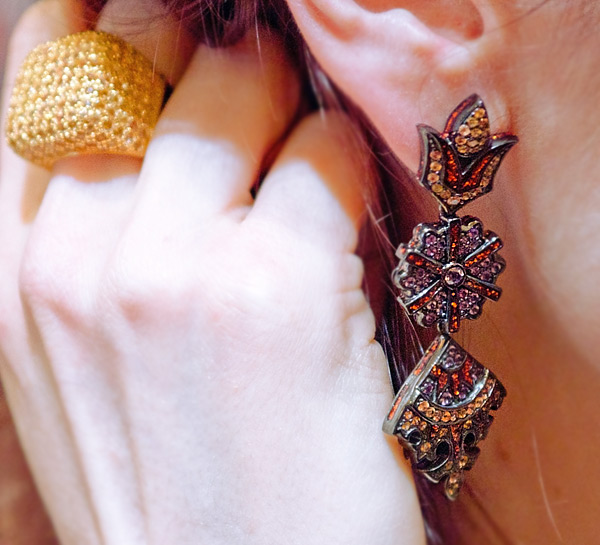 After that I went to look at work made by the Australian designer Katherine Jetter (jewellery above). I have been keeping an eye on her work for some time now, and the signature carved opal flowers are amongst my favourite. Katherine turned out to be very amicable and couldn't have been happier to show me her unique pieces as well as the new collection made with patinated bronze. During the course of our discussion, we realised that we both have a distinct passion for rare stones. Katherine then found a unique ring to show me with a cabochon star sapphire, the surface of which featured layered hexagons that marked the mineral growth.
From rare stones, I went on to fashion jewellery (left) made by the American designer Matthew Campbell Laurenza. His pieces are infused with inspiration from countries worldwide and designer's background in sculpture and architecture. Seven years ago Matthew released his line for women at Bergdorf Goodman and now his work is sold in the world's most famous department stores, including Harrods and Neiman Marcus.
Still under the influence of the bright colours and bold design of Laurenza's jewellery, I plunged into the world of Eastern decadence. Dickson Yewn showed me his seminal square rings, objects of elegant art. According to the designer, Yewn (see below) is currently China's only modern luxury jewellery brand.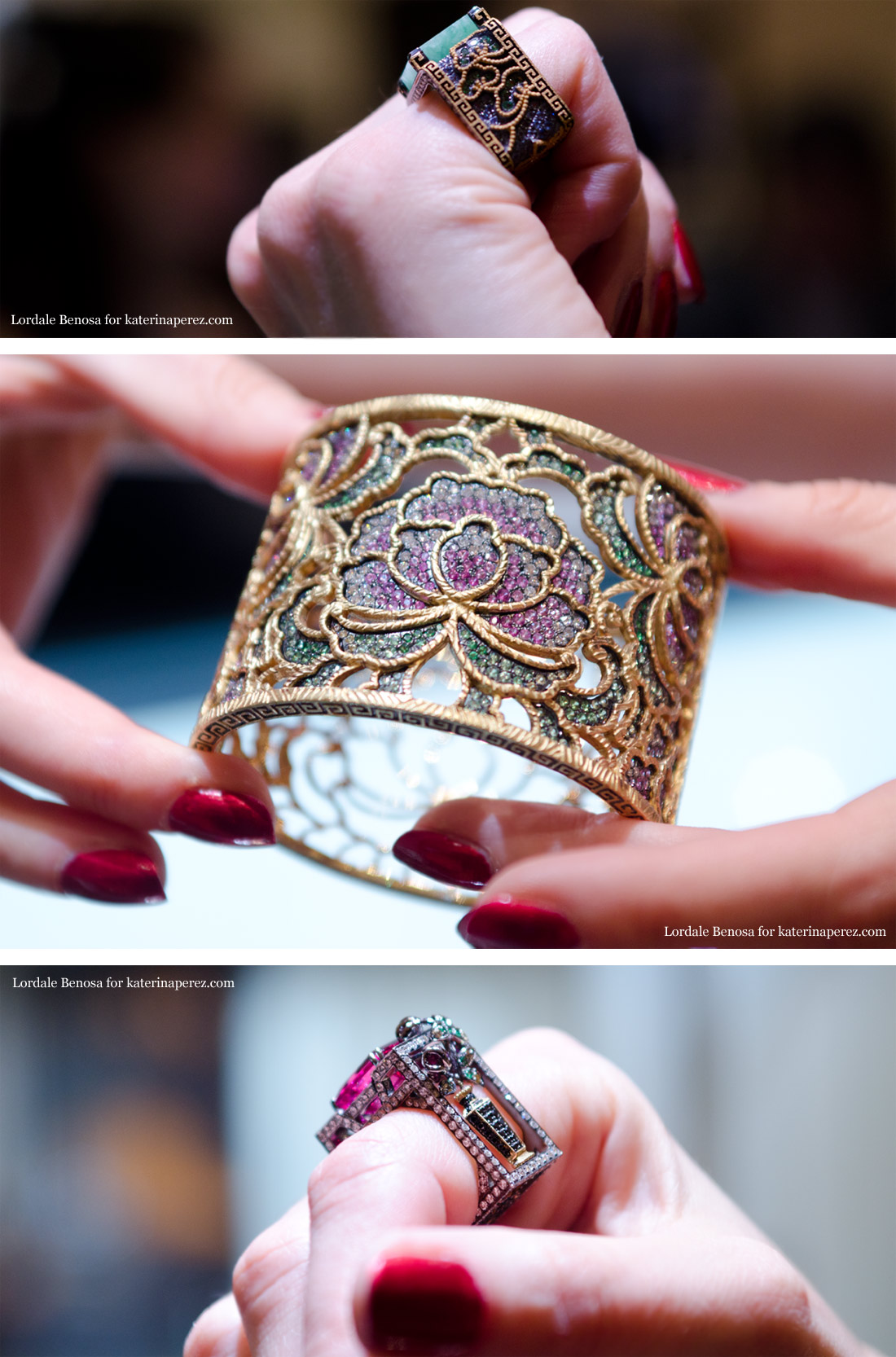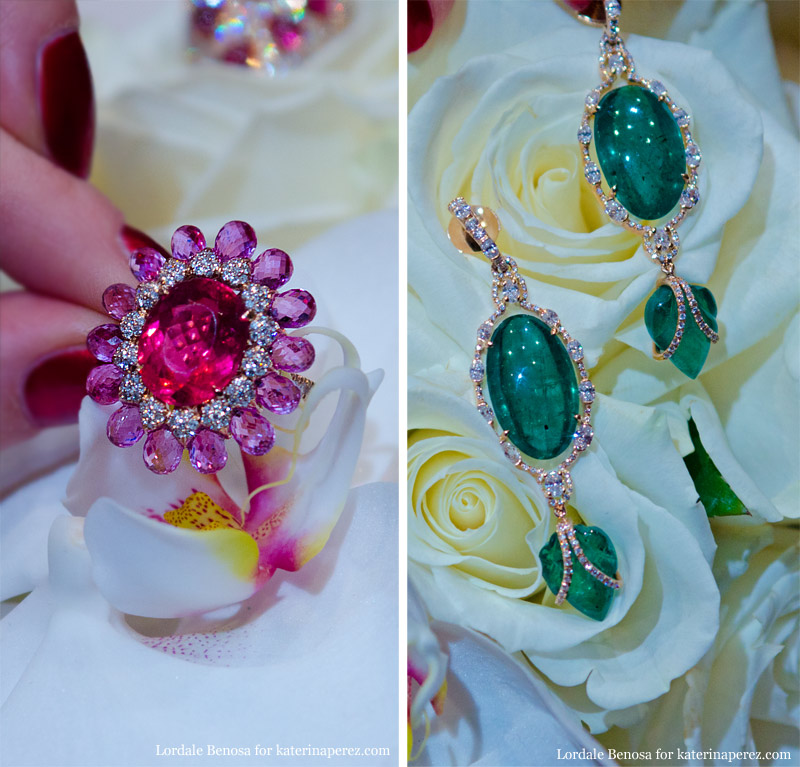 I left China for Israel where the creative duet responsible for Inbar (on the right) actually flew from to visit the exhibition. Oded and Galit are constantly on the lookout for precious stones, their forte being the creation of a unique design for every jewel. Inbar's jewellery is made in such a way that a stones is never outshadowed by its setting and always forms a coherent part of the entire piece. Inbar will always bring something new to every trade show they visit which is why I always want to take a look at their stand.
The Italians at DOME (see below) use innovative materials such as titanium and carbon fibre. Titanium is light and semi-transparent which makes it perfect for fashioning insect wings, for the brand's dragonfly ring for example. The interwoven threads of carbon create an interesting visual effect that gleams with a soft radiance over the dark surface. What's more, the manufactured fibre weighs practically nothing, making even their chunkiest earrings (designed with pink sapphires) comfortable to wear without the need to take them off.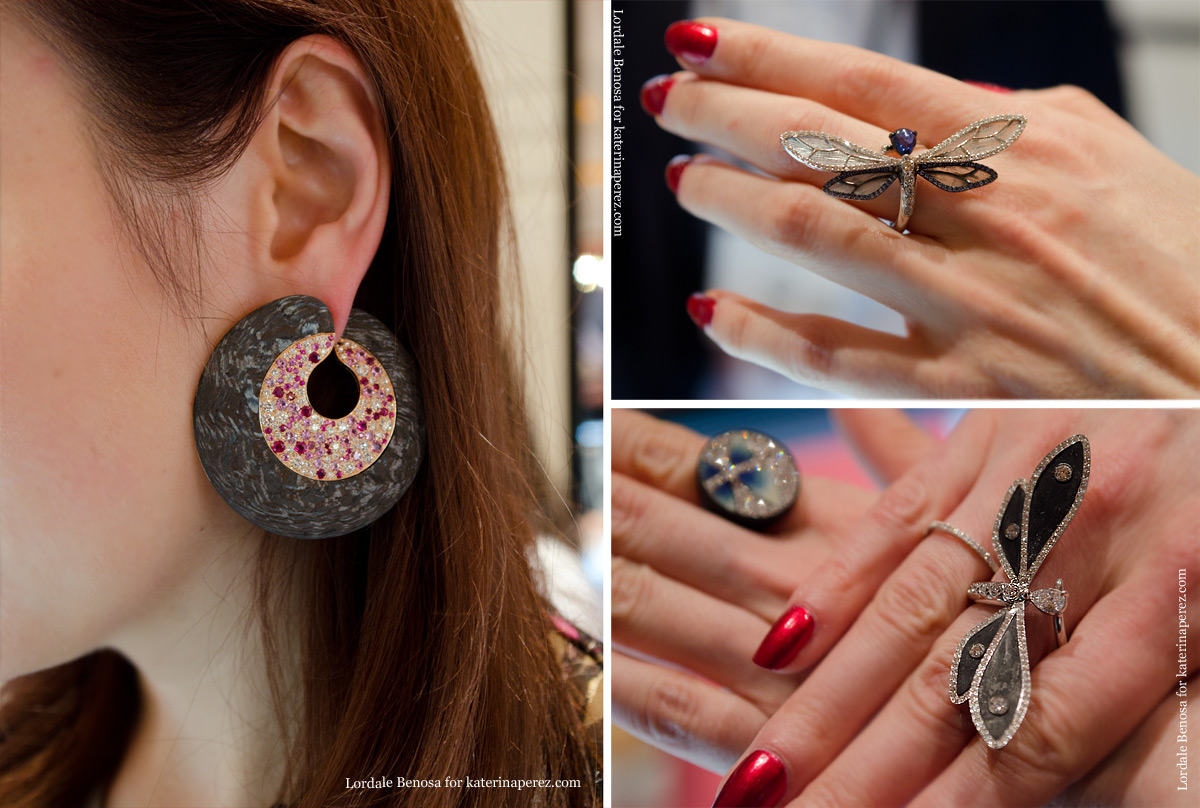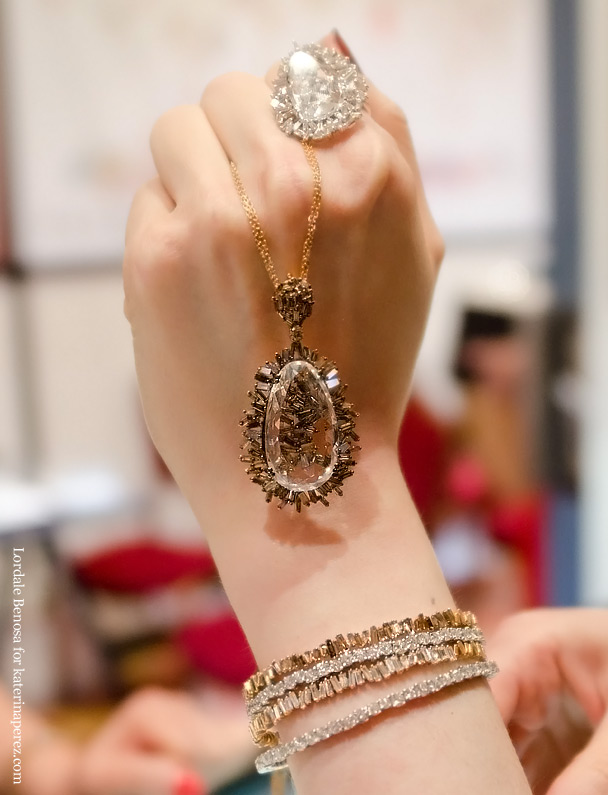 Unfortunately time flies by very quickly and it was impossible to see everything in a single day.
My last meeting was with the American designer Suzanne Kalan who won the COUTURE prize in the category of "Diamonds worth up to $20,000". I have previously wrote about the Couture Awards results, so you can see the full list of winners here.
There are two collections of Suzanne's which I like most of all: Vitrine, in which sparkling clusters of diamonds glitter through flat – faceted gems surface and pieces with baguette cut diamonds arranged in a chaotic fashion (both on the left).
And so the first day came to an end, however I was already burning with anticipation for the next. I shall tell you more about that, of course, very soon. KP
Special thank you to the New York photographer Lordale Benosa for the images // www.lordalebenosa.4ormat.com
var OB_platformType=3; var OB_PlugInVer='8.0.0.0_Regular';