Palm prints became de rigueur in fashion and interior design in 2017, and fine jewellery houses have been creating jewels with these exotic prints since long before this. The rainforests and tropical plants which frequently inspire jewellery designers excite with their evocation of warm, glamorous locations, and allow for colourful escapism. Though there are many interpretations of palm prints which are less literal than others, the variations of tropical themed jewels are vast and varied.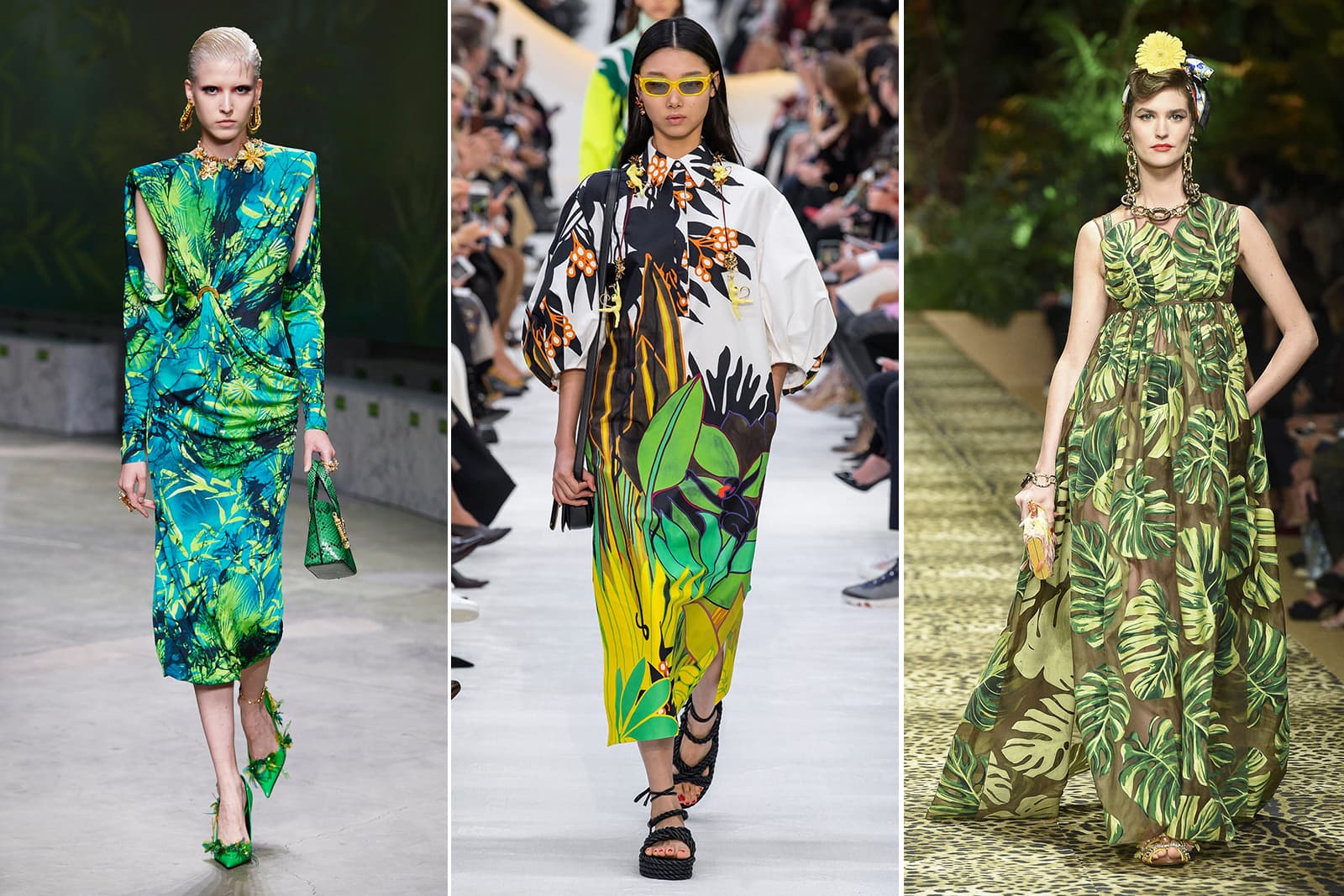 Piaget is one of the most famous jewellery houses who returns to palm motifs in their jewellery collections time and time again. It all started with 2015's Mediterranean Garden high jewellery collection which featured diamond embellished draping palm tree shapes, further palm – themed jewellery was spotted in the 2016 Sunny Side of Life collection, before also appearing in 2019 Golden Oasis collection. Although most high jewellery pieces have already been sold, you can treat yourself to palm tree earrings, rings or a necklace in textured rose gold or diamond pave white gold from the brand's permanent Extremely Piaget' line.
Another jewellery house that explored the palm motif to the fullest is David Morris of London. This brand's Palm collection celebrates the exotic palm plant because of its symbolic function - signalling victory, peace and fertility. This highly wearable and timeless collection includes earrings and rings with leaf design mirroring the gentle sway of a palm tree in a tropical breeze. Although most jewels are embellished with diamonds, a selection of coloured stone designs has just been launched, and now amethysts, rubellites, green tourmalines and aquamarines add a splash of colour to Palm jewels.
Understandably, Brazilian designers often choose to communicate their heritage with tributes to tropical flora and fauna. Silvia Furmanovich has created many one-of-a-kind jewels with palm motifs - and her Botanical collection was inspired by her frequent trips to the Amazon rainforest. In this line you'll find all manner of exotic plants; from calla lilies and pansies to multicolored rain-forest mushrooms and tropical butterflies manifested in the designer's signature wood marquetry technique, dappled with gemstones and in an enormous variety of tones.
Carol Kauffmann is another Brazilian designer whose jewels feature exotic motifs – specifically banana leaves - in her Botanica collection. Again, within the majesty of the Amazonian rainforest, Carol Kauffmann marvelled at the power of Brazil's nature. "The jungle has a lot to offer and so much to teach, my 'Botanica' collection is an homage to this," says the designer. The jewels in this line are spectacularly unique, with vivid blue, green, pink and purple coloured nano-ceramic coated silver and yellow gold inserts emerging from behind yellow gold leaves, and embellished in accents of similarly bright gemstones.
Many more brands created jewels which nod to the tropical climate. For example, Jewellery Theatre's Rainforest collection of unique designs in yellow gold references the majestic colours of a rainforest in the spectrum of gemstones: tourmalines, rubies, tsavorites, moonstones, and coloured diamonds. Suzanne Syz has her own version of palm leaf earrings - named Hakuna Matata - studded with diamonds in a bright green tone of her signature coated aluminium. Beverly Hills jeweller Ricardo Basta engraved a palm tree on the shank of his turquoise cocktail ring, while Nak Armstrong created Bahia Banana Leaf earrings in his signature technique that combines a plethora of custom cut gems, in this instance tourmalines and Peruvian opals. The common thread between all of these very different designers' jewelled odes to the tropical is abundant and unapologetic colour!
Just in time for the glory of summer, consider adopting this Tropicool jewellery trend to add a vibrant, flamboyant and joyful flourish to any outfit for years to come. Whether or not you are able to lie under palm leaves in the sun, the transformative power of these jewels can take you there in spirit.