The legendary jewellery house of Cartier has set up a pop-up Concept Store in the Wonder Room of one of the most prominent department stores in London – Selfridges. So I jumped at the opportunity to learn more about the fascinating history of Cartier, the 166 year old brand and here is what I discovered upon visiting the new concept store a few days ago …
Jeanne Toussaint, Director of Jewellery at Cartier in 1933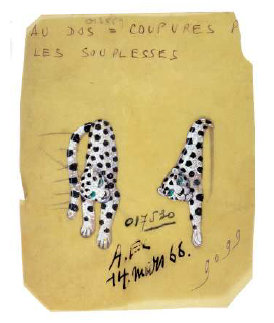 A print of one of the original Panther drawings displayed at the pop-up store
There are two core areas to explore; the first one is a uniquely created Cartier cinema with a screen encased by the legendary Cartier red box. Guests are invited to view a short film  L'Odyssée de Cartier where they follow the footsteps of the Panther and discover stories about Cartier's rich history and how the jeweller conquered the world with the beauty of his creations.
I continued my journey into Cartier's heritage and history further by visiting the showroom where the seven iconic pieces that the world associates with the Maison are brought to the fore. I am certain that you are familiar with Juste un Clou, Trinity, LOVE and Panthère de Cartier jewels. Santos, Tank and Ballon bleu de Cartier, the signature watches of the Maison are also on display for visitors to admire. These emblematic creations are linked with an imagery archive that combine unique style, masterful savoir-faire and stunning precious materials.
After visiting the pop-up store and familiarising oneself with the history of each collection, one will understand exactly why they have such passion and love the Cartier brand so much.
The store will be open until the 29th of August.