This Honk Kong jewellery brand founded by Papu Butani in 1969 is far from new to the Swiss exhibition. This year, along with jewellery featuring large fancy – coloured and colourless diamonds and the much more affordable Metropolitan and Bloom lines, they presented a variety of pieces made up of smaller gemstones. The different colour combinations, such as red and white in the diamond and ruby chandelier earrings, or pink and white in the dazzling sapphire hoop earrings, undoubtedly reminded me of the image seen through the eye of a kaleidoscope.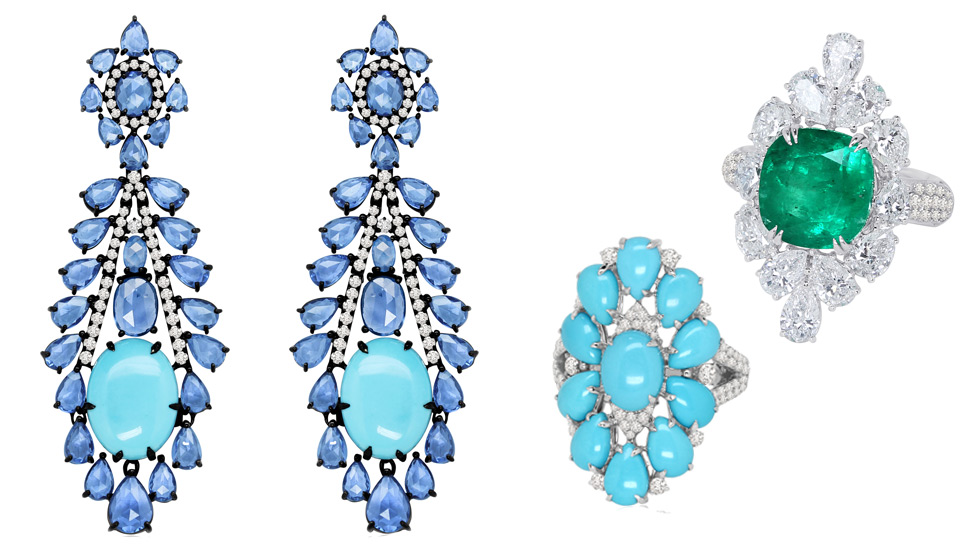 Jewellery bearing the name Sutra is typically characterised by a design made up of a wide range of multi-coloured stones of different cuts. You could even call this the signature style created especially for Sutra by the brand's founder, Arpita Navlakha. She never recreates an existing pattern; every jewel is a one-off piece.
Imaginative, idiosyncratic and infused with Indian soul, combining diamonds, aquamarine, pink and normal opals, sapphires, and a multitude of other gemstones, these jewels, seen for the first time at Basel, are contrasted with more 'serious' jewellery made with large stones, such as the emerald and diamond cocktail ring seen above.
This year, Greek designer Nikos Koulis presented two brand new collections at Baselworld: the Art Deco inspired Yesterday and Eden, a line imbued with the designer's positive outlook on life. The jewellery in the latter looks like colourful snowflakes exploding in a kaleidoscope of triangles, ovals, rectangles and squares.
The designer has chosen to experiment with the gemstones, mixing his favourite diamonds and emeralds with London blue topaz, rubellites, green, yellow and pink beryls, apatites, tourmalines, Paraiba tourmalines, onyx and multi-coloured sapphires – an absolute explosion of colour!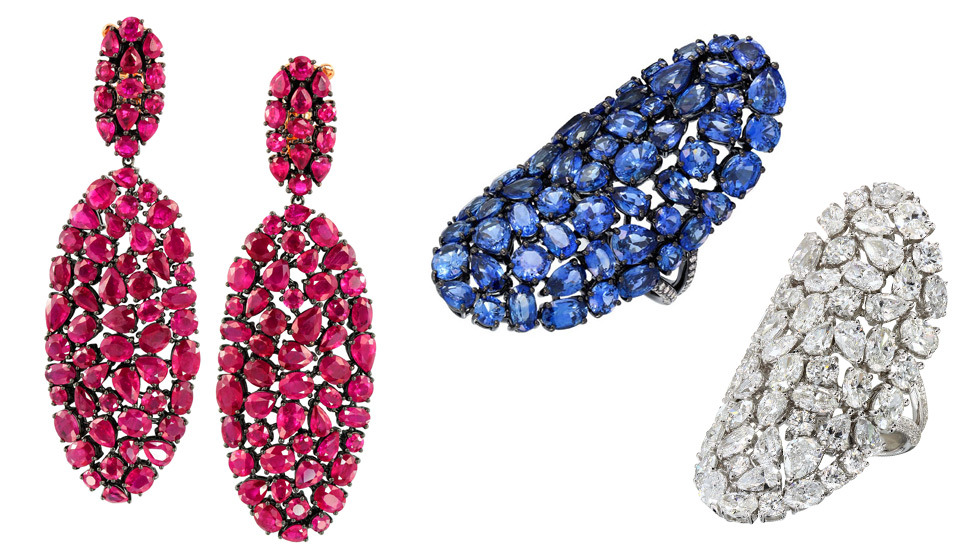 The new designs from Greek brand Etho Maria's Vibrant collection include monochrome bracelets, earrings and rings that resemble bright bursts of colour. Green emeralds, blue sapphires, rubies, colourless and yellow diamonds decorate the jewellery in a kaleidoscope effect of differently cut monochrome stones. Round, oval and pear-cut gemstones are set in long oval earrings, a voluminous bangle and a ring which covers almost half of one's finger. Together they create a striking, bright gemstone ensemble which perfectly suits the cocktail jewellery in the rest of the Vibrant collection.
This year, Maria Kovadi made a particular impression by showing off the full spectrum of their originality when it comes to jewellery design, with a range of widely varying collections in terms of aesthetic and technical prowess: the Animali and Colourful Treasures collections, carved stone jewellery and a few completely unique pieces. Maria reserves her larger precious stones for private orders, preferring to use gold, smaller gemstones and semi-precious stones for everyday jewellery. Her work includes such pieces as the Fancy ring from her Colourful Treasures collection, made with aquamarines, amethysts, emeralds, sapphires and stars cut from citrines.
Lebanese brand Yeprem, favourite of various pop stars including Madonna, Pink and Rihanna, is famous for its original diamond body jewellery. Creative Director Virna Chakardemian demonstrated a couple of the latest intricate diamond designs in Basel that caught my eye the most: a luxury diamond necklace and a half – mitten bracelet. Both pieces are made in the traditional Yeprem style with a myriad of colourless marquise and brilliant-cut diamonds.